Three islanders graduating from high school this month are moving forward into more education and experience, undeterred by the pandemic: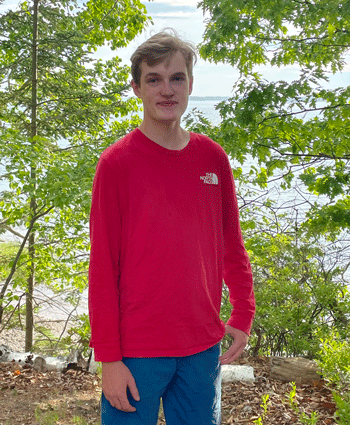 Cameron Todd of Chebeague Island graduated from Yarmouth High School and will study cybersecurity at Thomas College this fall. During the past two years, Todd split school days between the Yarmouth school and the Portland Arts and Technology High School, or PATHS.
"I grew up attending the Chebeague Island School through fifth grade and loved the small multi-aged classrooms," reflects Todd, a tenth-generation Chebeague islander. After fifth grade, Chebeague students commute to mainland schools, adding logistical challenges to participating in off-island activities, so he based his service efforts close to home.
"I chose to focus on volunteering within my small community, supporting organizations on the island like the Chebeague Recreation Center, historical society, and Island Commons assisted living home," Todd said.
Taking cybersecurity courses in high school "proved to be a great fit for me," he said, making high school "more engaging and interesting." The PATHS cybersecurity program also offered the opportunity to earn professional certificates in the field.
At Thomas College, Todd will gain further expertise for a career protecting the data and privacy of those relying on technology, while also earning a B.S. in cybersecurity, a field with a workforce shortage. Recently, Todd earned an Island Institute Maine Island Scholarship towards college tuition.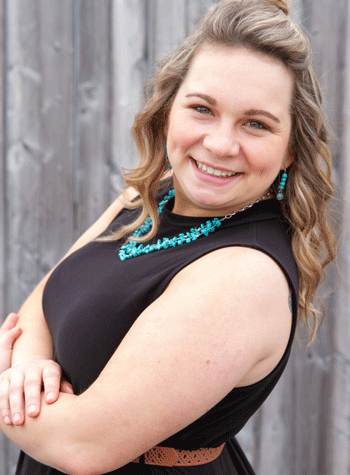 Autumn Oxton of Vinalhaven also pursued career and technical education.
At the Midcoast School of Technology in Rockland, Oxton earned professional certificates in welding, auto-collision repair, and as a Certified Nursing Assistant. Oxton is graduating from the Vinalhaven School and has been inducted into the National Technical Honors Society. Two days after graduation, Oxton begins at the Aveda Institute Cosmetology School in Augusta.
The pandemic did not derail her education this last year.
"We were lucky to only miss one day of in-person classes all last year, and now I get to go to Aveda in person. The only difference has been the masks." Oxton has been interested in cosmetology since the age of five, she says. "My gram was a cosmetologist."
A recipient of Island Institute funds via the Mentoring Access Persistence (MAP) scholarship and the Compass Workforce Grant, Oxton believes in trying a variety of things to find what fits. She took welding courses on the advice of her father who lobsters on Vinalhaven. She enjoyed working as a teaching assistant in the welding lab, "but I decided I wouldn't like welding as a career because it's too solitary."
The Aveda Institute program offers courses in the several different branches of cosmetology, including an instructor training course that interests Oxton.
"I want to see what I like, then do more training to delve deeper."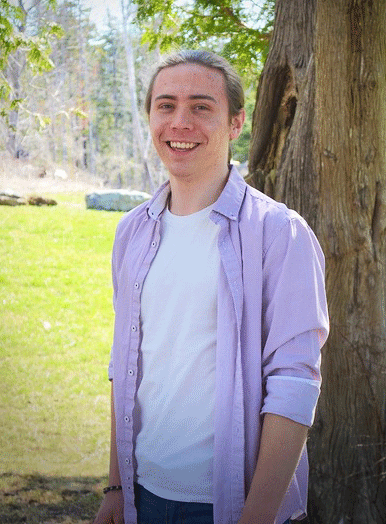 Acer Van Dis of Union attended Islesboro Central School for high school and is graduating as valedictorian. Van Dis will take a gap year, completing a National Outdoor Leadership School course in Chilean Patagonia before attending Rensselaer Polytechnic Institute New York to study architecture.
During the outdoor leadership course, Van Dis will experience mountaineering, rock climbing, and sea kayaking, while also earning wilderness first responder certification.
"I had initially planned to start college immediately after high school," Van Dis said, "but as a result of the pandemic, I spent a lot of time engaging in outdoor sports. I also wanted to give some time for my college to figure out their approach to COVID-19." The NOLS gap year opportunity "seemed perfect," Van Dis notes, as it will be "a chance to have an extremely meaningful experience, really push myself in outdoor extreme sports, and learn skills and things about myself that I will never be able to learn in the classroom."
Van Dis earned an Island Institute Geiger Scholarship to offset gap year costs.
The gap year won't be the first time Van Dis has sought education outside the classroom.
"In high school, I've had to think outside the box and follow who I am and what I want to learn, but it's led me down some very interesting paths, from interning at Pendleton Yacht Yard to learning how to weld stick electrode and TIG, from having an internship exploring music recording and amplified circuitry, to doing my architecture independent study this year. At the end of it all, I am amazed at how different I would be if I hadn't been willing to give those interests a shot."