Even before the pandemic, online ordering made getting goods shipped to Swan's Island and Frenchboro increasingly attractive—often more so than heading off for a trip to mainland stores.
The past year of sheltering in place accelerated that trend.
Who handles all that freight? Brian and Kathy Krafjack, who own The Island Market & Supply on Swan's Island and are agents for the U.S. Postal Service, FedEx, and UPS.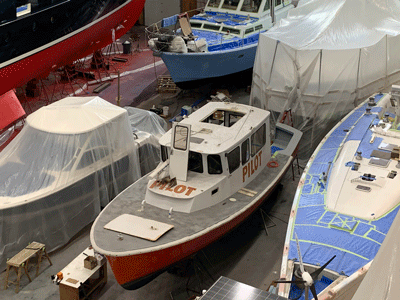 They also own the freight company that serves Swan's Island and Frenchboro. Officially called Swan's Island Freight LLC, it's commonly known as "Hopkins Freight" after its founder and long-time operator, LJ Hopkins, who sold the business to the Krafjacks in 2019 and has stayed on as an employee.
Many a time has the deck of their mailboat, a 34-foot Lee Wilbur lobsterboat named Olivia Grace, been chockablock with packages for the 10-mile trip from Bass Harbor to Swan's. Krafjack holds freight destined for Swan's Island at the store for pick-up, and hops back on the boat to travel a further five miles offshore with goods ordered by Frenchboro folks.
"FedEx and UPS has exploded," Krafjack said. "It started a few years back, when online ordering became so easy. Everyone does it now, especially on an island."
What kind of freight, you ask? It could be anything, from groceries to trampolines.
"At least two hot tubs, probably three trampolines, a mounted moose head a few years back," Krafjack said of some larger and eclectic items. "Refrigerators. Last fall, a couple bought a house on Frenchboro and needed all new appliances and new furniture."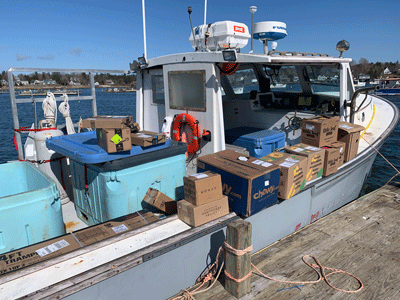 "At least two hot tubs, probably three trampolines, a mounted moose head…"
When the amount of freight they were carrying began to exceed capacity, the Krafjacks began looking for a larger boat. After searching online for a single-engine supply boat, he found Northern Star in New Bedford, Mass. The Dyer 40 hull, built in 1981, served ships on Buzzards Bay and the Cape Cod Canal as a pilot boat, proven in all kinds of weather.
"I thought it had the most potential to become what we needed," Krafjack said.
He was unable to sea-trial the boat himself due to quarantine requirements between Maine and Massachusetts at the time. So he called on a friend who's a tugboat engineer in Connecticut, which didn't have the same restrictions.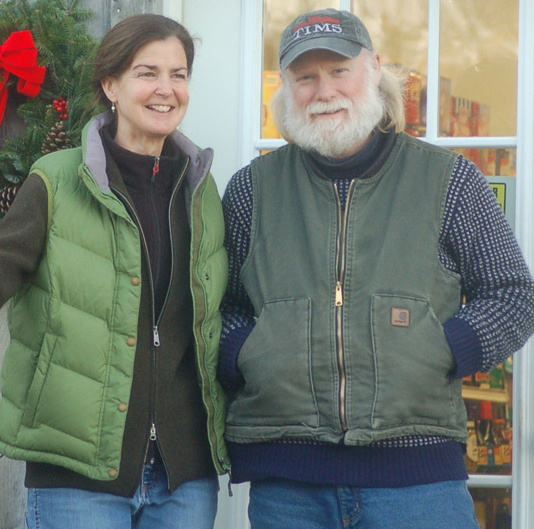 "Originally, he said, 'No, you don't want a pilot boat. They're rough-riding, noisy, and smelly,'" he related. "After the sea trial, he called and said, 'You're going to like your new boat.' He was convinced once he'd been onboard."
Still, considerable work was needed to fit it up for freight. Front Street Shipyard in Belfast took the job. The boat came with a large, dry pilothouse with seating for six. The project included pulling the seats and converting the space to carry freight, installing a new sliding door and new windows, and cutting a new opening for the door into the existing fiberglass. That will allow most freight to be carried inside, out of the weather.  And the drive will be a lot drier and warmer for Krafjack.
The boat came with a flat deck and no cockpit—a configuration that worked well for a pilot to jump up onto a ship's ladder. For Krafjack's purposes, it made better sense to cut a cockpit into the deck, making it easier to receive freight over the rail at waist level and walk it into the pilothouse.
Olivia Grace "served its purpose," he said. "But now that I know a little bit more about what I do, I know a little bit more about what I need."
Northern Star will also have a new engine, running gear, and wiring.
"That's important to me because I run alone and, if something breaks down, I'm kind of stuck out there," he said.
Northern Star will be faster, too, expected to run 15-16 knots, compared with Olivia Grace's 10 knots.
"I'll be happy to run her around 13 knots," said Krafjack. "I'm an old sailor. I don't need to go too fast."
Because of his mailboat duties, Krafjack can't get off the island much to visit the boat. Instead, email does the trick.
"Front Street sends me emails every Friday with questions and photographs," he said. As an architect earlier in his career, he responds with sketches.
By press time, it was expected sea trials would be underway by mid-June, with delivery scheduled for July 4. Bar Harbor Bank & Trust helped finance the purchase and part of the refit. The Island Institute's Tom Glenn Fund Community Impact Fund assisted with the purchase of the Olivia Grace and now the Northern Star.
As for Swan's Island, things are beginning to pick up and the general feeling is upbeat this summer, said Krafjack.
Generally, the year-round population is 350, ticking up to 1,200 to 1,500 in the summer. But like the rest of Maine, there seemed to be an influx of homebuyers over the past year, he said.
"I think you feel a little safer living on an island," he said of the mood this past year. "People were probably coming here for the same reason Kathy and I did going on eight years ago now—to find a quieter place. Kathy and I joked: In 10 years, will we be taking a vacation to the city to escape the crowd?"