The Friends of Casco Bay has added two continuous water quality monitoring stations in the east and west sides of the bay.
On March 31, the nonprofit advocacy group's staff scientist Mike Doan launched a new station in Cundy's Harbor, Harpswell. The second new station was launched in Portland Harbor in April. The two new stations join the organization's original continuous monitoring station which has been operating off Yarmouth since 2016.
The Friends group has collected water quality data in Casco Bay for nearly three decades. The longevity of the monitoring program stands in contrast to other marine data collection efforts in Maine, which are often limited by short funding cycles.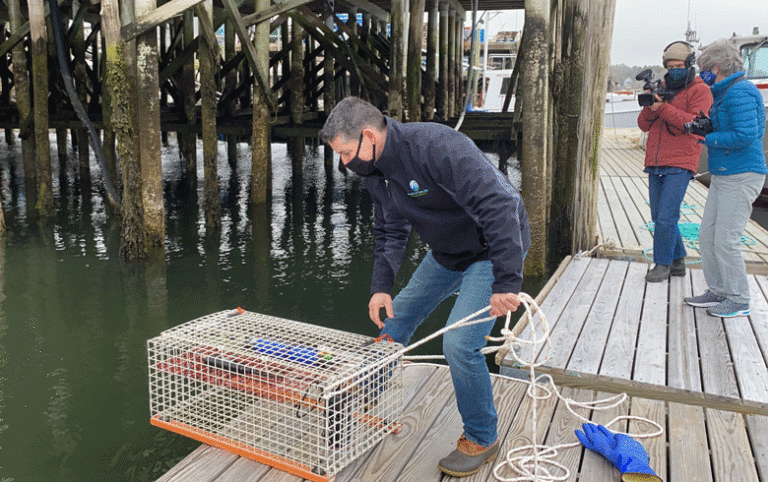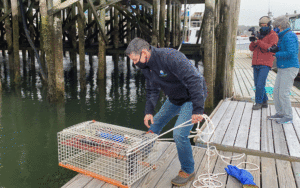 Additionally, while the federal government has long gathered offshore oceanographic data, there are almost no long-term, year-round data sets being amassed in nearshore coastal environments like Casco Bay.
"With climate change already impacting the bay, the launch of these stations is a game changer for us," said Cathy Ramsdell, executive director of Friends of Casco Bay.
"To have an array of three stations where we can compare data among locations is very unusual and essential," she said, "if we are to understand the complexities of the impacts of climate change at the local level. The steady streams of data from the stations will strengthen our reporting to the community and bolster our advocacy and stewardship efforts for years to come."
Doan designed the monitoring stations, affectionately known as "cages of science." Oceanographic equipment in the cages collects data hourly on temperature, acidity, dissolved oxygen, carbon dioxide, chlorophyll, dissolved organic matter, turbidity, salinity, and water depth, and the stations operate year-round. This enables Friends to amass data on water quality in detail and with great precision, and in an affordable manner.
"With three stations working at once, the science only gets better from here," said Doan. "The Portland Harbor location is key because it is in the most heavily used part of the Bay. In eastern Casco Bay, water quality may be influenced by the Kennebec River, and our Harpswell station will track that. Across the board, these stations are deepening our knowledge of what is happening in Casco Bay."
Data from the stations can be viewed at: www.cascobay.org/continuous-monitoring-station/.
The initiative was paid for by the Friends group's campaign to raise $1.5 million for the Climate Change and Casco Bay Fund for Technology, Monitoring and Community Engagement. More than 700 Friends members contributed.