As the Biden administration seeks to rescue, recover, and rebuild the country, graduating college students are key to those efforts as they enter the workforce. So said Interior Secretary Deb Haaland, who gave the keynote address during College of the Atlantic's hybrid in-person and online commencement ceremony on June 5.
"We're up for the challenge with leaders like you coming into the workforce," she told the graduates.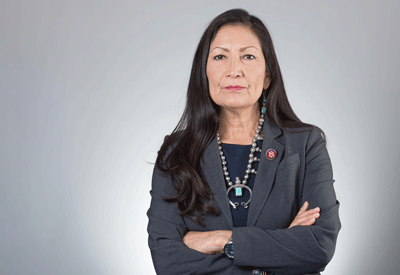 A member of the Pueblo of Laguna and a 35th generation New Mexican, Haaland is the first Native American to serve as a cabinet secretary. Previously, she was the first Native American woman to be elected to lead a state party in 2014 and is one of the first Native American women to serve in Congress, where she focused on environmental justice, climate change, missing and murdered indigenous women, and family-friendly policies.
Haaland gave her address virtually.
"I'm speaking to you from the ancestral homeland of the Anacostan and Piscataway people," she said, referring to Washington, D.C., and surrounding areas.
The Bar Harbor college, founded in 1969, offers a degree in "human ecology"—an idea that seeks to embody a transdisciplinary, non-departmental curriculum through individualized study, independent research, and real-world application of knowledge. This year, the graduating class comprised 81 students from 20 states and 14 nations.
"I want you all to remember why you chose College of the Atlantic…"
Haaland said the college's educational mission is crucial to the country's work to "build back better," a rescue, jobs, and families agenda articulated by President Joe Biden.
"You all are not just the leaders of tomorrow, though your generation is leading the efforts to protect our planet today," she said.
Haaland came a long way on the journey to her barrier-breaking position. Growing up in a military family, she attended 13 public schools before graduating from high school. As a single mother, she volunteered at her child's preschool to afford early childhood education.
Like many parents, she relied on food stamps at times, lived paycheck to paycheck, and struggled to put herself through college, ultimately earning a bachelor's degree in English and later a juris doctor degree from the University of New Mexico School of Law. She ran her own small business producing and canning Pueblo Salsa, served as a tribal administrator at San Felipe Pueblo, and became the first woman elected to the Laguna Development Corporation Board of Directors, overseeing business operations of the second-largest tribal gaming enterprise in New Mexico.
Her work as a public servant, she said, has been centered on combating the climate emergency.
"That's a big part of President Biden's build back better agenda," she said. "Which is to say the focus of study at College of the Atlantic will be crucial to the work we do as we all work to build back better."
Haaland said she learned her "deep respect for the natural world" from her dad, "who always took us outside to enjoy the outdoors, and even more profoundly on my grandparents cornfield, at the Pueblo Laguna, where I learned how interconnected the world is. The food we ate came from the plants we grew, which relied on the sun and the water from the river, and the river relied on snow in the mountains during winter. It was a lesson on how even the worms we picked off of the corn were connected in this system that supports all life."
Those experiences, she said, led her to work on legislation that supported sustainable agricultural practices—with U.S. Representative Chellie Pingree, a COA alumna—and ultimately to her current position. Leading a department with "a direct mission to protect the planet for future generations," Haaland asked students to honor their connections.
"I want you all to remember why you chose College of the Atlantic and what you learned from your experience of Acadia National Park, the homeland of Passamaquoddy people," she said, adding, "Be fierce and don't let anything hold you back."