After the Civil War, small towns across the United States began constructing and opening opera houses, including across Maine's interior and coast. As the days of traveling entertainers wound down, and cars allowed more people to travel to larger cities for their entertainment, opera houses began shuttering. Some were torn down after they closed, some repurposed, and others have been restored to their original use—a place for the community to gather—and glory. Some, like the Belfast Opera House, are in private hands, with the hopes of one day being restored.
Here's a rundown of some of the opera houses on the coast that are operating today as public venues:
Camden Opera House
Situated along one of the busiest routes in the state, the Camden Opera House has "always been the hub of town," said Dave Morrison, the opera house's manager. After it was first built in 1894 to replace a wood hall that burned down, the ground floor was used as retail space, and at one point, was home to the post office, and the top floor served as the Odd Fellows Hall, he said.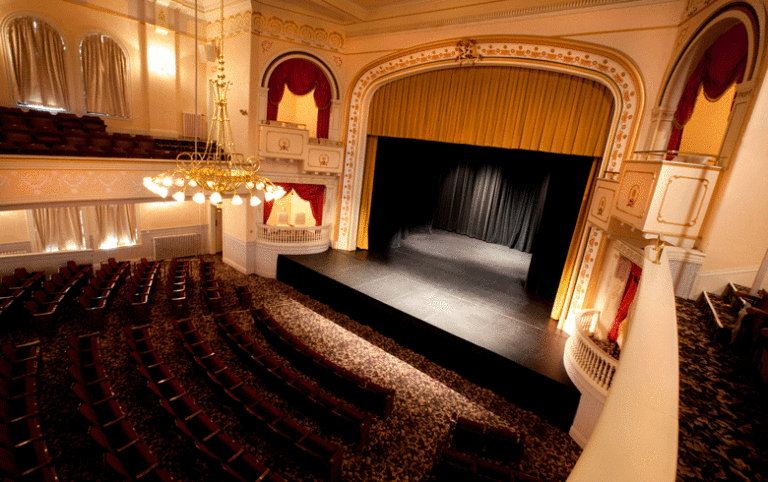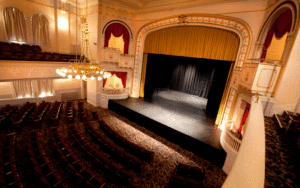 The second floor had the 485-seat auditorium, which hosted town graduations (acclaimed poet and playwright Edna St. Vincent Millay graduated from high school there), firemen's balls, annual town meetings, and more.
Today, Morrison said, the opera house still serves as the town hub, with the ground level serving as home to the municipal offices and the auditorium offering dance, theater, and musical performances, as well as playing host to the Camden International Film Festival, conferences such as the Camden Conference, and, even today, town meetings.
In the spring of last year, when the pandemic shut down everything, the opera house, too, closed for a time and moved to online events. Then in August it began presenting its SoundCheck performance series, selling only 45 tickets per show, which featured Maine performers, and was offered for free via live streaming.
By live streaming the performances, the opera house's audience grew to more than 18,000…
"Like many folks, we found that things we were forced to do to adapt ended up having a silver lining," said Morrison. By live streaming the performances, the opera house's audience grew to more than 18,000 for SoundCheck shows.
This summer, the Camden Opera House is continuing its SoundCheck shows. For the time being, all audience members are being asked to wear masks inside the building. Each show will be live streamed for free on the opera house's Facebook page and archived on its YouTube channel.
Where: 29 Elm St. (Route 1), Camden
Learn more: www.camdenoperahouse.com
Rockport Opera House
In the 1970s, the Rockport Opera house had deteriorated to such a bad state that town officials thought about either selling it or demolishing it. The Rockport Garden Club led an effort to save it, and through an outpouring of local support and a grant from the Maine Arts Commission, the building, originally built in 1891 to serve as town hall, was revitalized, said Andrew Weber, opera house manager and rental agent.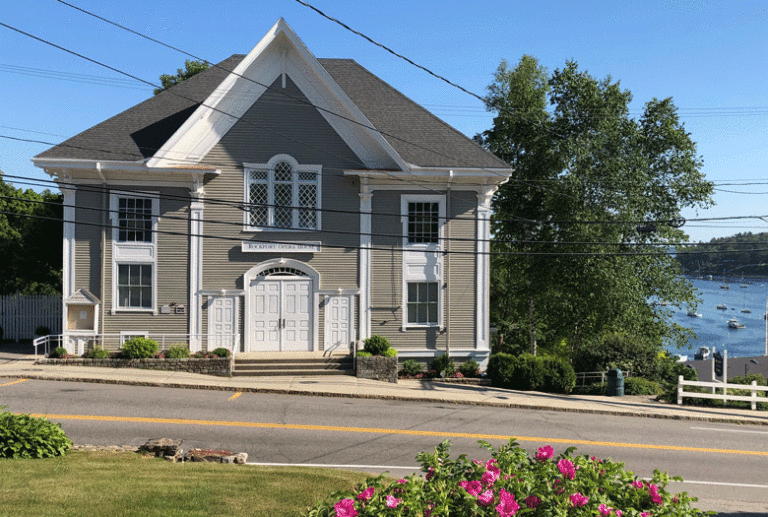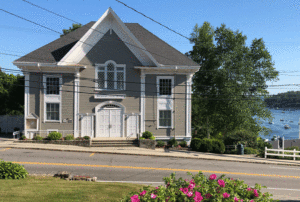 Before its near demise, the opera house served as a town meeting space, a library, theater, concert hall, and even a YMCA with a basketball court and a bowling alley, Weber said. Today, its theater curtain remains in place in all its hand-painted glory at more than 100 years old, and the space hosts the annual town meeting, select board meetings and other public meetings, private functions such as weddings, theater and dance performances, and concerts.
It also hosts the Maine Media Workshops Summer Lecture Series and is home to Bay Chamber Concerts.
Due to the pandemic, all events were cleared off last year's calendar. This year, some events are back, but others, such as the always-anticipated Maine Media Workshops Summer Lecture Series and the Bay Chamber Summer Concert series, are not.
Where: 101 Main St., Rockport
Learn more: https://rockportmaine.gov/operahouse
Stonington Opera House 
The Stonington Opera House has been a gathering place for year-round residents and seasonal visitors since the first version of the building was constructed in 1886, said Tony Adams, executive director of Opera House Arts, the nonprofit that operates and restored the current building, which was built in 1912, after a fire in 1910 incinerated the second version of the building.
From 1912 through the 1960s, it served its community as a home for plays, dances, vaudeville and theater performances, movies, and public events, such as high school graduations, Adams said.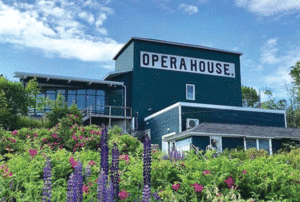 For a time, it was home to Stonington's town hall and the high school basketball court, and in the years immediately before its decline, was used as a roller skating rink.
Opera House Arts was established for the purpose of resurrecting and restoring the opera house, and in 2000, the organization launched the opera house's grand reopening. In the years since, the opera house has expanded, adding a glass lobby in 2012, and has been host to year-round local and international performance artists and an annual summer jazz festival.
Last year, all in-person events at the 250-seat opera house stopped, but Opera House Arts offered drive-in movies at the local ball field and did virtual presentations. This summer, some events may return to the historic auditorium (that's still in discussion, said Adams), but most events, including the jazz festival, will be held outside.
Where: School and Main streets, Stonington
Learn more: www.operahousearts.org
Boothbay Opera House
Originally built in 1894 as the lodge house for the Knights of Pythias, the Opera House at Boothbay Harbor has played many roles, including as a restaurant and bar, a private home, and a mini-marketplace.
In its current life as a nonprofit arts center, it hosts private events, local talent, and international, award-winning performers year-round.
Things were "humming along" when everything was shut down last year, said the Opera House's executive director, Cathy Sherrill. "And then, COVID—and that wasn't good for anyone or any venue," she said, "but, we've weathered it."
Performances were cancelled, but beginning in July, the Opera House began doing live shows again, seating 50 inside instead of 400—keeping the windows wide open even into December.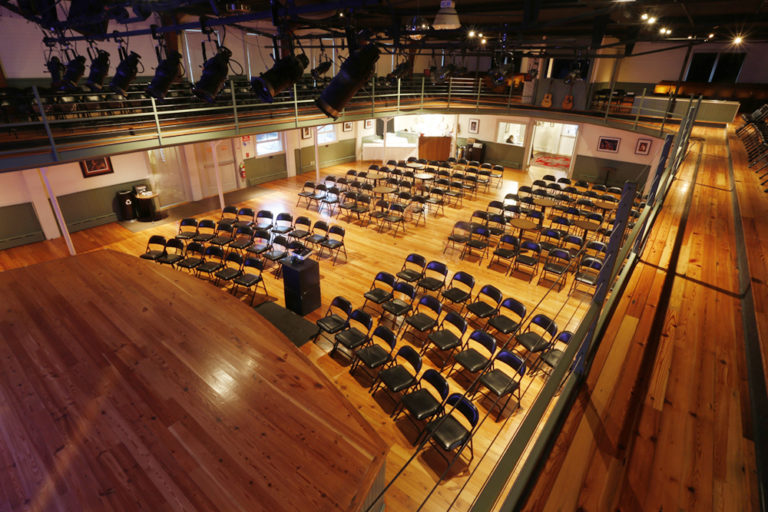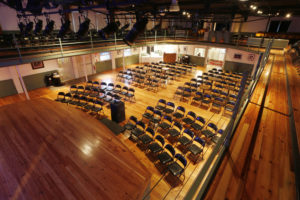 With national and international performers not touring, "our focus turned from national touring artists to supporting Maine musicians," she said. "We sold out every show." Financial support came from a PPP loan and the community. "People did whatever they could do," she said. "We've had enough to get by."
This year, the Opera House has local and national performers booked now through summer 2022. Seating is returning to general admission but not at full capacity to allow for plenty of spacing. Windows will once again be open. Audience members must be fully vaccinated or have proof of a negative COVID test taken within 24 hours before a performance.
Where: 86 Townsend Ave., Boothbay Harbor
Learn more: https://boothbayoperahouse.com/