The Field House: A Writer's Life Lost and Found on an Island in Maine
She Writes Press
Early in The Field House: A Writer's Life Lost and Found on an Island in Maine author Robin Clifford Wood asks, "Why has no one told her story?" The "her" is Rachel Field, subject of this affectionate biography, and the question is a good one: From around 1924 to her death in 1942, the poet, novelist, and playwright gained broad acclaim for her writing.
Hitty: The First One Hundred Years won the Newbery Award in 1930 (the first given to a woman); God's Pocket, 1934, was hailed as a Maine coast classic; and three of her novels were made into feature films, with Time Out of Mind (whose heroine is named Kate Fernald, a classic Cranberry Isles name) winning the National Book Award in 1935.
One of the reasons for the oversight: Field never experienced the scandals or the bright spotlight…
Add to that several popular plays and some memorable poetry, including the timeless "If Once You Have Slept on an Island" and that remarkable New England yarn "The Old Gods Come to Somesville, Maine," and you have a significant figure in American letters.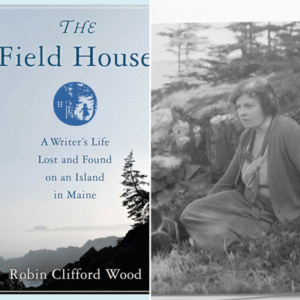 One of the reasons for the oversight: Field never experienced the scandals or the bright spotlight that helped the likes of Edna St. Vincent Millay and Elinor Wylie gain notoriety. As Wood notes throughout her biography, Field was kind and was loved by family and friends—no celebrity airs there, although she did hang out with Bette Davis and Vincent Price later in life.
The Maine island in the Wood's book title was Sutton, "a small member of the five Cranberry Isles," which Field first visited in 1910 at age 15 and where she purchased a home in 1922. She called the 1898 house, perched on the northeastern edge overlooking the Eastern Way, "The Playhouse."
The island became Field's muse and summer retreat; she picked blueberries and swam in the brisk waters (her bathing suit is in the Great Harbor Maritime Museum collection in Northeast Harbor).
"As Willa Cather is welded to her prairie towns, I am fused with the coast of Maine," she once said. It was there that she and fellow writers Dorothy Lathrop and Abbie Huston Evans shaped the narrative of Hitty, inspired by a wooden doll purchased in an antique shop on West 8th Street in New York City. (Evans went on to dedicate one of her most famous poems, "Northern Lights Over Sutton," to Field while Hitty became the mascot, if you will, of the Great Cranberry Island Historical Society.)
Wood apportions a lot of text to noting the autobiographical features of Field's writing, finding life parallels in the characters. She also offers psychological musings on what made the author tick, from her self-consciousness—she didn't consider herself especially becoming—to the motivations for her desires to marry, to bear a child, etc.
Field was not without her flaws, and Wood reviews some of them in passing, be it the disturbing nature of the real life story of God's Pocket, in which a Maine man exploits an Inuit family, or the "disturbingly racist outlook" found in some of her later letters. Her acclaimed young adult novel Calico Bush, which earned her a Newbery honor designation in 1932, has been criticized for its culturally insensitive portrayal of Native Americans.
A lot of research went into this book, including immersion in Field's letters and unpublished manuscripts. One section deals with the author's infatuation with Lyle Saxon, a writer who may have been gay. The final third of the book will be a real revelation to Field fans: an account of her marriage to Broadway actor Arthur Pederson, their years in California, and the circumstances of her tragic death.
The story of how Wood came to write about Field is curious. She and her husband Jonathan bought the author's "long-abandoned wood-frame" house on Sutton in 1994. The biography is interspersed with Wood's personal letters to Field recounting her own challenges as a writer—a memoir within a biography.
The affection Wood displays for her subject may not be to everyone's taste; at times, the prose is gushing ("…the first time that a strange connection between your world and mine created an electric shiver of wonder that started at the base of my spine and sparkled down to my fingertips"). The ample citations from Field's books and letters, while welcome, at times don't seem the best representation of her gifts as a writer.
To her credit, Wood presents her cherished subject in very human terms, brilliant and blemished alike. This biography should help solidify Field's place in the pantheon of New England writers of the first half of the 20th century—and bring welcome attention to writer "lost and found" on an island in Maine.
Carl Little wrote the foreword to a reprint of Rachel Field's God's Pocket published by the Northeast Harbor Library in 1999.