Long-time Mount Desert Island fishermen Holly Masterson and David Horner were busy recently prepping a site in Southwest Harbor for a completely new endeavor—an outdoor vendors market for entrepreneurs of all stripes.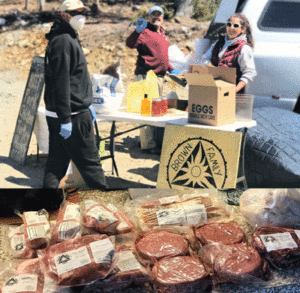 Within hours of advertising on social media and a new website, the Acadia Vendors Market received queries from food truck operators, farmers, crafters, woodworkers, antique dealers, and even someone asking about setting up a track for remote-control model car races. Inquiries poured in from established businesses, start-ups, individuals looking for an outlet for their crafts, and traveling exhibitors.
"We launched the site and people are reaching out: 'Is their business something we would consider?'" said Masterson. "The answer is 'yes.'"
"We wanted something with less rules and more flexibility to let a small business basically control their sales…"
Horner, a New Jersey native, moved to Mount Desert Island at age 13, began fishing from Beal's Lobster pier in Southwest Harbor, and now has spent 47 years in the industry, harvesting groundfish, scallops, lobster, whiting, and other Gulf of Maine seafood.
He was also Masterson's stepfather throughout her childhood. Masterson was 24 when she started lobster fishing with Horner. The two have fished together ever since.
In March, they were wrapping up the scallop season and planning to set traps at the end of May. After years on Maine's lobster license waiting list, Masterson finally received her own license in 2020 but planned to continue fishing with Horner for another year or two.
"I consider him a mentor," she said. "We've had a great working relationship for a long time."
Masterson also owns Downeast Destinations Rental Properties, Acadia Grab-N-Go Kayak Rentals, and Masterson Seafood, and she's an associate broker with Southwest Harbor real estate firm L.S. Robinson Co. She became interested in the property—a 4-acre wooded lot on Main Street, a prime location between Southwest Harbor's downtown area and several popular Acadia National Park spots—through her work at the brokerage.
"You go through a mental checklist saying, 'What could happen at the property for a potential buyer?'" she said. "I was talking with Dave one day and he said, 'Why don't we buy it?'"
The two spoke with a few different folks about doing a variety of things, possibly building a lobster pound for lease or a multi-purpose commercial structure, she said.
The collective market was an idea that percolated partly because of Horner's experience as a child in New Jersey going to flea markets.
"He said that, if you needed a shovel, you didn't go to a big box store like Home Depot. You went to a flea market and there would be 30 different shovels to choose from," recounted Masterson.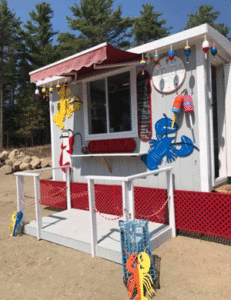 The two decided to create a space where entrepreneurs could sell products from an "all-in-one" destination. Space would be provided to vendors for an affordable fee, with vendor spaces available all week. They cleared the woods, created picnic areas, and installed underground power, a parking lot, and Porta potties. Rental spaces are flexible: A business can set up for one day or the whole season, which is expected to run this year from mid-May through October. Vendors can set up where they feel is best for them and will have the option to install small buildings at their site.
The goal is to get more long-term vendors.
"I've had a flood of support from our future customers, but we really need vendors who are willing to pioneer this new business model with us," she said.
Affordability is key in an area where many small businesses simply can't pay high rents in popular tourist towns, she said.
"This is a good option for those folks getting their business out there," she said.
Masterson is working with Maine Small Business Development Centers to promote the location for businesses that have struggled or had to close due to the pandemic.
"We wanted something different and heard multiple vendors complaining about the rules and judging process that most farmer markets go by," she said. "We wanted something with less rules and more flexibility to let a small business basically control their sales themselves."
By mid-March, about a dozen vendors had signed on, including a food truck called Rodick's Seaside Takeout, which operated at the site the last couple of years. Masterson said she'd love to add a variety of farmer vendors with fresh vegetables, flowers, meats, honey, maple syrup. and more seafood.
"We hope our outdoor space is unique in the sense that it's always changing with new vendors," she said. "We have our core group, but we hope to have furniture makers, craftsmen and such as well, even if it's just for a few of the bigger weekends in the summer."