Carving from green wood is a whole different beast from dry-wood carving, says Danielle Rose Byrd, a Bar Harbor-based wood carver and sculptor.
"It's wet wood. It behaves differently when it dries. It wants to crack and people are super scared of that. And so I'm like … Why is that bad?"
Her surgical plans unraveled when 9/11 happened only ten days after she started college in New York City.
In Byrd's new book, The Handcarved Bowl: Design and Create Custom Bowls from Scratch, released on April 13, the self-taught carver presents step-by-step wood carving instruction, with some soul-carving instruction threaded in.
The first-time author's journey to carving green wood began with pre-med. At first glance, it seems a stretch to go from pre-med studies to wood carving, but Byrd sees a connection: She was planning on becoming an orthopedic surgeon.
"I'm really interested in just putting things back together … and the intensity of it really drew me in."
But her surgical plans unraveled when 9/11 happened only ten days after she started college in New York City and she realized that being on the pre-med track meant her life, at not even 20 years old, was planned out.
"I was like, it doesn't have to be this way. What do I do?"
She ended up in a self-directed study program at Bar Harbor's College of the Atlantic. Known more for its marine biology and environmental studies programs than for music, COA offered Byrd supported interdisciplinary freedom.
"It just set me free," she says. "If I wanted to go in a certain direction, people were willing to step up and be like, 'Yeah, let's get you there. How do we get you there?' That was super appealing."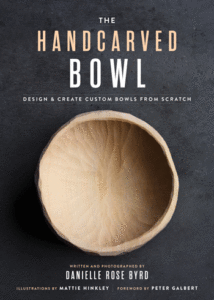 That level of support is ultimately what put her on the track to wood carving. She had delved into creating sound sculptures, frequently from items she'd scavenged at the local dump, and had set upon the idea of building a fiddle-like instrument for her senior project.
One day, while trying to figure out how she was going to build her fiddle, she saw a pile of demolition debris outside the maintenance building. One of her work-study jobs had been with the buildings and grounds department, so she asked her pals in the department what they were going to do with the wood in the pile. They told her they were going to burn it, then jokingly asked her if she wanted it. Oh yeah, she wanted it.
She collected the wood but didn't have any tools for shaping it into a fiddle, so the buildings and grounds crew stepped in again, giving her access to the department's shop and tools. She had a lot of down time waiting for wood to soak in scalding hot water or for glue to dry so one day, she picked up some of the chisels in the shop, selected a piece of scrap wood, and found herself carving a spoon.
That simple, very rough, spoon led her on a multiyear journey of learning how to carve and teaching others how to carve, too.
The Handcarved Bowl is an extension of that learning/teaching experience. In it, she offers three bowl projects that serve as a framework for carvers of all skill levels. She also shares nitty gritty info on tools and other know-how, such as how to select and harvest wood, and offers tips on keeping your body in good working order because a woodworker's body is as much a woodworking tool as is an adze.
And she subtly addresses some psychological barriers she has faced and she's seen other wood carvers or would-be wood carvers struggle with: the fear of failure and the need to create perfect objects.
"I'm trying to tell people, look, we have to reframe failure," she says. When student wood carvers ask her what she does with the bowls she made "mistakes" on, she tells them that she just changed them into bowls that didn't look like mistakes. "It's just a design change," she says.
"What's so freeing about this kind of woodworking is that it can be very open-ended," she says. She hopes her book will give wood carvers a safety net of sorts that will enable them to change the way they see the crack—and maybe even make some deliberate "mistakes."
Go to www.daniellerosebyrd.com or Byrd's Instagram (danielle_rose_byrd) to learn more about her work and book and to keep up with book-related events.