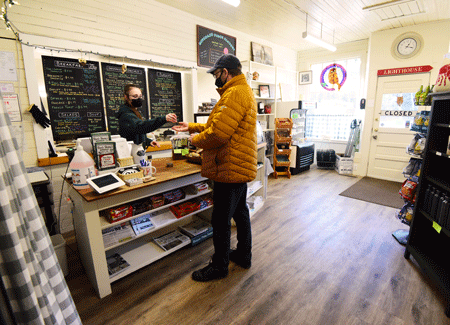 Maya Newsam has found her niche in Owls Head. That location isn't coincidence. It's where her great-great grandparents were rooted in the working waterfront. And as the new owner of Owls Head General Store, Newsam is here to stay.
"My great-grandmother is the reason that I'm here," says Newsam, whose great-great grandfather, Pete Reed, moved to Owls Head from the Bar Harbor area during the Great Depression and built the wharf now called Ship to Shore. Newsam, a New Hampshire native, has spent every summer of her life in Owls Head.
"I knew I'd end up back here somehow," she says.
Newsam is no stranger to hard work, having worked in restaurants since she was 16, from the desert of Arizona to the shores of Cape Ann, Mass. After studying human resources management in college, Newsam found herself managing a bar, aiming for a job in human resources at a casino. COVID changed her plans.
"Owls Head is my favorite place in the world."

—Maya Newsam
Thinking the shut down would last about two weeks, Newsam and her partner left Massachusetts for the family home in Owls Head. There, she saw that the general store was for sale after sitting empty since closing in 2017.
"I couldn't believe it. It was the hub. The whole town just seemed depressed," she says.
Newsam and her mother talked about how the general store would need someone with restaurant and management experience, someone who was willing to work 80 hours a week to do all that needed doing.
"I thought about it. Owls Head is my favorite place in the world. Why couldn't I do that? I have all of those things. I love the industry," says Newsam, who was growing tired of working until 2 a.m. in the bar scene. "I didn't know how to stay in the industry and feel fulfilled. That's where this came about."
In June 2020, Newsam bought the building, which was originally constructed as a post office in 1880 and has been a general store since the 1920s, and she quickly immersed herself in a series of planned, and unplanned, construction projects. The newly renovated general store opened in October and Newsam found herself working from 4:30 a.m. to 8 p.m. every day for the first two weeks, after which her staff of 11 began to fall into place.
Newsam is now hitting her stride with general store traditions, old and new. The classic Seven Napkin Burger, a historic favorite, has held steady as the top seller, while the demand for homemade fudge, which has replaced the store's penny candy selection in the time of COVID, exploded during the month of December and has since become a go-to for customers, who consistently favor the peanut butter.
Newsam has started offering pizza and take-home meals, including shepherd's pie and fish dinners, and plans to offer ice cream this summer, while exploring possibilities to increase storage space and indoor seating.
The Would You Happen to Have section, a return to the traditional mom-and-pop general store, features requested odds and ends, including hammers, toothpicks, oven thermometers, cribbage boards, and ping pong balls, among other things.
"The locals are what really keep me going. That's who I'm here for," she explains. "It's not like nobody lives in Owls Head in the middle of winter. I live in Owls Head in the middle of winter! We're really trying to step up and do community-based things because it's really important. We've already gotten a few things down and we have a few more things up our sleeve."
Newsam hopes to shape her own path into the future, with her family heritage to carry her forward. "Opportunities have been coming along day after day. I'm just letting things wash over me these days," she says.