Reflections is written by Island Fellows, recent college grads who do community service work on Maine islands and in coastal communities through the Island Institute, publisher of The Working Waterfront.
Island winters are not for the faint of heart. My first winter on Islesboro was no exception. Frigid winds cancel the day's ferry runs or shut off electricity. Driving sleet and rain make time outdoors more painful than joyful. Short, dark days have a way of affecting moods.
At the beginning of my fellowship, a wise islander gave me some sage advice: the only way to make it through winter on Islesboro is to have a really good hobby. Like any tips on how to survive on an island, I listened closely. And so this winter I dove deeply into violin playing, a long-held passion I feared might wane in my post-college years.
I began playing the violin at age four on a 1/16th sized violin. I can't say I loved the instrument from the beginning, but it wasn't long before I considered it a large part of my identity. As I grew older and my playing advanced, I felt a desire to express my emotions through my music. And, most of all, it allowed me to connect with people in a meaningful and powerful way.
Music binds us, without a single word. Music touches people deeply, with a unique meaning for every listener.
As winter days on the island grew shorter, my hours of violin practice grew longer. I began to think of music as my daily meditation. But instead of focusing on my breath in meditation, I concentrate on the movement of my body as I play the violin.
Sometimes I like to compare my bow vibrating my violin strings to a steady breath of air vibrating vocal cords. At other times, I am mesmerized by the resonance my violin produces when I hit a chord in perfect pitch.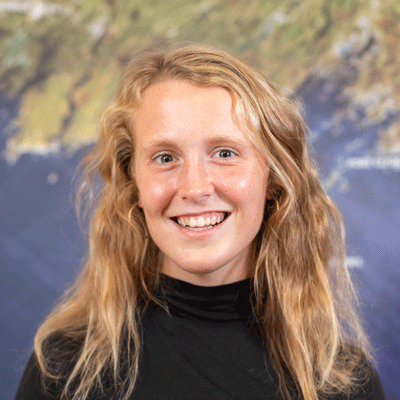 These days, I am absorbed in the Chaconne by Johann Sebastian Bach, a deeply spiritual masterpiece of solo violin repertoire. As I read Bach's own handwriting, I am transported hundreds of years in the past and into his own fascinating mind. What a gift it is to spend nights like these exploring the wonders of music. I haven't found a more perfect place to play the violin than peaceful, starry Islesboro.
As I gaze up at the night sky through my skylight, I think about the connection the world has with music. Music binds us, without a single word. Music touches people deeply, with a unique meaning for every listener. How brilliant it will be to share more music with the island as the world opens its arms again.
Coming to Islesboro last fall, I wasn't sure where music would wind its way into my life. Much of my work as an Island Fellow has to do with food sustainability, renewable energy, and supporting island youth—three areas I am passionate about but don't explicitly involve music.
Even during a pandemic, where live music is rare, I have found creative ways to musically connect with people on Islesboro. I have performed masked and over Zoom for two different churches.
Last October, some friends and I put on an outdoor, socially distanced folk concert on my front deck. I often play for the Islesboro Community Center's "Sundays at Seven" virtual performance series, both on my own and with other islanders. On violin and viola, I contributed to a heartwarming community recording project. As things become safer, I look forward to performing for Boardman Cottage, the assisted living residence on Islesboro.
Living on Islesboro has also instilled in me a passion for music teaching. Thanks to the Island Institute and Islesboro Community Center, I was able to take online violin teacher training courses that encourages children to learn music by listening, just as they learn a native language. At Islesboro Central School, I help teach violin to fourth and fifth grade classes weekly, as well as play with the high school band. I look forward to teaching free private violin lessons for kids and adults at the community center later in my fellowship.
For me, music is all about connection. Connection with my inner self, making me a more present and grounded person. Connection through teaching, spreading my love for music to learners of all ages. And connection with community, sharing my music through an unprecedented time in human history.
It is truly a gift to play music on Islesboro.
Anne McKee grew up in Hallowell and recently graduated from Bowdoin College with a major in history and environmental studies and a minor in Japanese. She works with the Islesboro Community Center and Islesboro Central School on sustainability and energy systems.