Born in Bangor in 1953, David Hopkins grew up on North Haven Island. When he was 14 and his brother, painter Eric Hopkins, was 16, they asked their parents if they could open an art gallery on the family's Hopkins Wharf. That was the beginning of a life-long connection for both with the art world.
I feel the value of art begins with a sense of place. Living in and connecting with that place defines our creativity…
In David's case, that life included working at the Metropolitan Museum of Art for 30 years. He started with the King Tut exhibition in 1979 and went on to help set up satellite Met shops across the country. Along the way he studied archeology at Syracuse; took part in digs in London (where he met his life partner, artist David Wilson) and Puebla, Mexico; and, upon retiring in 2010 from the Met, returned to run the gallery on North Haven while consulting on museum retail. He also manages the gift shop his mother June Hopkins (1923-2015) ran for over 60 years.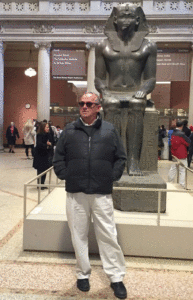 Hopkins has served on boards for the Farnsworth Museum, Waterman's Community Center on North Haven, and the North Haven Historical Society. He also was a commissioner of the Maine State Museum. Last March, Gov. Janet Mills appointed Hopkins chair of the Maine Arts Commission board.
We caught up with Hopkins by email recently. The following interview has been edited for length.
The Working Waterfront: What's your take on the Maine art scene during the pandemic? How is it faring? How are artists and arts organizations getting by?
Hopkins: This has been a very tough year for everyone. Artists in every field have been some of the worst affected by the financial downturn. Museums and performing arts centers have had to close their doors.
It is times like these that I am reminded of the quote by Toni Morrison: "This is precisely the time when artists go to work. There is no time for despair, no place for self-pity, no need for silence, no room for fear. We speak, we write, we do language. That is how civilizations heal."
While there is no substitute for an in-person experience of any art form, creativity has endured.
Waterman's Community Center on North Haven has always held a summer theater production. With the theatre space closed, the drama program was able to produce a play Do You Read Me? by Kathryn Funkhouser that is set on a space station. This was the first play rehearsed, produced, and performed through Zoom, and with plenty of challenges. Luckily, the technical quirks could be blamed on the difficulty of transmitting live theater from outer space!
Artists' greatest asset is their resilience, finding and highlighting the quality of life, offering hope to those around them, and encouraging humanity to flourish. 
WW: How do Mainers value art?
Hopkins: I feel the value of art begins with a sense of place. Living in and connecting with that place defines our creativity and our spirit. Maine's Native people understood that living here was challenging, and through ingenuity and perseverance they adapted and survived on this land for thousands of years. The objects they made to survive are wondrous to see and understand how they were used.
As other people immigrated to this "place," they, too, adapted to living here. The architecture, furniture, boats, tools of trades such as lumbering, harvesting of ice, farming, fishing, and shipping all required hard work and creativity.
Maine boat builders have built beauty in their boats—it comes from within them.
The stone cutters that came from Europe brought with them so many skills. I often think of the well-known story about three people who worked in a quarry. All asked what they did for a job. The first said he just worked in a quarry cutting stones. The second said he prepared building materials, and the third said, "I build cathedrals." We can all aspire to the vision of the third worker.  
WW: How does art fit into the Maine economy?
Hopkins: It is integral to it. It is a growth industry. My hope is to see a thriving creative economy and I hope the Maine Art Commission can act as a catalyst for that. A vibrant creative economy encourages people to want to live here.
WW: How has the Maine Arts Commission handled the challenges of the pandemic? Could you highlight a few new or reimagined programs?
Hopkins: Our small agency has been working hard through COVID to try to respond to the many needs of individuals and organizations. Thanks to the National Endowment for the Arts, the New England Foundation for the Arts, budget savings, and other small sources of funding, we have been able to grant just over $600,000 additional dollars for COVID relief.
The need is great right now. Even as the spring and summer come and opportunities for opening small and outdoor venues arise, we all know that we're still a long way away from packed houses at theaters across the state, large crowd openings at museums or galleries, or even the very popular social atmosphere of art walks or community festivals of the arts that bring Mainers together to celebrate our culture.
WW: What are the challenges/rewards of managing an island gallery, pandemic or not? 
Hopkins: Last spring at the start of the pandemic there was an overwhelming sense of gloom. It seemed the season was to be a washout. For a few months everything ground to a halt. What if we mounted an exhibition and nobody came? How could we keep the lights on with no sales?
Fortunately, this did not prove to be the case. We followed all the rules to maintain a safe space. By creating a better website, we were able to generate more interest. By opening a new gallery in our ice house, we were able to present more work in an airy space with lots of room for social distancing. The rewards of personal interaction, meeting people and bonding over an appreciation and discussion of creativity far outweigh the challenges.
WW: What is your fondest post-pandemic wish? 
Hopkins: Hugging friends, visiting museums, attending live events, theater, concerts, and movies are all on the list. My fondest wish, however, might be an end to division and a return to some sense of a common cause. A naive idea perhaps but living through this pandemic has highlighted the need and desire for a sense of unity. Additional funding for arts and education, from all sources, is needed to make our world a better place. Or as the third quarry worker said: "I build cathedrals"!
WW: You once stated that the Fox Islands are the center of the universe. Still true?
Hopkins: For me, indisputable! I have been "pinned" to this place. My heart and soul are here. It is my center.
For more information, see: mainearts.maine.gov and hopkinswharfgallery.com. 
Carl Little's latest book, Mary Alice Treworgy: A Maine Painter, is forthcoming this summer.