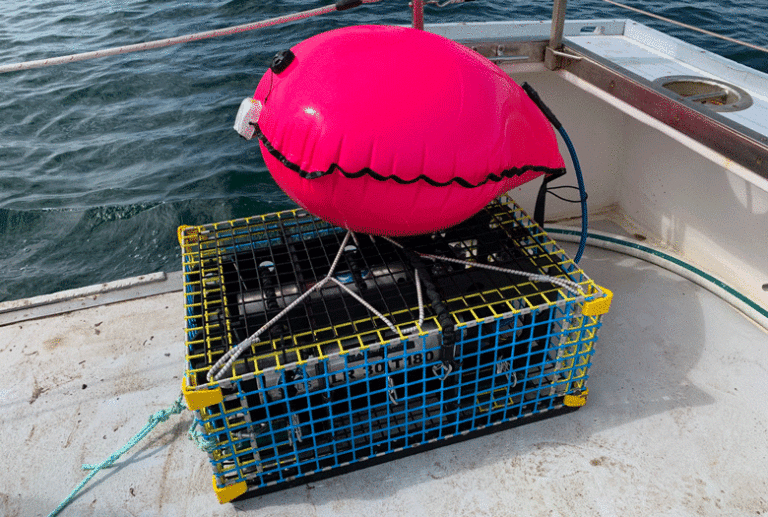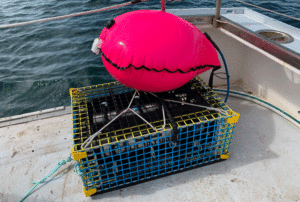 As the North Atlantic right whale population declines rapidly, regulators have proposed or enacted a series of closures of significant areas of lobster fishing grounds off the coast of New England and Atlantic Canada to protect the endangered whales from entanglement from traditional lobster trap lines. NOAA officials estimate there are several million vertical lines in the whale's path in the region.
The closure plans often offer exceptions, however, for so-called "ropeless" lobster fishing, which eliminates the standing vertical lines traditionally needed for retrieving traps from the sea floor. This exception has created heightened interest in ropeless trap technology, but raises questions about its viability.
A prevailing assessment is that ropeless traps are cost prohibitive for wide-scale adoption, at least for now. But many are optimistic about the rate of improvement of the technology and believe it could rapidly become a way of fishing during periodic closures.
Ropeless technology is not new, nor often even ropeless, explains Sean Brilliant…
Ropeless technology is not new, nor often even ropeless, explains Sean Brilliant, a senior conservation biologist for the marine programs for the Canadian Wildlife Federation. Ropeless technology involves weighing down a trap and then having a mechanism or latch that can provide access to the trap when needed. While one design currently being tested involves the release of a gas to fill up a flotation device, other designs use a spring or gear that can release a vertical line for retrieval.
The devices require some form of acoustic or wireless communication between trap and surface. Such technology has been used for oceanography and marine biology studies for some time, Brilliant said.
"We need to keep in mind that this technology exists," he said. "It is proven, it works, and really what we're talking about now is its suitability for this commercial fishery."
Tobey Stephenson has used ropeless technology often for retrieving scientific instruments from the ocean floor in the last decade as the captain of RV Osprey, a research vessel for the College of the Atlantic. In the past, each device he used required a sacrificial mooring to keep the device anchored to the floor, and there was also a higher instance of lost gear. Newer technology has cut down the risk and cost, he said.
"We've seen the progression over ten years, where we've lost equipment, to now everything comes back, for the most part," he said.
Stephenson equates the rapid evolution of ropeless technology to the pace at which cell phone tech has improved in the last decade. Gear has gotten smaller, the acoustic technology has gotten better, and the actions of the trap are more repeatable than in the past. Still, he doesn't believe the technology is inexpensive enough for wide-scale use by a commercial fishery.
"That's an investment scale that could change probably pretty quickly, especially if there was government support and funding," he said.
Another issue, Brilliant said, is that there will be a need to develop a way for regulators and other fishers to know what traps are below the surface without giving away the anonymity of those who own them.
"You need a system that can assimilate [ropeless trap] data and then share that data in a way that's probably anonymous but allows me to see where all the traps are in an area," he said.
NOAA involvement with the ropeless fishing gear industry is relatively new. The agency first released a plan to work with the industry in 2018 and was given $1 million by Congress to accelerate development for commercial fishing. Currently, the agency is working with ten industry partners, three of which claim to have commercially viable products, and one of which estimates it could make 200,000 traps in the next two years. In addition, there are limited test fishing projects with ropeless gear underway off the coasts of Maritime Canada, Cape Cod, California, and Australia.
While there is resistance to ropeless technology among some fisheries, mandated closures of vertical line traps to protect right whales may create more openness among fisheries to experiment with limited use of ropeless traps. The traps are not perfect, but they are better than staying on shore, Brilliant said.
"I keep saying these closures are the solution to reducing entanglements. Ropeless gear is the solution to the closures," Brilliant said.