When asked, most say that aging at home or aging in an assisted living facility near home are the preferred options. But what if home is on an island, with limited health services, let alone an assisted living facility?
A group of Peaks islanders is working to change that status. Chris and Barbara Hoppin, both 78, islanders who are doing leg work for the idea, say a survey they and about 20 others created showed interest in a facility.
"There's a need," Chris Hoppin said.
Chris is retired from a communications and PR career in the computer industry, and Barbara was a teacher and principal for Portland's island schools.
Both year-round and seasonal residents were surveyed, and the results were encouraging enough for the group to begin working to get a developer interested in building and operating an assisted living facility.
The survey showed 69 percent indicated they were concerned about the ability to stay on-island as they age…
According to the U.S. Census, all 75 million baby boomers will be 65 or older by 2030. This aging segment of the population is thinking about those final years, and so are their children.
The island, which is part of the city of Portland, has about 950 year-round residents and as many as 4,000 part-time or vacation visitors in summer, Hoppin notes.
Though the island hosts the Fay Garman House, a senior residence with 11, one-bedroom apartments, built almost 20 years ago, residents at that facility must have low or moderate income, and must be able to live independently, which has led to people moving to the mainland for assisted living housing options.
The Garman House facility is run by Volunteers of America, a nonprofit which provides housing to low-income people throughout the U.S.
"They're good people," Hoppin said of the organization, but more units are needed, and income should not be a limiting factor in a new facility.
"We do want to make it available to everyone," he said.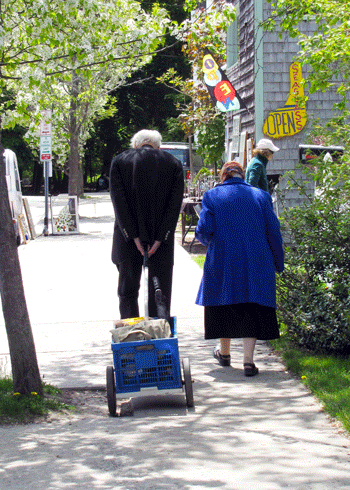 In 2018, the island committee researching the assisted living facility enlisted the help of Nell Houde, the Island Fellow working on Peaks (through the Island Institute, publisher of The Working Waterfront). Houde worked with the committee to host focus groups and then developed a thorough survey to measure the need for assisted living on Peaks.
Of the 461 responding to the web-based and in-person survey, which was sent to all year-round and seasonal islanders, 161 expressed interest in an assisted living facility on the island.
Other details gleaned from the analysis of the survey results are:
37 percent of respondents were between the age of 65 and 84
Half of respondents were retired
71 percent live on-island the majority of the year
16 percent live on the island in summer
13 percent are on the island less than two months a year
The survey showed 69 percent indicated they were concerned about the ability to stay on-island as they age, with concerns about the time and effort it takes to get to Portland for medical appointments.
A key question addressed how respondents would choose to age on the island, with multiple answers allowed:
69 percent said in their homes with in-home assistance
34 percent said in an assisted living facility
33 percent said a senior-friendly apartment complex
13 percent said off-island
The group has not developed estimates on what the costs might be for residents of such a facility, Hoppin said. The profiles of potential users, he believes, ranges from life-long islanders, to parents of islanders who live out of state. It's possible, too, that those with no ties to the island may be interested.
"The city of Portland is behind this," Hoppin said, "because they try to treat Peaks like other neighborhoods in the city, and they try establish amenities in each."
One conclusion the committee arrived at is that if a facility is built, "you've got to be able to expand it," Hoppin said.
The committee worked in 2019 and 2020 to identify a developer and operator for a facility, though the pandemic slowed the effort.
"We do remain confident that we can find an enterprise to build and operate a Peaks Island assisted living facility," Hoppin said. The group is urging anyone with contacts to have them reach out to the committee at choppin@aol.com.