Maine's scallop fishery has changed considerably over the years.
David Tarr, a Brooklin resident, has gone both dragging and diving for scallops since he was a kid in the early 1980s.
"Things were way different back then," he said. "It was kind of a wild, wild fishery. It was boom or bust."
When things were good, it was quite lucrative, he said. Not so much, though, when the scallops were overharvested.
"I don't have a warehouse. I take orders and then I go and get the scallops."

—Togue Brawn
"It was the mentality that, if I don't get them, someone else would," he said. "So we were all working hard to get our share."
Maine controls the scallop fishery in state waters up to three miles from shore. The federal government controls the fishery beyond the three-mile line. Whether from state or federal waters, the product is the same.
"From the consumer standpoint, all Gulf of Maine scallops taste marvelous," said Melissa Smith, a scientist with the Maine Department of Marine Resources.
Tarr and Smith were panelists for a recent Lunch & Learn webinar, "The Sweet and Salty of Maine's Sea Scallop Fishery," hosted by the Maine Center for Coastal Fisheries in Stonington.
Overall, the fishery is considered a modern-day success story as landings rebounded in recent years, with an estimated landed value of $4.5 million in 2019.
The state fishery runs from December through early spring. Most of the product is harvested by draggers; divers bring up the rest. Come April, scallop fishing begins in the federal portion of the northern Gulf of Maine waters.
Maine has a strong history of scalloping, but landings have fluctuated a fair bit since the 1950s. There was a huge peak around 1980, but that's never been approached again. Landings started to decline in the early 1990s. Maine's lowest landings ever were in 2005.
In the 2000s, Maine started to implement new management measures to help the resource recover from overfishing. That included harvest, size, and license limits; and certain time and area closures. The DMR formed a council of industry advisors to share the decisions. The coast was divided into three fishing zones so measures could be better refined to area conditions.
This past season, harvesters had a pretty good haul and strong prices, thanks to two decades worth of those measures.
"Landings have been moderate—nothing great, but nothing horrible," said Smith.
The season opened with a strong price per pound of $12.75 and increased in January to as high as $13.50, she said.
"It's remained fairly stable and fairly strong for the entire season," she said.
Harvester reports indicate that legal-size scallops are being found, but they're increasingly spread out, said Smith. Meat sizes and quality are good but on the smaller side.
"I haven't heard any reports this year of the unicorn U2s," she said, referring to meats large enough that it takes only two to weigh a pound. Typical hauls are bringing up U10 to U15s, she said.
Although scallops in the gulf are the same species, there are taste differences depending on where they're harvested, said Togue Brawn, a former DMR scientist who started a scallop dealership called Downeast Dayboat.
"I started the business because most Americans hadn't tasted fresh Maine scallops," she said.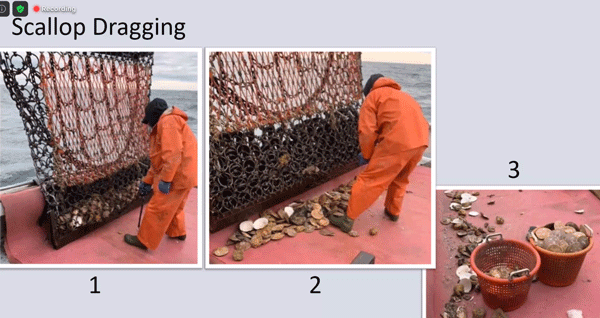 Most consumers, Brawn said, have tasted scallops coming from big boats that fish in federal waters, steaming for days at a time and storing product in ice. The scallops absorb the ice as it melts, which makes them "waterlogged" and reduces their quality, she said.
Maine's state fishery comprises small vessels that bring scallops to shore within hours of harvesting them. For decades, she said, state and federal harvests were mixed together, making it impossible to differentiate the higher quality of Maine's product.
Brawn started her business by introducing chefs to a selection of "varietals"—scallops harvested in different areas along the coast that have different flavors. The concept was a hit. Now she meets fishermen at their boats and ships product the next day directly to consumers.
"I don't have a warehouse. I take orders and then I go and get the scallops. That creates a completely different level of quality."
Tarr, a member of the Scallop Advisory Council, is an enthusiast for that quality. He noted that scallops harvested by divers are something of a niche product.
"It's more desirable to certain restaurants and consumers," he said. "I prefer to dive for scallops. I really enjoy it."
The advantage of diving is that scallops can be individually selected from the seafloor.
"I don't pick up what I don't want," he said.
These days, said Tarr, it's much less likely for the stock to get depleted. Although fishermen aren't always happy with closures, they acknowledge the decisions are made out of caution for the resource.
"We don't want to catch the last one," he said.
If anything, he said, more monitoring is key to ensure the health of the resource.
"Data is key," he said. "In the future we'll figure out a better way to have that data available and keep the fishery going."
And that's essential for ensuring younger generations get into the fishery. Currently, the fishery is closed to new entrants unless a license is relinquished; those licenses go into a pot that's drawn from through an annual lottery.
"If a young fisherman gets a license, I will take them under my wing, help them out, keep them safe and show them how to go about doing this," Tarr said. "I don't want it to become a lost art."