What could be better than a vessel that encapsulates the timelessness of a love story, the enchantment of a fairy tale, and the mystical allure of a legend? Well, how about one with the spirit of Maine in its every fiber.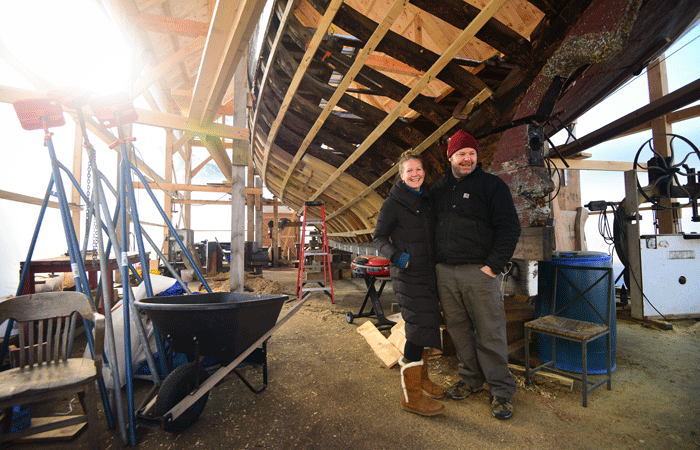 Josh Rowan, 41, and Erin Desmond, 37, are restoring the schooner Hindu, designed by William Hand and built by Hodgdon Brothers in East Boothbay in 1925. Hindu has found a temporary home in Thomaston, where, with the help of local shipwrights Mike Rogers and Simon Larsen, she will be ready to navigate distant horizons for another century.
One of five sister ships, which includes Bowdoin, which was designed for Arctic exploration with Admiral MacMillan, Hindu has sailed distant seas in the Indian spice trade, fired on U-Boats in World War II, harpooned tuna fish, and has been one of the longest running charter boats on the East Coast since 1946 in Provincetown, Mass., where generations have fallen in love with the vessel.
One of five sister ships, which includes Bowdoin, Hindu has sailed distant seas in the Indian spice trade, fired on U-Boats in World War II…
"Every single year, somebody will come up and say, 'In 1972, I met my wife on this boat!' The stories just never stop," said Rowan. "This particular boat changed my path in a way I never expected. I've watched it change so many people's paths and have such an incredible impact, more than anything else I've ever seen."
Rowan's relationship with the sea began aboard a 50-foot wooden sailboat built by his father on the family's homestead in an Oregon rainforest, when his parents sought escape from suburbia by cruising through Central and South America for eight years, during which time they lived off rice, beans, and fish, and immersed themselves in local communities. The family ended up in Key West, where, at age 15, Josh got his captain's license and started a charter company with his family's sailboat.
He spent some childhood summers in northern Maine and would return years later to do a stint as a rigger at Wayfarer Marine in Camden, after which he studied alternative energy and engineering in Massachusetts and New Zealand, and took a solo motorcycle trip through Central and South America.
It was during a visit to Key West that he fell in love with Hindu. A friend had recently purchased and rebuilt part of the schooner and Rowan soon found himself working as captain, after which a legal battle between business partners ensued and left Hindu repossessed by the bank and literally sinking into the sea.
In 2011, Rowan became the steward and has averaged 330 days underway each year with daily cruises and nine trips between Key West and Provincetown.
"I met Josh and got sucked into this wild adventure," said Erin Desmond, Rowan's fiancé, first mate, and manager of the vessel's charter operations.
"There are not that many things left to do in the world that are a combination of hands-on physical labor, creative intellectual challenges, fun times, and life-or-death experiences all rolled into one," she said. "This is the richest little enclave of experience that I could have ever gotten into."
The couple had planned to bring Hindu to Maine for a rebuild after the 2020 summer season. But while the vessel was on its way from Key West to Provincetown, a 3:30 a.m. collision with a submerged vessel in Long Island Sound forced the couple to get the boat to Maine.
In August, they found property in Thomaston for their future home and to serve as a place to work on Hindu.
"We really lucked out buying this little piece of property in Thomaston," Desmond said. "We didn't know at the time that Thomaston had such a rich history of shipbuilding." She recently joined the town's Green Task Force, while Rowan has been appointed to the Thomaston Harbor Committee.
In a race against time, a barn was built over Hindu to protect it from the impending Maine winter, which will be put on a foundation next year and will be large enough to house two of the three boats owned by Hindu Charters, including Bloodhound, an 1874 Model Fife racing sailboat.
Hindu's rebuild is about a third complete, and the work is slated be done between December and June 2022. The wood being used is rot resistant purpleheart wood from Guyana, black locust wood from Maine, which was historically planted by shipwrights and is now considered an invasive species, and two dead-standing northern rainforest trees from Rowan's family's land in Oregon.
Desmond acknowledges the debate about historically accurate technique.
"Is it the same boat if you totally rebuild it? Our shipwrights are replacing it piece by piece, following the 1925 schematics exactly, so that the soul of the boat transfers over," she said. "In the way we're doing it, every flaw that she's ever had and every frame is identical. Her properties are the same."
Rowan feels a sense of responsibility.
"The boat has this magic about her. You just want to help it continue."
For more information on how to contribute to the Promise to the Schooner Hindu campaign, see sailschoonerhindu.com.