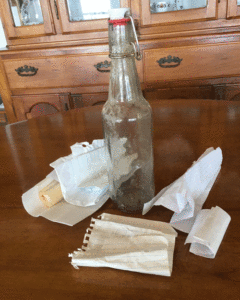 The senior class of 2020 at Vinalhaven School set adrift a message in a bottle as part of its graduation ceremonies last year. The idea came from Bianca Barroso, the graduation coordinator. Due to the pandemic, the class of 2020 missed out on some of Vinalhaven School's traditional graduation activities such as the Grand March. The message in a bottle was a unique way to make up for it and celebrate graduation.
The graduates wrote their own letters to go in the bottle. None of the seniors saw each other's message, just their own. The letters were given to Barroso who put them in the bottle.
The ceremony in which the bottle was released was supposed to be a parade of lobster boats, but due to worries of causing spectators to gather, it turned into a group of boats tied together outside Carver's Harbor.
"Their goal was for it to reach France or Europe."

—Bryan Feezor
The bottle was sent off June 14. Corey Lazaro, a senior from the class, along with Barroso and family, were on the lobster boat in charge of sending the bottle off. At the end of the ceremony, as the other boats left, Lazaro threw it overboard near Hurricane Island.
Originally, the bottle was found on the south side of Burnt Island, near Boothbay Harbor, discovered by Jerry White of North Haven. White told Bill Trevaskis, a teacher at Vinalhaven School who is also from North Haven, because he heard the bottle might contain letters from Vinalhaven students.
White would soon be shipping out to the Gulf of Mexico and took the bottle with him to send it off to sea again.
"Their goal was for it to reach France or Europe," said Bryan Feezor, assistant principal.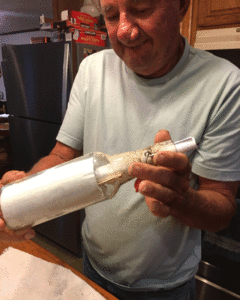 Although the bottle did not make it to Europe, it washed up on a beach on Elmer's Island, La., in the Gulf of Mexico and was found there by Gary and Connie Snyder on Sept. 11. The Snyders' daughter-in-law, Janelle Snyder, happens to be friends with Les and Theresa Penick who work at Vinalhaven School this year.
The Penicks came to Vinalhaven last summer. Janelle Snyder learned about their move to Vinalhaven on Facebook and contacted the Penicks, letting them know about the bottle.
"We had no idea who sent it from Vinalhaven," said Theresa Penick. "We were excited, shocked, dumbfounded, and amazed!"
The bottle contained eight letters.
"One letter was written in French. We contacted [French teacher] Susan Philbrook to see if her class sent it, but she said no," said Les Penick. Les and Theresa emailed Philbrook on a Saturday, and by Monday afternoon Feezor had told them the information he knew about the bottle.
"Gary was so excited when he found it! It was found so quickly," said the Penicks. "One letter had a student's email written on it, so they emailed them."
The email on the letter belonged to 2020 graduate Tim Farrelly.
"On Sept. 11 I got an email from a couple in Louisiana that they had found it washed ashore on a beach!" said Farrelly, via email. "They were very excited, especially to find that it had come all the way from Maine. I emailed them back with some context of how the merchant marine had taken it to the Gulf of Mexico, and just how thrilled I was that our bottle had arrived somewhere and that including my email in my message was worthwhile!"
Farrelly describes the concept of a message in a bottle as very appealing.
"To whoever receives it, it is extremely exciting and sort of romantic. To whoever is sending it, it is thrilling to imagine where it could end up, how far it would travel, who might see it, and how long it would take to discover."
The class of 2020 enjoyed sending off their letters in a bottle, and the fact that it was discovered made it so much more exciting for them.
"I think that it is a really fun and unique tradition," said Farrelly. "I would definitely recommend it to other classes in the future."
Emilie Osgood is a sophomore at Vinalhaven High School.