Eventide: Recipes for Clambakes, Oysters, Lobster Rolls, and More From a Modern Maine Seafood Shack
Arlin Smith, Andrew Taylor, Mike Wiley with Sam Hiersteiner
Is it because of COVID and quarantining, not dining in restaurants, or cooking special meals to share with family and friends for months now that I so enjoyed reading the Eventide cookbook this fall?
Rather than reading recipes and mourning those culinary things we've lost (and that is looking only at a very small subset of all the losses COVID has inflicted), I felt a kind of friendly embrace extended to me by a talented and entertaining threesome of chefs. It occurred to me then that another deprivation I was feeling might be less specifically food-related and more about missing social interactions. Reading Eventide felt like being in on a lively group conversation.
The cookbook Eventide comes from the popular and innovative restaurant of that name in Portland. It's a collaborative effort by Arlin Smith, Andrew Taylor, and Mike Wiley, who have worked together to create an inventive menu. And even though the subtitle describes Eventide as "a modern Maine seafood shack," this collection is not in the genre of a souvenir Downeast cookbook.
I enjoyed their good-natured camaraderie and felt welcomed into the kitchen…
Yes, there are pretty pictures, the inevitable iconic images: rustic clam shacks, lighthouse, fishing boats, rocky beaches, red lobster on red-checkered tablecloth, and so on. But read what these guys have written, and I think you'll find it's a lot more than pictures and recipes celebrating and even elevating local Maine seafood.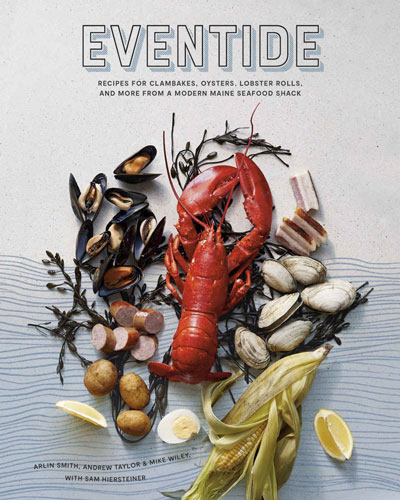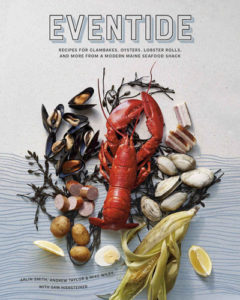 I enjoyed their good-natured camaraderie and felt welcomed into the kitchen, as if they were saying that even with complicated procedures or using equipment or ingredients I don't (yet) own: "You can do it too, we believe in you!" They offer not only painstaking explanations (served up with humor and humility), but also provide some detailed how-to illustrations and photographs of the plated food as well.
The dishes they create are focused on local seafood but include surprising and clever twists. And while I'm not sure yet exactly what in this book's inspiration will find its way into my own kitchen, I feel it has already broadened my concept of possibilities working with seafood and seaweeds.
One dish catching my eye—lightly pickled mackerel with a nori vinaigrette, dashi gelee, puffed sushi rice, and caramelized onion puree—is an example of what some might point out as evidence this compendium overly favors Asian flavors and style.
One of Eventide's signature dishes—the Brown Butter Lobster Roll—is served in a steamed bun, rather than the classic New England-style hot dog type. The crab roll is similarly housed and includes yuzu kosho in the mayo—a Japanese condiment made with chiles, salt, and the juice and zest of the yuzu, a tart citrus fruit. But other regional influences are in play as well, including Latin American and Mediterranean.
Personally, I think that's exactly what restaurants and cookbooks are good for—expanding our horizons, exposing us to culinary adventures.
During this COVID pandemic, when travel, dinner parties, eating out, and even foraging or shopping can feel greatly limited and impeded, Eventide has reminded me it isn't only those food opportunities that are missed, but the sharing of them, the communal experience of being among others enjoying that, too.
Tina Cohen is a seasonal resident of Vinalhaven.