It was clothing and a tragedy that brought Jennifer Merz and Frances Perkins together.
Merz, who recently retired to Phippsburg with her husband, is a collage artist and writer who has published three children's books; the third, in September, is Steadfast: Frances Perkins, Champion of Workers' Rights.
Perkins (1880-1965) was labor secretary in the Franklin Roosevelt administration, the first woman to serve in a presidential cabinet. She was born in Boston, but both her parents were from Maine, and Perkins and her family spent summers at her grandmother's homestead in Newcastle.
The clothing connection, which led to the book, came about in a serendipitous way.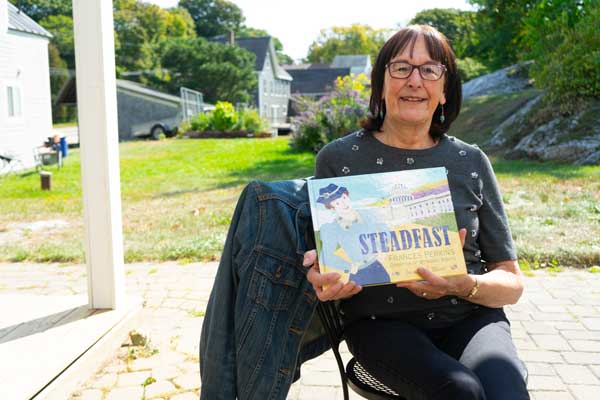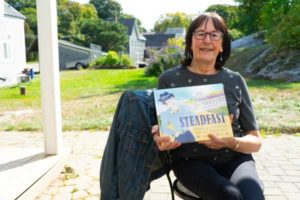 Merz, who hails from Mount Vernon, N.Y., was living in Allendale, N.J. and working in Manhattan in the textile industry, acting as a coordinator between the design shop and the production of clothing. But art was her first love, having earned a B.A. in studio art. As a younger woman, she'd drawn and painted, and when her daughters were grown, she returned to that love.
"I started to take classes at the School of Visual Arts, in Manhattan," and finally earned a master's degree in illustration from the Fashion Institute of Technology.
"It was at that juncture that the seeds of this book were sown," she says.
It was 2011, and the school was marking the centennial of the Triangle Shirtwaist Company fire, which claimed the lives of 145, mostly women who worked in the Manhattan business. The factory was on the top three floors of a building whose doors were either locked or didn't open outward.
"I found out that not only had she witnessed it, but she was galvanized by it."
Merz and other students were preparing textile art for the commemoration.
"I started to do a lot more research into it," she remembers. "I wanted to learn more about this chapter in textile history, in New York history."
She learned that Frances Perkins was working in the city at the time of the tragedy.
"She was a young social worker. I found out that not only had she witnessed it, but she was galvanized by it," Merz said.
Perkins became an advocate for changes to working conditions, including protecting child laborers, and mandating safe exits and sprinkler systems, "things we take for granted now," Merz said.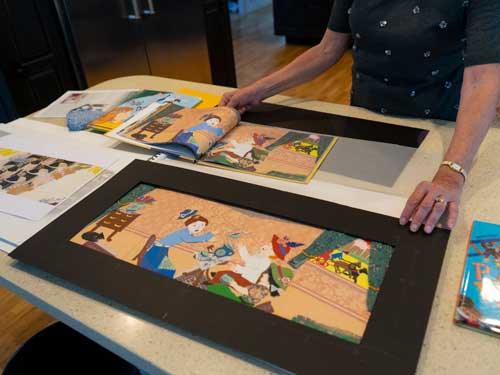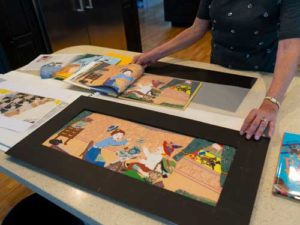 Twenty years later, Roosevelt asked her to serve as his labor secretary. But her acceptance came with conditions. She wanted the president to work toward the elimination of child labor, and the establishment of a minimum wage and worker compensation.
Merz continued to learn more about Perkins and her service, which lasted the entire 12 years of the FDR administration.
"What I didn't know was her involvement in the New Deal," Roosevelt's signature recovery program for the Depression years. "And she was responsible for Social Security."
For more on this part of Perkins' life, Merz recommends The Woman Behind the New Deal, by Kirstin Downey. But she felt another, younger group needed to hear the Frances Perkins story.
"I became very impassioned to get the word out to children—particularly girls," she said. Her two earlier children's books—That Dancin' Dolly and Playground Day—were inspired by her daughters.
"I always keep my daughters in mind," she said. And Steadfast, "hopefully, will influence a new generation of children."
The title comes from a motto of sorts. Perkins attended Mount Holyoke College, and the class of 1902's motto was "Be Ye Steadfast."
One of the lessons Perkins learned, and which is reflected in the book, is that change can be made on a smaller scale than might be imagined. She would gather 40-50 people together to urge acceptance and activism for the New Deal initiatives, and saw it built a wave of support.
The book is aimed at children ages 6-9, which Merz believes is a good age range "for a discussion" of the ideas for which Perkins is known.
The illustrations are rich in texture and appear almost three dimensional. Merz showed how she would painstakingly cut fabric to create the layered collages, which she augmented with historical photos. She even relied a bit on digital manipulation, repeating images to create crowd scenes, and a scanner to create single images from many layers.
Steadfast may be purchased at JenniferMerz.com, on Amazon, and at the Frances Perkins Center. Though the Perkins homestead is in Newcastle, the nonprofit Frances Perkins Center is in Damariscotta. More information can be found at: FrancesPerkinsCenter.org