The Island Institute's Small Business Team supports fishermen, artists, makers, small businesses, and entrepreneurs in Maine's coastal and island communities through business and financial planning services, professional development opportunities, as well as industry and marketing connections.
In addition, our business resilience grants and catalyst loans for small businesses, offered through the Tom Glenn Community Impact Fund, can provide outside professional training at no cost to the small business owner as well as capital at crucial times in a business's life.
The Small Business Team can help you navigate the complexities of starting and growing a business through one-on-one meetings and support as well as mentoring for artists through Archipelago, the Institute's store and gallery. We also work closely with local, state, federal, and private business counseling resources to ensure that entrepreneurs have access to an extensive network of industry experts, advisors, and mentors.
---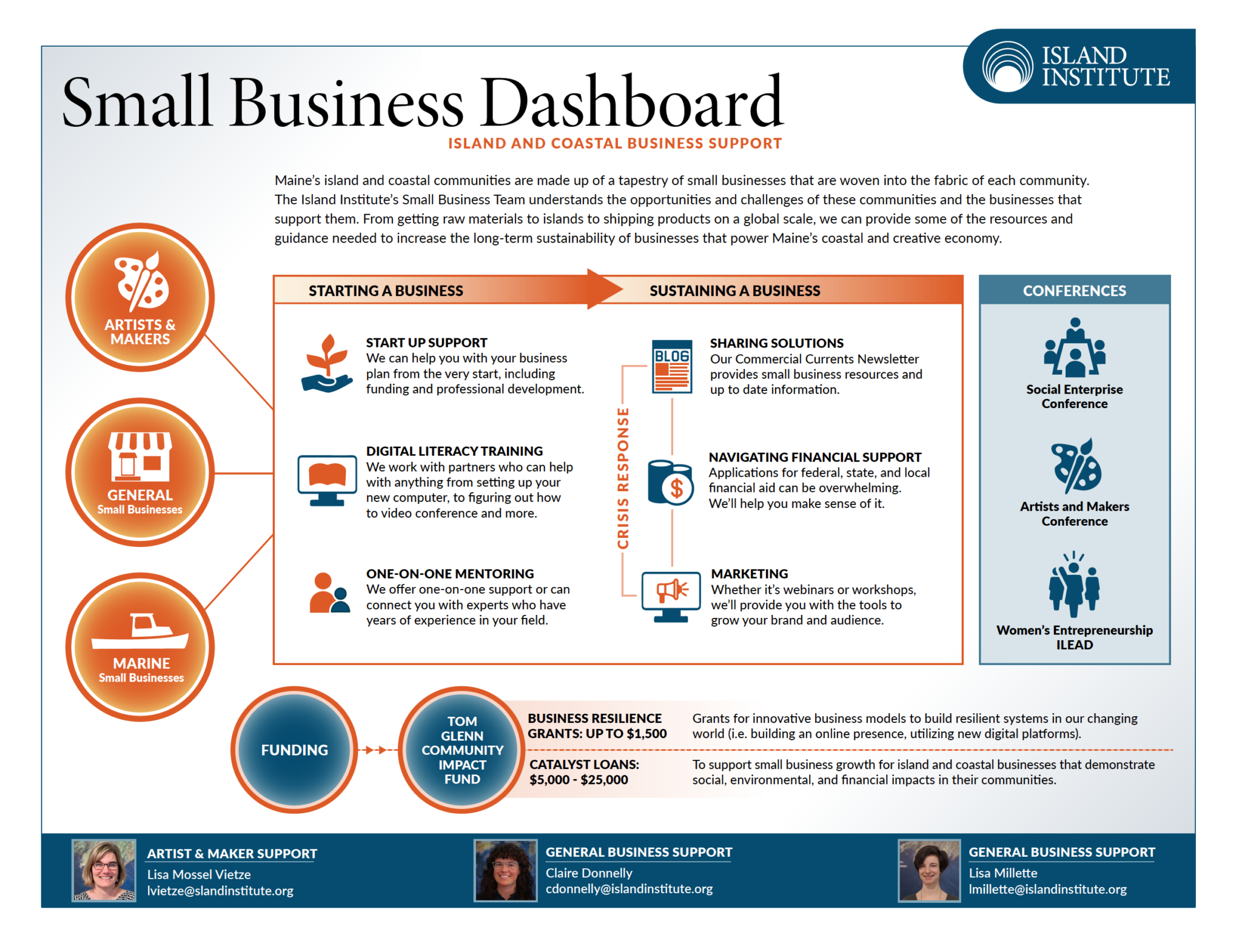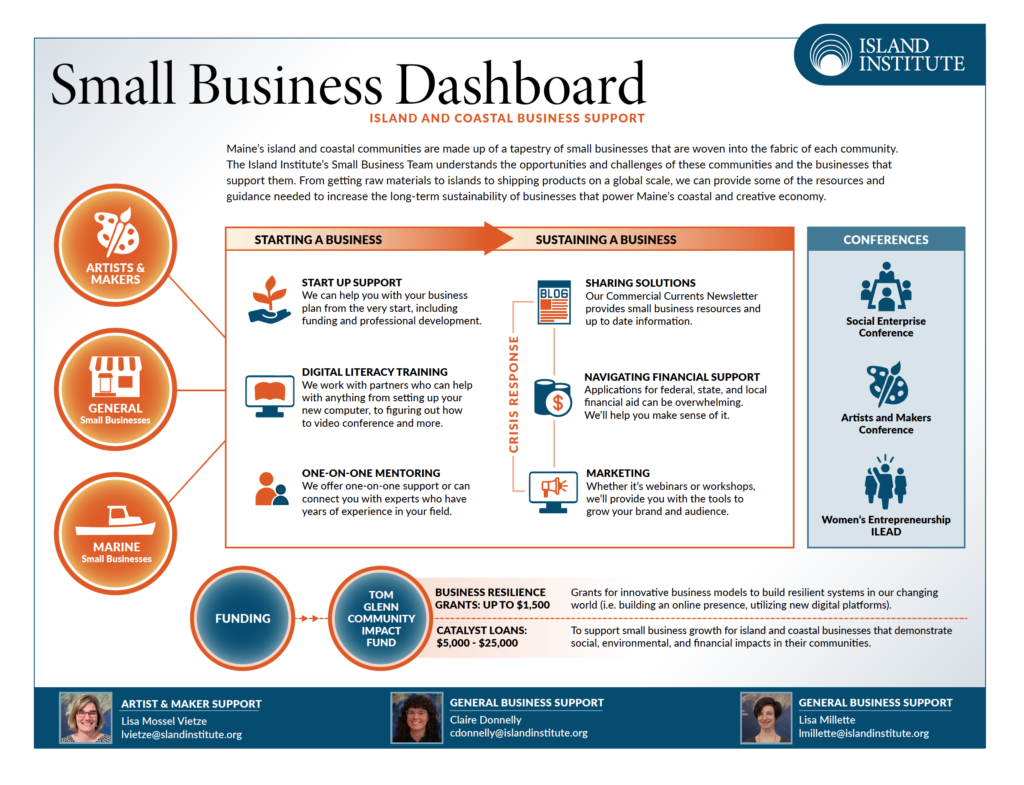 Business Resilience Grants
Communities, businesses, and families are facing a host of uncertainties. In our work with small businesses, we see a particular need for helping businesses pivot product lines or sales models to help them adapt and place them on surer footing—in the wake of COVID-19 and after. Through the Tom Glenn Community Impact Fund, we are offering grants of up to $1,500 to support island and coastal small businesses, artists and makers, and working waterfront businesses during this time.
Funding for this program is currently closed. Thank you to everyone who applied, and to all of the amazing island and coastal small businesses who met our recent challenges head on, reinvented themselves, and thrived despite the obstacles they faced. We applaud you!
---
Commercial Currents Podcast
The Commercial Currents Podcast shares stories and solutions from small business owners and entrepreneurs on Maine's islands and coast. In the wake of COVID-19, small businesses everywhere are struggling to make sense of the rapidly changing economy. Listen as we highlight some of the challenges they're facing, discover what's working well, and find the bright spots and opportunities that exist for small businesses today.
---
QUESTIONS?
The Island Institute connects fishermen, artists, makers, small businesses, and entrepreneurs to resources that can help improve income stability, business efficiency, and economic productivity, and allow businesses to expand and reach new markets. To inquire about any of our services, please contact Claire Donnelly or Lisa Millette, or other contacts as listed below:
Archipelago retail store for artists and makers & the annual Artists & Makers Conference – Lisa Mossel Vietze, Archipelago Director
Grant and loan support through the Tom Glenn Community Impact Fund and Commercial Currents articles – Email us here
Funding partners for our small business support include: John T. Gorman Foundation, NorthLight Foundation, Jane's Trust Foundation, Manton Foundation, and Elmina B. Sewall Foundation.