Maine's creative economy is an important driver in many coastal communities which, according to the Waypoints: Livelihoods publication, have an average self-employed rate of 23%. Therefore, since the shutdown in late March, we have been doing several things earnestly: listening to artists, providing resources to support the self-employed, and sharing stories.
Sharing stories is a powerful means of sharing solutions and strengthening connections. This has been at the core of Archipelago's mentoring program for the last seven years as artists have shared their inspirations, failures, solutions, business models, and networks.
We have a unique view as both a store and a nonprofit program. The store, gallery, and website are devoted to representing over 300 artists and makers. Our nonprofit programming, including one-on-one mentorship and our annual Artists and Makers Conference, which would have had its seventh gathering this month, support the business side of their creative endeavors. This dual purpose allows us to see the variety of short-term and long-term challenges facing this sector in this current crisis.
Like many other Main Street stores, Archipelago's physical storefront is closed, but its website and online retail options remain open. Since the beginning of April, online business is 17 times higher than April sales from last year, and the staff have filled and shipped 150 packages. Many of these orders received "thank you" videos expressing our gratitude for customer support, and customers have appreciated the personal connection. We value the relationships we have with our customers.
The coronavirus (Covid-19) interrupted the normal business cycle for both Archipelago and the businesses that produce the goods and wares sold in the store. An important part of this cycle for artists and makers are the spring wholesale buyer shows. These shows provide artists an opportunity to highlight their wares and connect with potential retail outlets, gaining wholesale accounts that will support their business all year. An artist who has a wholesale business may go to 3-5 of these shows in a year and get enough orders, new accounts, and relationships with retail stores to last the whole year.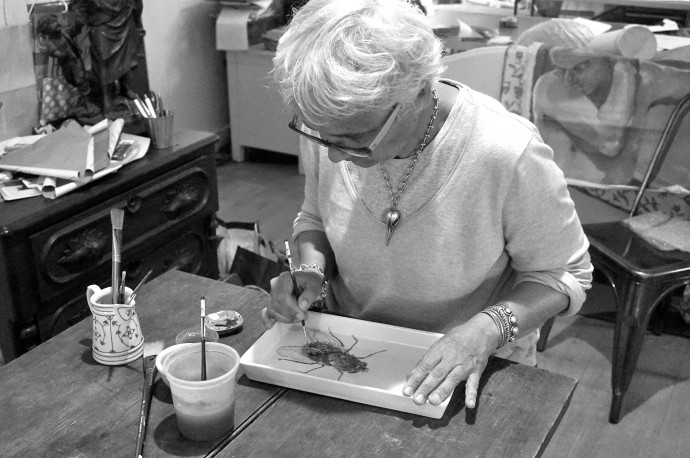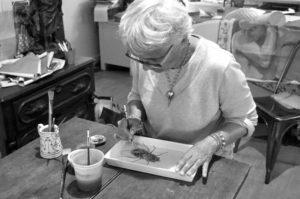 In preparation for these shows, artists may have hired staff, purchased materials, and ramped up production throughout the relative quiet of winter. One artist, Jennifer Connor of Jennie Blue, who sells in Archipelago and other retail stores, was adding a significant new product line to her business and was planning on launching it at the Spring New England Made Show. She said she had spent more than $16,000 in marketing materials, a new booth, order forms, and sample products to highlight. With that show and other shows being canceled, her investments may be losses, and her business model has been upended. Not only will she be unable to launch this new line but many stores she has relationships with have put their orders on hold.
With wholesale orders on hold, Jennifer is pivoting quickly toward selling direct to customers through her Etsy site. However, developing a new marketing plan focused on social media and email doesn't happen overnight and without creativity, late nights, and support from friends and family.
In addition, many Maine stores close in the fall when sales and customers start to decline, and likely will not look to restock again until spring of 2021. The stores that stay open for the holiday season will be adding new items to their inventory or reordering best sellers, but this new buy still wouldn't be scheduled until this fall, in preparation for the holiday season.
This interruption to the business cycle means the wholesale market will take time to return and many artists and makers who rely on the wholesale market are facing the prospect of an entire year or more of lost revenue. Thus makers, like Jennifer Connor, are changing their sales strategy from wholesale to online sales or other direct consumer opportunities like pop-up markets or curbside sales, but it's unlikely that these kinds of sales will replace the reliable flow of income from their wholesale accounts.
Ever creative, other artists and makers are pivoting to a new line of business or creating completely new businesses. The community of artists and makers is characterized by empathetic people and a strong sense of putting one's community first. Alison Thibault of Windhorse Arts, recently featured in this Commercial Currents interview about the Payment Protection Plan (PPP), was selling jewelry to raise funds for those less fortunate in her community while also struggling to keep her business afloat and access federal funding. Other artists and makers are responding with their skills in design and production to help cover shortfalls in PPE for healthcare workers and those on the front lines.
For our self-employed and very small businesses, the human capacity to redo a business model or create an entirely new business is limited to the capacity of the business owner—who is also likely trying to balance family, health, energy, and community, as well as seeking support to navigate their financials. Time spent on any activities related to keeping their business or family going is not time spent redoing the business model. While federal programs like the PPP are helpful, as Alison Thibault noted, navigating the complexity of government bureaucracy can be daunting for the self-employed business owner. Hopefully, the launch of Maine's self-employed unemployment fund on May 1st will be very helpful to many who are struggling.
Add in challenges like the lack of high-speed reliable internet and this process is even more difficult. Prior to the current crisis, some of the artists and makers we work with traveled to a nearby library to upload pictures of their goods to their websites. For those who live on offshore islands without high speed internet, social distancing and limited ferry runs are making online sales even harder.
The Island Institute hopes that sharing stories, both here and elsewhere, has sparked ongoing conversations about specific kinds of support and solutions that could help this sector face their short and long-term challenges. We are thankful that our artists and makers, such as Jennifer Connor, Maggie Moore, Gabrielle Melchionda, and Alison Thibault, have been willing to share their struggles, successes, and creative solutions to support their businesses and communities. Telling our stories not only gives others inspiration to develop their own ingenuity, but also nurtures connections and relationships which are so very important during this physically isolating time.
---
Additional Resources