Maine's working waterfronts are the lifeblood of our coastal communities
Rapid changes in Maine's climate and economy are putting tremendous stress on Maine's coast, and now less than 20 miles of our 5,000 miles remain as working waterfront. Skyrocketing real estate prices are pressuring waterfront businesses to sell and convert to residential uses, cutting off access for fishermen and women. Rising seas are threatening coastal infrastructure, and rising energy costs make it harder to run waterfront businesses.
We have to work together to save Maine's working waterfronts. We need to simultaneously preserve our remaining working waterfronts and help those who live and work there adapt to a changing world. Otherwise, this way of life that keeps us connected to the coast is at risk of disappearing.
Join us in preserving and protecting Maine's working waterfronts. Become a member or renew your membership today!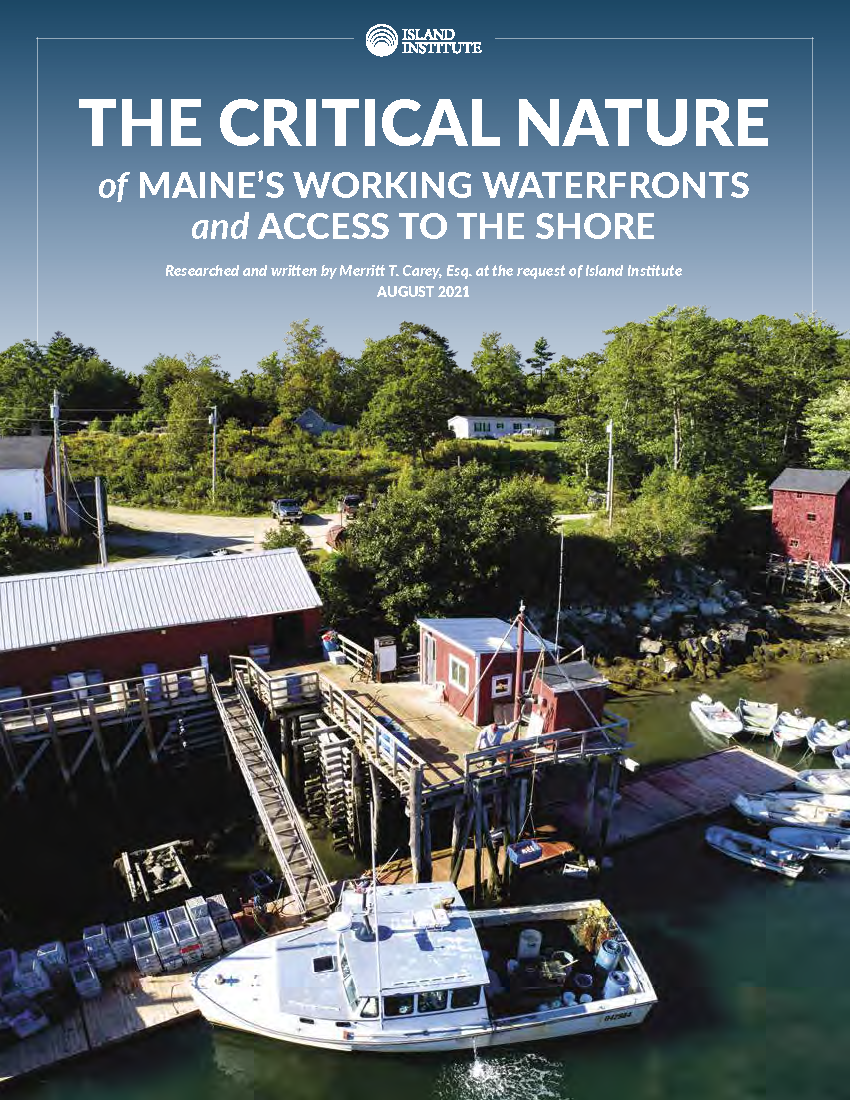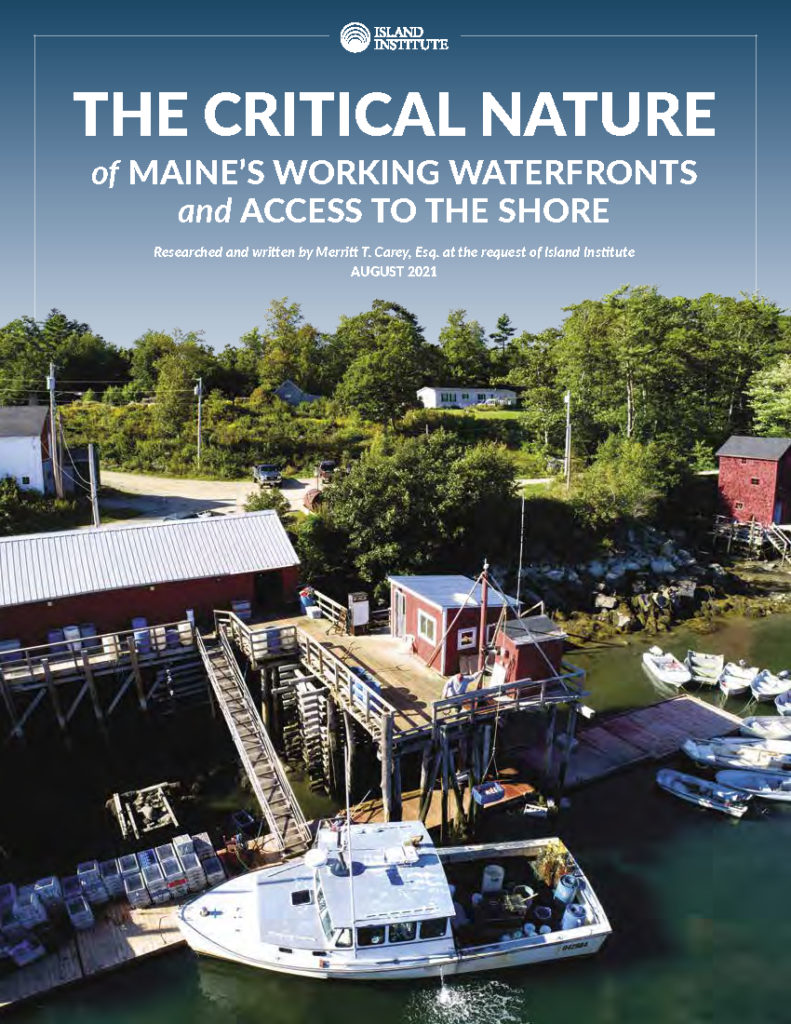 The Critical Nature of Maine's Working Waterfronts and Access to the Shore
An Analysis of Maine's Working Waterfronts | August 2021
The significance of Maine's working waterfront and of preserving and creating access to the shore cannot be overestimated. In a post-pandemic world with incredible pressure on Maine's coastal real estate, ensuring commercial access to the shore has never been more critical. Maine rightly touts its "Blue Economy" for economic development purposes; and while there is significant investment in developing the blue economy, to date there has been minimal investment in protecting the access that ensures its growth is possible.
In June 2021, the Island Institute commissioned a landscape analysis, conducted by Merritt Carey, an active advocate for Maine's working waterfronts, to assess the current scope of the issue, what's at stake, and what we need to do to take action. View the full report here.
Real People. Real Livelihoods.
Maine's working waterfronts are crucial to our state's blue economy and the wide array of businesses that rely on access to the ocean. Losing waterfront access points will mean the loss of jobs and the loss of livelihoods for Mainers and their families. The Island Institute is helping local business owners and partnering with industry leaders to save Maine's working waterfront.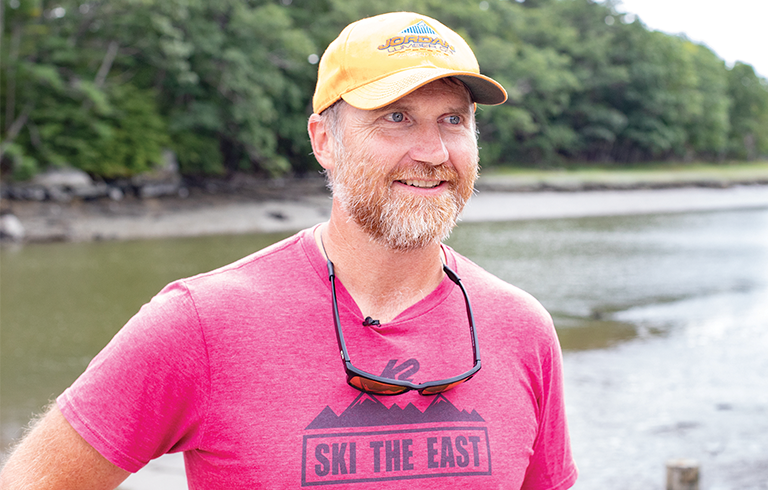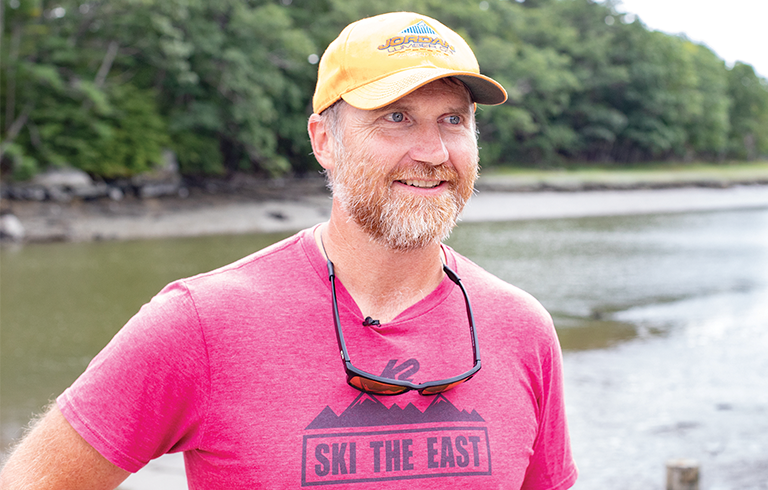 Chad Strater
Owner, The Boat Yard
"Maine is built on the working waterfront. It's part of our economy and part of our lifestyle. We want to talk with other stakeholders in the marine industry and let them know we're trying to do good things for the coast of Maine. If the working waterfront goes away, it's not coming back."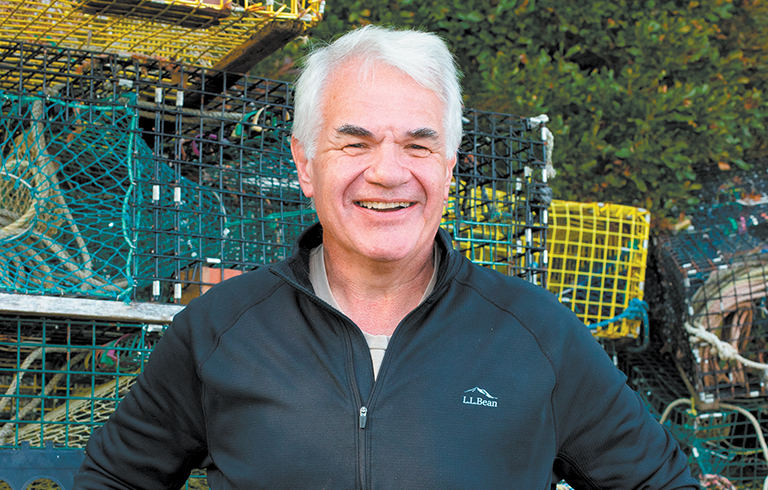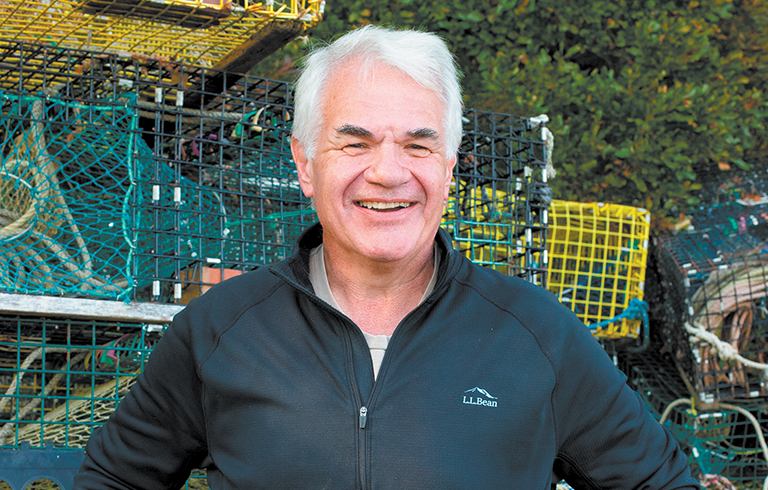 Boe Marsh
CEO, Community Shellfish
"The working waterfront is the synapse between the sea and the food chain that comes from the water. Maine's waterfront is not only a place to work, but it's a place where generations of families have settled. I'm honored to be a part of this community and provide good jobs in a place that means so much to us."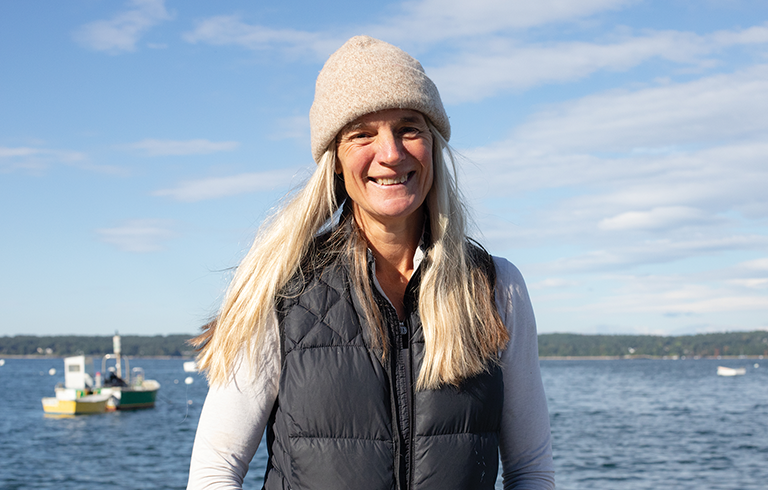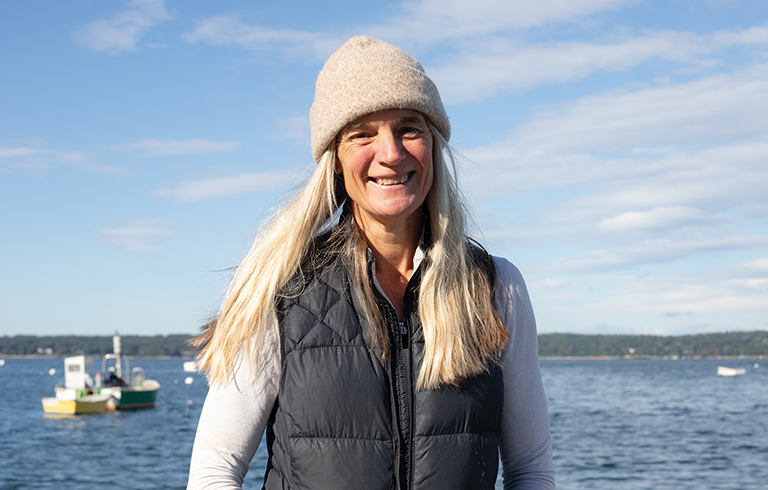 Merritt Carey
Working Waterfront Advocate
"Once access points are gone, they do not come back. The need to protect existing access is both urgent and critical, and while we need to understand more comprehensively the overall economic impact of our seafood industry, we cannot wait for that data to act."
---
10 Working Waterfronts We Can Learn From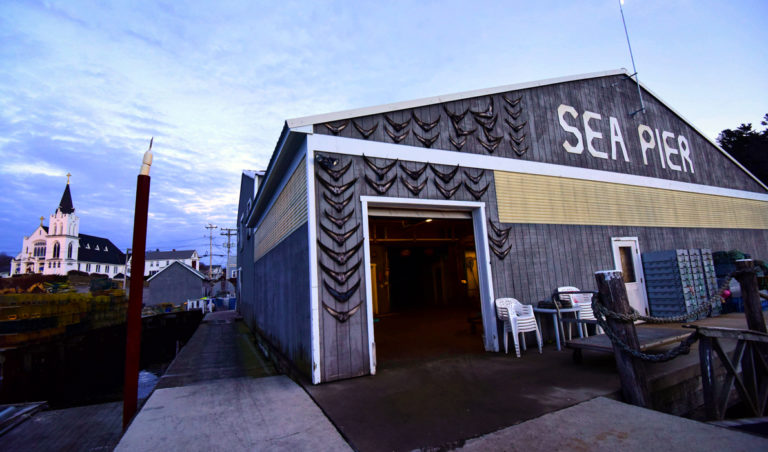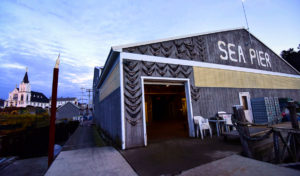 Carter's Wharf | Boothbay, Me
Carter's Wharf is a lobster buying station in Boothbay Harbor that includes two piers, a buying operation, and a building that was one of the first three fishing co-ops in the state of Maine. Donated to the Boothbay Region Maritime Foundation in 2019, the group plans to make improvements that will help preserve it as working waterfront, make it safer for fishermen, and provide the public with an opportunity to learn about the commercial fishing industry. Check out this video to learn more.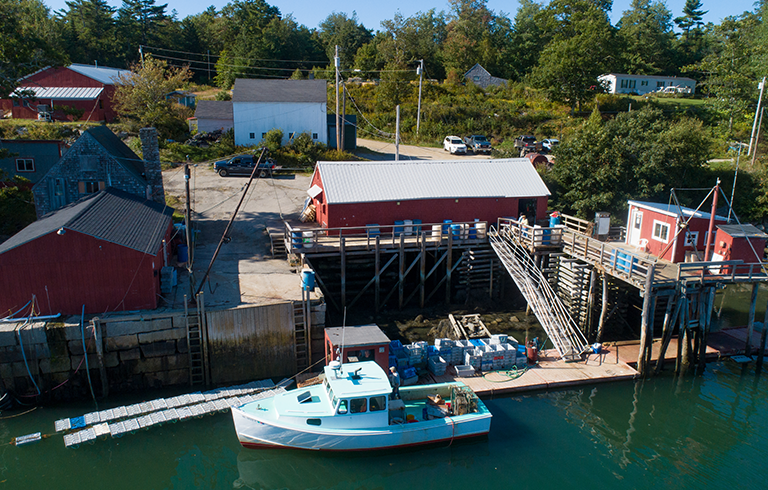 Community Shellfish | bremen, me
Community Shellfish in Bremen is a community of harvesters working to support independent farms, Maine's working waterfront, and the aquaculture industry. It utilizes wholesale and retail networks developed through clam, lobster, and oyster sales to make it easy to get a product to market and create recognizable brand names for ismall independent growers and fishermen. The harbor and stone dock at Community Shellfish provides the infrastructure to support 50+ local lobstermen and stern-men and women and over 40 diggers providing some of the finest steamer clams in Maine.
Learn more here.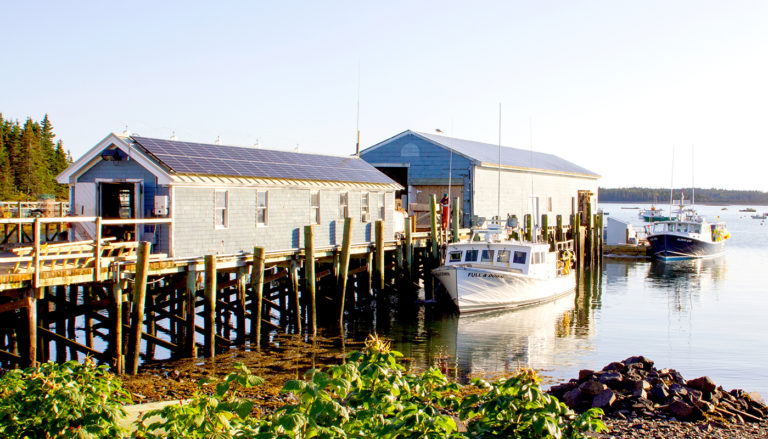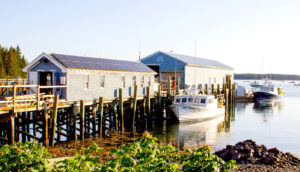 Cranberry ISLES FISHERMEN'S Co-op | LITTLE cranberry island, me
Founded in 1978, the Cranberry Isles Fishermen's Co-op is made up of 26 men and women ranging from 18 to 85 years old and supports the fishing economy for the entire island community. The co-op promises that every lobster it sells is sustainably harvested, and part of its mission is focused on practicing environmental stewardship—particularly regarding ocean health. This commitment is seen in the measures the co-op takes to protect the natural resource it harvests, its efforts to address the impacts of climate change and reduce CO2 emissions, and its work engaging with statewide leaders in scientific research. Learn more here.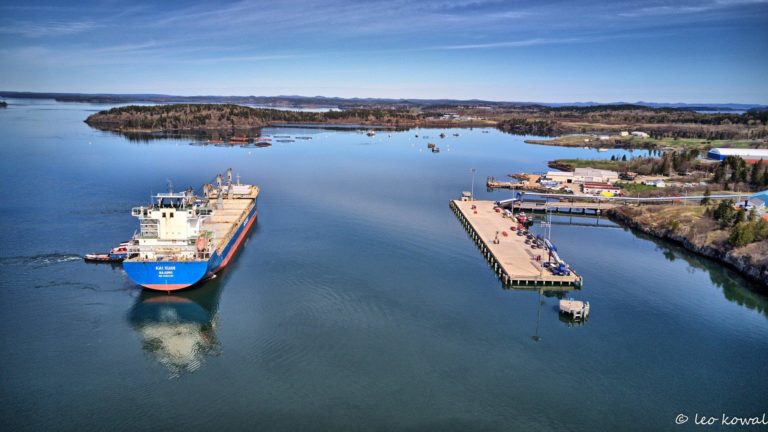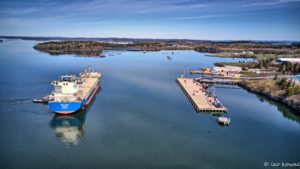 Port of Eastport | eastport, mE
One of three deep water ports on the Maine coast, Eastport's working waterfront provides support for a fishing and dayboat scallop fishery and offers global trade potential as the largest deep-water port on the East Coast of the United States. Learn more here.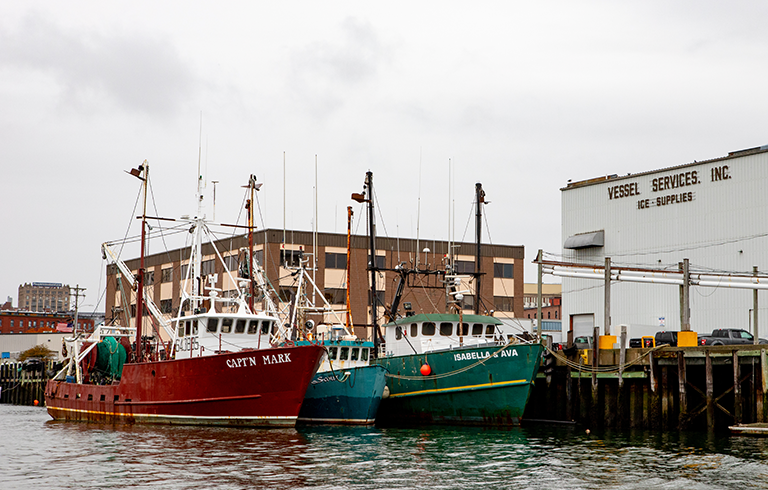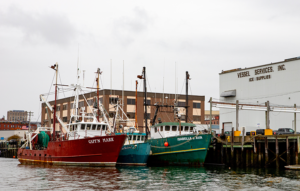 Portland Fish Pier | Portland, mE
The Portland Fish Pier is a publicly-owned pier in the heart of downtown Portland that serves as a major hub for the commercial fishing industry, supports multiple different fishing fleets, provides critical services for fishing boats, and is home to the Portland Fish Exchange, where over 20 million pounds of seafood are bought and sold every year. Learn more here.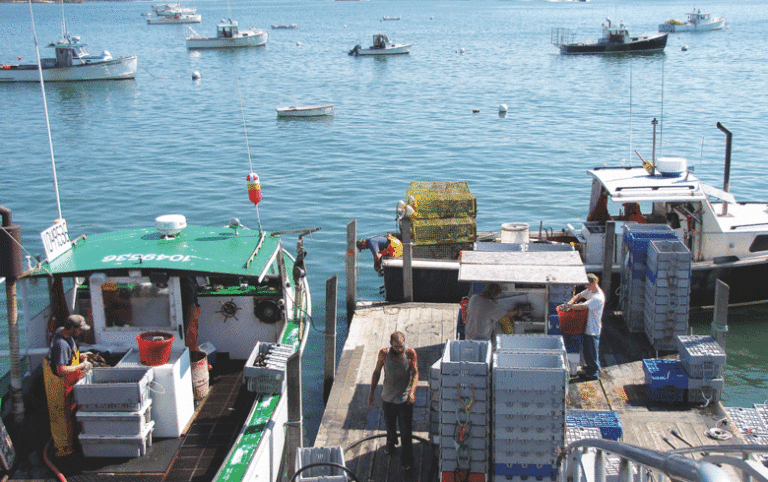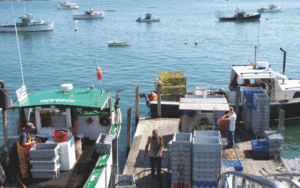 Stonington Lobster Co-op | Stonington, ME
First founded by a group of 15 fishermen in 1948, the Stonington Lobster Co-op was created to collectively own the waterfront property and facilities so necessary to all fishermen and to ensure waterfront access for future generations. Today, Stonington is the #1 landing port in the state and over 80 boats land product at the Co-op, primarily lobsters and crabs. Learn more here.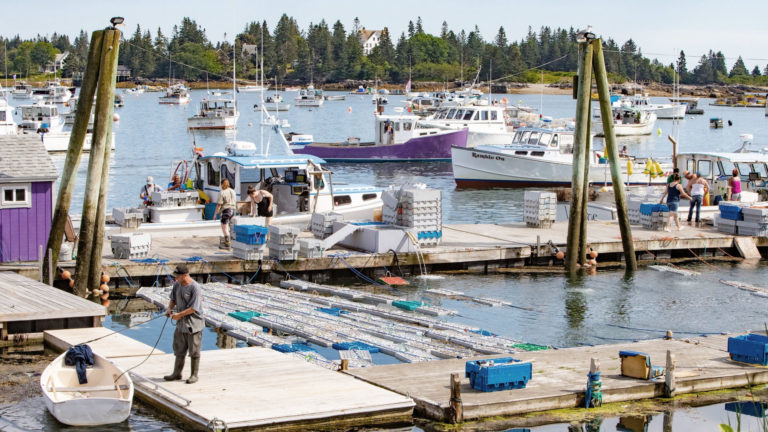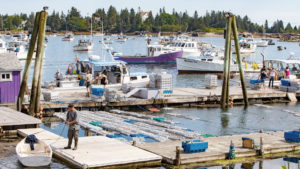 Vinalhaven Fisherman's Co-op | Vinalhaven, ME
The Vinalhaven Fisherman's Co-op is owned and operated by lobstermen of Vinalhaven. As Maine's #2 lobster landing port, fishermen on Vinalhaven land more than five million pounds of lobster a year in addition to crab, scallops, northern shrimp, and bait fish. The Co-op supplies the lobstermen with bait and fuel and distributes their Maine lobsters to customers throughout the world. Learn more here.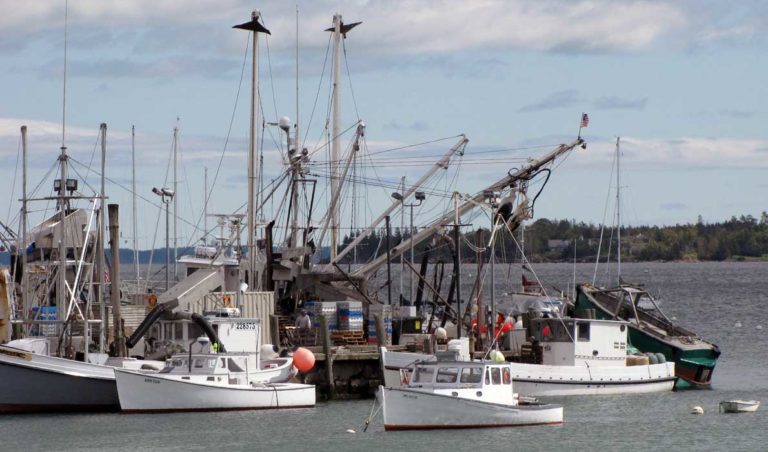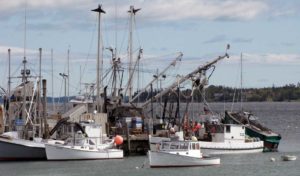 Rockland Municipal fish pier | Rockland, me
For almost 30 years, the Rockland Municipal Fish Pier has proven to be a vital facility for fisherman, fuel transport, seasonal aquaculture harvesters, local island residents, ground fishing vessels, and more. This multi-use facility provides vital waterfront access and support services for fishermen and other marine industries up and down the Midcoast and serves as a vital link in the supply chain of the economies of island communities from Frenchboro to Matinicus. Learn more here.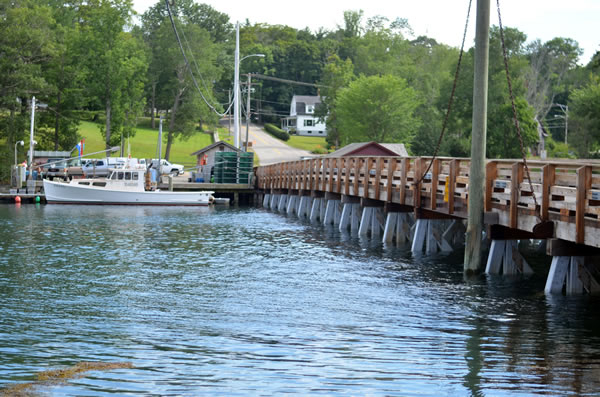 Sewall's BRIDGE Dock Project | york, me
Large prices typically associated with coastal property often presents a challenge to preserving working waterfront. When the Sewall's Bridge Dock, a historic working waterfront located on the York River, was first put on the market, the community was concerned it would lose one of the last remaining access points to the water for fishermen. Through a collaboration between the local land trust and other community foundations, a plan was created to support local fishermen in purchasing the dock and placing a conservation easement on the property, thus preserving ongoing access to the waterfront and support for the local fishing industry. Learn more here.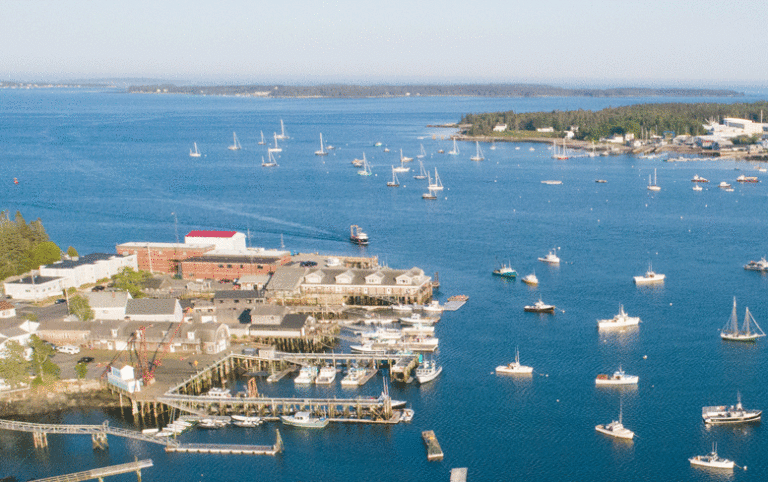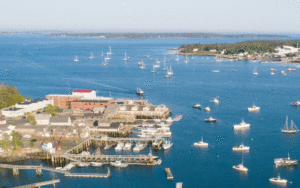 Southwest Harbor Waterfront | southwest harbor, me
Seventh in the state for top-grossing ports, Southwest Harbor is confronting a changing marine economy and reinvesting in supporting its working waterfront. Key species in Southwest Harbor include lobsters and scallops, although many fishermen participate in different fisheries depending on the time of year. There are also more than 10 boatyards and boatbuilding firms in Southwest Harbor, many of them known around the world for the quality of their ships, as well as two seafood retailers and multiple marine-related businesses that rely on access to the water and a strong working waterfront. Learn how this community is prioritizing its working waterfront. and read more in this June 2021 story in The Working Waterfront: "Saving a Southwest Harbor anchor."
A Few Facts About Maine's Working Waterfronts
According to a 2018 Colby College report, Maine's lobster industry alone is valued at more than $1 billion. While there is no similar industry (supply chain) data for other wild caught and farmed fisheries, the cumulative value of Maine's landings alone consistently hits the $500 million mark. ("The Critical Nature of Maine's Working Waterfronts and Access to the Shore," August 2021)
Out of Maine's 5,000 miles of coastline, only about 20 miles are reserved for the working waterfront and just 16 are dedicated to commercial fishing activity. ("The Last 20 Miles," Island Institute, 2006)
Only 175 miles of Maine's long coastline are sufficiently deep and sheltered to support water-dependent uses. More than half of these prime shorefront miles are already occupied by residential, commercial, and industrial structures that may benefit from a waterfront location but do not depend on it. (Maine Department of Marine Resources)
The small portion of remaining shorefront suited to water-dependent uses is becoming harder for long-time landowners to retain, given development pressures and rising shorefront property taxes.
Waterfront real estate is the most expensive real estate in the state, and yet its protection receives only a fraction of the general Land for Maine's Future funding. In its most recent budget, Maine allocated $40 million for Land for Maine's Future. Of that total, only 10% (or $4 million over 4 years) is dedicated to protecting working waterfront. ("The Critical Nature of Maine's Working Waterfronts and Access to the Shore," August 2021) 
Maine's economic vitality is particularly reliant upon maintaining and encouraging working waterfronts. Maine's working waterfronts provide a workplace for fisherman and the sectors associated with the fishing industry.
All of Maine's seafood crosses a working waterfront. Maine seafood is healthy, sustainable, delicious, and an excellent choice for your next meal.
Buying Maine seafood and supporting the organizations doing important work along our coast are little things you can do every day.
How We're Taking Action to Save Our Working Waterfronts
A longtime leader in working waterfront protection, the Island Institute is working directly in communities to address these challenges head on.
We advocate for local, state, and federal programs to preserve working waterfronts, including Maine's popular Working Waterfront Access Protection Program.
We work directly with waterfront business owners to solve specific issues and provide them with access to resources and funds to increase their resilience and sustain profitability.
We fund Spark! grants to working waterfront energy projects which improve energy efficiency, focus on renewable energy, and/or reduce consumption of fossil fuels. The funds also provide direct financial assistance to help working waterfront businesses and communities adapt their infrastructure to rising seas and transition to clean energy solutions such as solar-powered wharfs and electric outboard motors.
---
The Impact of Your Gift
Many of Maine's working waterfronts face a growing number of challenges—pressure from competing uses, coastal population growth, new development, changing regulations, increasing tax burdens, aging infrastructure and coastal hazards.
When working waterfronts are converted to other uses, the loss of water-dependent businesses often has negative economic impacts on surrounding communities and related working waterfront jobs. As these resources disappear, the coastal cities and towns built around them can lose their cultural and community identities.
Thanks to support from our members and donors, the Island Institute is redoubling its efforts to support this critical sector of Maine's economy. Join us in supporting our working waterfront businesses and preserving this lifeblood of our coastal communities.
Together we can turn the tide
Please join the Island Institute community and make a gift today.
Your support will help preserve and protect Maine's working waterfronts for generations to come.