By working alongside Maine's island and coastal communities to enhance marine livelihoods, support small businesses, invest in the creative economy, and address critical issues, we strive to build economic resilience so these communities can thrive. 
The Island Institute supports fishermen, artists, makers, small businesses, and entrepreneurs in Maine's coastal and island communities through grantmaking, professional development opportunities, industry and marketing connections, and energy transition support with a focus on island and working waterfront businesses.
Business Resilience Grants
In the wake of COVID-19, 2020 and 2021 brought a host of uncertainties to communities, businesses, and families. During this time, the Island Institute distributed over $115,000 to 73 small businesses in the form of microgrants to help them pivot product lines or sales models, adapt to the changing times, and place them on surer footing. 
We are now working to revamp the focus of the program in an effort to continue to support businesses in preparing for and responding to change and recently introduced a new component of the grant program that prioritizes Maine's outer islands – Business Resilience Grants 2.0.
Throughout 2022, we will be announcing additional funding opportunities to help businesses prepare for social, economic, and climate risks. Stay tuned for more information soon!
Business Resilience Grants 2.0
Applications are now closed. Check back soon for our next open application period.
For many years, the Island Institute has provided grant opportunities for island and coastal small businesses to help promote resilience, and more recently, address ongoing disruptions of the pandemic.
We are pleased to launch a new component of the grant program that prioritizes the outer islands – Business Resilience Grants 2.0.
Does your island business need financial help to address an immediate or long-term issue or goal? The Island Institute's Business Resilience Grant offers awards of up to $1,500 through our Community Impact Fund.
Funds can be used to:
Hire a consultant to help you improve your business.
Invest in supplies or infrastructure that allows you to operate your business more effectively.
Make improvements that allow your business to become more resilient to social, economic, and climate-related disruptions.
Develop new marketing strategy or projects.
Obtain training or professional development.
And more!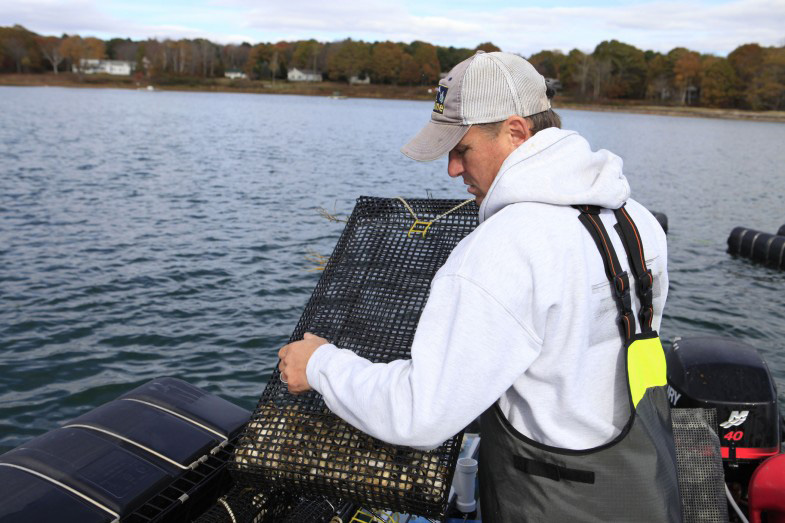 "I want to thank the Island Institute and the folks that made this grant possible. I am sure that from the basic graphics and ideas generated through this process, I can continue to build the Sandy Point Oyster brand. I am still a small-scale oyster grower but 4 years ago when I attended the aquaculture business development program my goal was to get oysters to market, and I am glad to be achieving that and making strides all the time." – Jeff Putnam
---
Spark! Grants for Working Waterfront Businesses
The Island Institute provides grant and loan support for broadband, energy, sea level rise, and working waterfront infrastructure planning projects through our Community Impact Fund.
Through our Spark! grants, we are currently offering funding for working waterfront energy projects that improve energy efficiency, focus on renewable energy, and/or reduce consumption of fossil fuels. These grants can provide supplemental funds to working waterfront businesses looking to make sustainable energy transitions during this crucial time. 
Eligible applicants include working waterfront businesses and entities such as: processing facilities, co-op buildings and offices, shared equipment/storage sheds/workshops, fishing vessels, and docks and yards. Applicants must be based in Maine's island and/or coastal communities.
Support for Maine's Creative Economy
Since opening in 2000, Archipelago, the Island Institute's store and gallery, has advanced the careers of more than 1,500 Maine residents, while playing a pivotal role in Rockland's emergence as a dynamic center of arts and culture. As an economic development program of the Institute, Archipelago staff spend over 400 hours a year mentoring artists to increase skills and knowledge for running arts-based small businesses. Archipelago also hosts a variety of events and informational sessions, including the Artists and Makers Conference, that provide DIY workshops, inspirational content, and networking to support art-based businesses throughout Maine.
In addition, when customers shop online or in the Rockland store and gallery, they help support Maine's creative economy with every purchase—55% of all retail sales are returned directly to Maine artists and makers. That's added up to more than $4.2 million since 2000!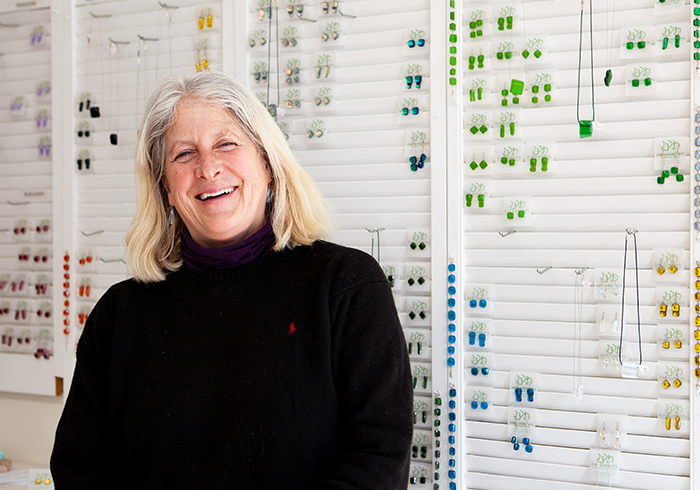 "The stronger my business becomes, the greater the opportunity is for me to create a stronger presence in my community — both through my business and through my involvement in nonprofit island-based organizations."
– Alison Thibault
---
Transportation Support
The pandemic exposed vulnerabilities in the coastal economy, island transportation among them. In 2020, we hosted a series of convenings for transportation operators (both public and private) to hear their individual and shared needs. These meetings built a shared network of operators, provided a space where problems and solutions could be discussed, and allowed us to track trends that we might have the capacity to address either individually or systemically. In early 2021, we formalized our commitment to engage more fully on ferry issues as part of our strategic priorities for the next 10 years.
The Island Institute is supporting ferry operators as a critical business by continuing to convene and connect this network of operators, working with consultants to analyze future options, working with policymakers to navigate change in this key sector, and hosting community conversations to ensure that the concerns of island communities are addressed.
Additional Resources
Explore the links below to hear stories from coastal and island business owners, learn about Maine's vibrant creative economy, discover the work of the 300+ artists and makers featured in Archipelago, and get more information on supplemental funding offered through our Community Impact Fund.
Funding partners for our small business support include: NorthLight Foundation and Jane's Trust Foundation.
Questions?
The Island Institute connects fishermen, artists, makers, small businesses, and entrepreneurs to resources that can help improve income stability, business efficiency, and economic productivity, and allow businesses to expand and reach new markets.
If you have questions about an application for Business Resilience Grants 2.0, Spark! Grants, or any of our support services, please contact Yvonne Thomas or Lisa Millette.