During the summer of 2019, I took the Casco Bay Lines ferry to Cliff Island. Upon arrival, I noticed small trenches dug up on the sides of roads and properties, with thin fiber-optic cable laid out on the ground next to the trenches. This was part of an effort to bring reliable high-speed internet to Cliff Island and would set the stage for an energy project the next year.
Sustainable Cliff Island, which works to sustain a year-round community on Cliff, has been a driving force for getting broadband infrastructure on Cliff — to enhance economic opportunities that emerge with high-speed internet access, support virtual academic collaborations, strengthen opportunities for telemedicine, and more. These enhanced opportunities for telemedicine led to renovations to the Cliff Island Community Hall, in order to create space for a Wellness Center. The renovated building, equipped with reliable high-speed internet, would provide increased access to healthcare workers both in-person and through telehealth platforms.
Cheryl Crowley, president of Sustainable Cliff Island, shares, "We have identified that easy access to basic healthcare can improve the lives of our community members and support ourselves as a year round community…. The project [will provide] health support and services to our community, especially for our elders and little ones. This reduces travel time and time away from work or school. The long-term impact is to make living year-round on a remote island sustainable."
Prior to renovations, Sustainable Cliff Island looked at both energy efficiency and ongoing heating costs. The Community Hall had used an oil furnace for heating, but the new renovations created an opportunity to install energy-efficient ductless heat pumps throughout the entire building, partly funded by the Island Institute's Spark! Grant. The Spark! grant is part of the community infrastructure funding offered through the Tom Glenn Community Impact Fund and supports community-based energy projects that improve energy efficiency, focus on renewable energy, and or reduce consumption of fossil fuels). Cliff Island's heat pump installations also align with Maine's goal of installing 100,000 heat pumps by 2025, an effort to reduce carbon emissions and reliance on fossil fuels.
Crowley adds, "The efficiency of heat pumps versus an oil furnace has been made clear. This is particularly true on an island where fuel has additional cost and transportation considerations."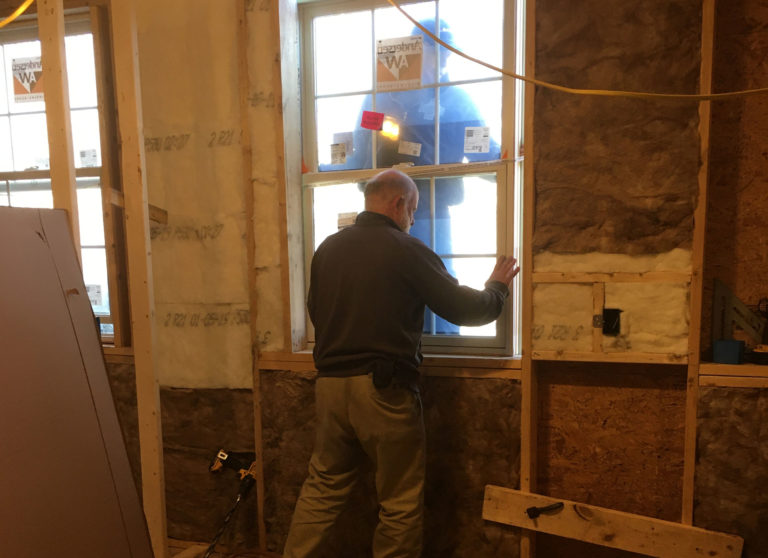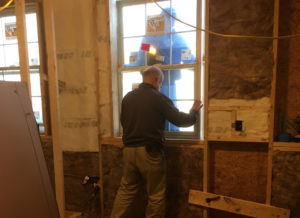 To Crowley's point, we've seen that island communities are among some of the most successful in adopting heat pumps. As shown (pgs. 14-15 in our Waypoints: Connect publication), islands top the list with the highest number of incentivized installations per total housing units along the coast. Often motivated to make the switch by higher-than-mainland heating fuel prices, many island communities have successfully utilized collective purchasing programs to make it easier and more affordable to install heat pumps.
As these upgrades have taken place on Cliff Island in Casco Bay, the Penobscot Bay island of North Haven has also addressed energy-related needs within larger community projects. Both islands also have a history of community engagement in energy efficiency work, having participated in Weatherization Weeks from 2013-2018, collectively weatherizing 46 homes, in addition to efficiency work that has taken part outside of those dedicated weeks. The current projects on Cliff and North Haven build on those previous efficiency efforts.
North Haven Sustainable Housing (NHSH) recently received a Spark! grant towards the purchase of an insulation blower machine to install insulation in homes. NHSH works to expand housing opportunities for year-round residents and also helps reduce the cost of living expenses by supporting energy efficiency and weatherization projects in the community, ultimately lowering ongoing heating expenses and reducing fossil fuel consumption.
While NHSH has supported the coordination of previous weatherization and efficiency efforts, there are still many homes on North Haven that need additional efficiency upgrades, and there are consistently high costs of bringing off-island contractors to North Haven to perform the services. Because of this, the team realized the opportunity to build capacity on North Haven to perform some of these efficiency services, both by purchasing equipment like the insulation blower and training that supports an islander in earning BPI certification through Build Green Maine. This training develops the required skills to perform energy efficiency upgrades and was funded through a professional development grant via the Tom Glenn Community Impact Fund. Locally investing in equipment and skills to perform energy upgrades will further embed energy efficient practices in the community.
North Haven Sustainable Housing recently received their 350-pound insulation blower machine, and NHSH President Sam Hallowell commented, "We have already received a couple inquiries from island contractors and individuals who are interested in renting the machine, a potential small but good source of revenue for NHSH." He also noted that the next step was to purchase an enclosed trailer to help store and transport the machine.
As we move into the fall, energy-related projects on Cliff Island and North Haven are still being implemented. Sustainable Cliff Island is finalizing work to install the heat pumps and complete renovations in the Wellness Center. North Haven Sustainable Housing continues fundraising this fall towards the purchase of the trailer, in addition to having an islander complete the BPI certification to insulate homes as winter approaches. On both islands, leaders of community organizations realized the energy efficiency opportunities connected to broader projects and accessed the Spark! grant to offset implementation costs.
Through our Spark! grant and our work with Maine's island and coastal communities, we see community leaders using small amounts of funding to incorporate climate-friendly options into their larger-scale, longer-term projects. Their projects serve as great examples for other rural communities seeking to address the unique energy challenges they face. By being flexible and creative, these leaders are thoughtfully integrating sustainability into community projects, helping to set the stage as Maine prepares to finalize and implement its Climate Action Plan in 2021.
ADDITIONAL RESOURCES
To learn more about models for community-based energy efficiency projects, check out Overcoming Barriers to Rural Energy Efficiency in our What Works Solutions Library.