QUICK FACTS
Cliff Island is one of several islands in Casco Bay that is a part of the City of Portland. The island is located on the eastern edge of Casco Bay and has approximately 8 miles of coastline. The island has a distinct H-shape, which creates great natural harbors. Cliff Island has extensive land in conservation easements, which help to permanently protect its rural atmosphere.
COMMUNITY HIGHLIGHTS
Cliff Island Association • Cliff Island Community
Memorial Fund
Cliff Island Historical Society
Cliff Island Library
Cliff Island "ACE" Organization (Athletics,
Conservation and Education)
Cliff Island Seventh Day Adventist Church
Sustainable Cliff Island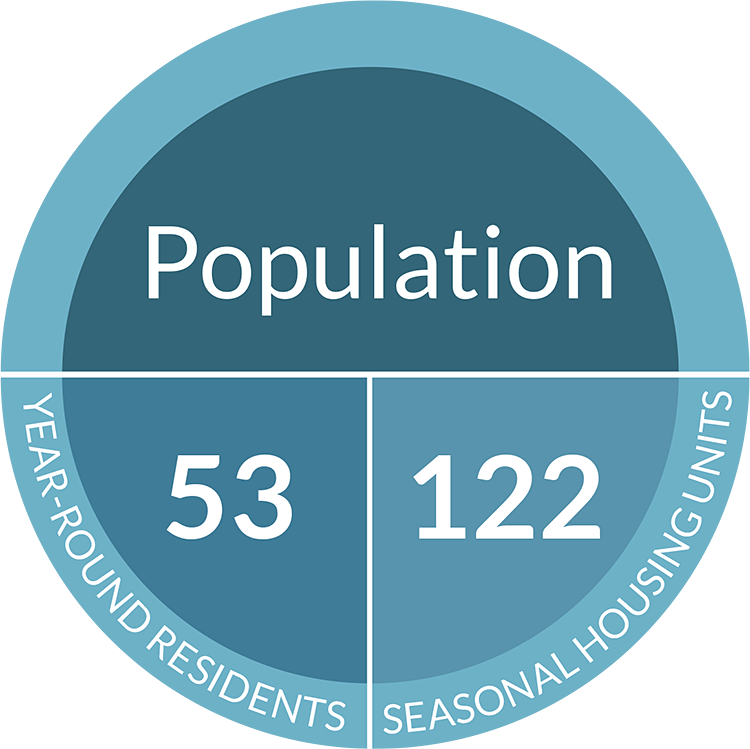 ECONOMY
The island has undergone many changes in the recent century. With a past full of inns and hotels, there are no longer any hotels on the island. Reflecting national trends, the hospitality industry on Cliff Island has shifted to vacation rentals through online platforms such as Airbnb, allowing the tourist industry to continue to thrive on the island. Year-round residents also lobster, work for local island-related businesses, or commute to the mainland for work.
SCHOOL SYSTEM
Cliff Island school is a one-room schoolhouse serving students from Pre-K through 5th grade. A part of Portland's School District, students 6th grade and above go to the mainland for the rest of their education. Cliff Island School is part of the Island Institutes's Outer Islands Teaching & Learning Collaborative (TLC) a program committed to creating a virtual classroom community where teachers and students will have access to a rich and supportive inter-island peer network.

LOCAL INFRASTRUCTURE
Cliff Island Association Hall
The Wellness Center
Cliff Island Fiber Broadband Center
Post Office
ACE Ball Field
Tennis Court
Cliff Island Store and Cafe
Two Playgrounds
Fishermen's Wharf Restoration in process
Year round Teacher residence
Fuel storage
Fuel wharf
Year round store
How to get there
Cliff Island is served by the Casco Bay Lines ferry, departing from Portland Harbor. The approximate travel time 60-120 minutes, one-way. Trip times vary based upon route and cargo volume. Cliff Island is the smallest year-round island in Casco Bay and the last stop "down the bay" on the Casco Bay Lines ferry. There are five round-trip ferry runs each day year-round, but times vary based on season and holidays.
The island is the only year-round island in Casco Bay that has all unpaved roads and, while cars are allowed, most people walk, bicycle, or use golf carts for transportation.
Telling stories of island and coastal life