The island community of Islesboro is about three miles away from the mainland—a distance which deer can swim fairly easily. Deer exist naturally on Islesboro, though the population is generally malnourished due to high concentration. In 2015, there were found to be about 50 deer per square mile, while back on the mainland there were about 20. Not surprisingly, the deer population is also heavily infected with Lyme disease.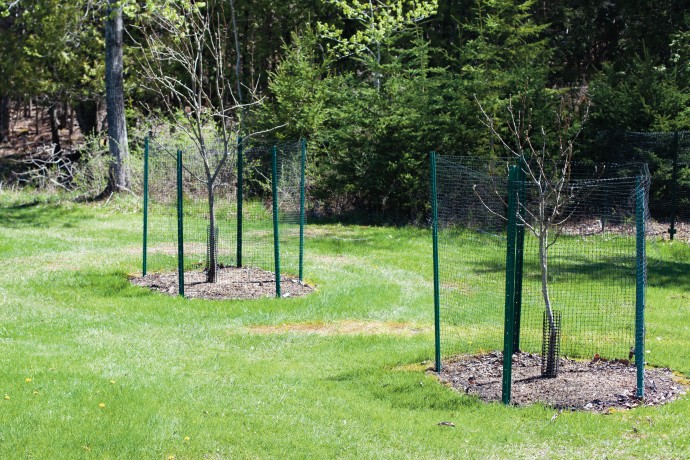 Because of these conditions, the residents on Islesboro suffer unusually high rates of Lyme. In 2013, there were 113 year-round residents infected, and in the following years the numbers stayed relatively high (with the exception of a 30% decrease in 2018). The prevalence of infected ticks on the island is largely attributed to the amount of deer, but a specialized hunt brings about unique complications. Fear of losing the deer hunting tradition, a cultural asset to many islanders, caused all town-wide discussions on hiring a sharpshooter to result in deadlock. In 2015, there was a vote at a town meeting to hire Anthony DeNicola, the sharpshooter of White Buffalo who killed all of the deer on Monhegan in the late 1990s. The results were 87 for the elimination of deer by sharpshooter and 148 against. However, special shotgun hunts have occurred to attempt to reduce the herd's numbers, but none of those hunts have proven effective in reducing the cases of Lyme disease.
HOW IT WORKS
With such a stalemate, the only thing left to do is educate residents and visitors on how to protect themselves from ticks. Thus, the town assembled the Tickborne Disease Prevention Committee (TBDPC) on which both Linda Gillies and Derreth Roberts sit.
The TBDPC was originally formed in 2010 and was known as the "Tick Committee." It has been at the forefront of the efforts to combat Lyme disease on Islesboro. The committee has overseen deer surveys and attempts to cull the herd, but the bulk of their work is now directed at community education primarily through printed and digital material.
Q & A WITH LINDA GILLIES AND DERRETH ROBERTS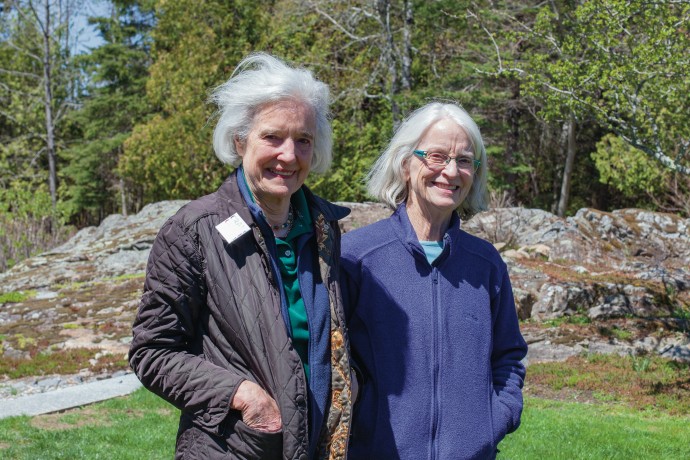 What are some of the ways the TBDPC works to educate the public?
Linda: Well we work on several fronts. First of all, we established a tickborne disease prevention committee, and we work very closely with the health center staff. We have a multi-pronged approach. We have a website. We have brochures that are around town. We have notices around town at certain times of year that say the ticks are around, take precautions.
Derreth: We have information about the numbers of Lyme disease cases confirmed here on the island in our newspaper. We have a lot of people who have house rentals in the summer time for summer residents. Those folk are encouraged to take brochures and put them in the rented houses to educate visitors and summer residents. We have town meetings and often our committee is asked to update folks on what is going on with tick borne disease here on the island as well as other issues.
How does the community engage with the Lyme issue?
Derreth: Island people talk. When one family has an episode of Lyme disease, news of that travels, and I think there's a growing concern. The health center does a wonderful job with posters and providing information. It's interesting to note that last year we had 137 people come into the health center for help because they had a tick embedded. In earlier years the numbers were smaller. So it feels like people are more aware now. You see people working in their gardens wearing boots with socks over their pants. And I think role model—and those of us who have had problems—frequently remind people. We've gotten lots of questions, like what do you do when pets come into the house and bring ticks?
What do you think is in store for Islesboro's crusade against ticks?

Linda: One thing we do is try to keep track about what is happening in other areas. Suddenly there's a new tickborne disease—or a disease like Powassan or encephalitis or anaplasmosis—we try to keep track of that. But in terms of basic prevention, I think we've done pretty much what there is to do.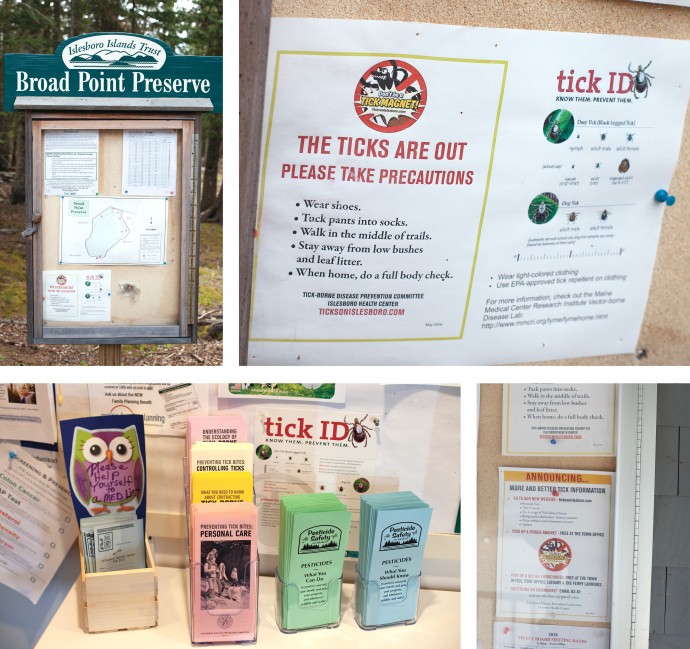 Can you talk about pesticide use as a prevention method?

Linda: It's our new initiative. Our concern about pesticides grew out of our work with ticks. In our material, we say to spray your property, but then we began to investigate the chemicals that were being used for tick control. We discovered in many cases they are harmful to humans and the environment. So we recently formed a group, a subcommittee of the tick committee, called Pesticide Safety on Islesboro.
Derreth: We're expanding our brochures and information to include more about pesticide use. Sometimes one bad problem can lead to a second problem. In this case ticks and the spread of tickborne diseases led to a second problem—what is used to control those ticks. Many of the chemicals can be harmful. I think that sometimes people experience problems with ticks, and the concern grows, so they resort to spraying their land. That spray can be a big problem. There are, however, more natural substances that can be used to try to take care of the ticks.
Linda: Particularly, the pesticides harm bees and shellfish. Our island income often relies on the shellfish. And gardens rely on the pollinators.
What does it do to the shellfish?

Linda: It affects their nervous systems, and they die. We have a mussel farm not far from here. We have someone working to get oysters, and of course there are clam diggers and lobstermen. The chemicals have been found in Penobscot Bay and Casco Bay. We know the chemicals travel, and if there's too much of it, it could harm fishermen and aquaculturists.
The interview above has been edited for length and clarity.
RESOURCES
Originally Published March 2019