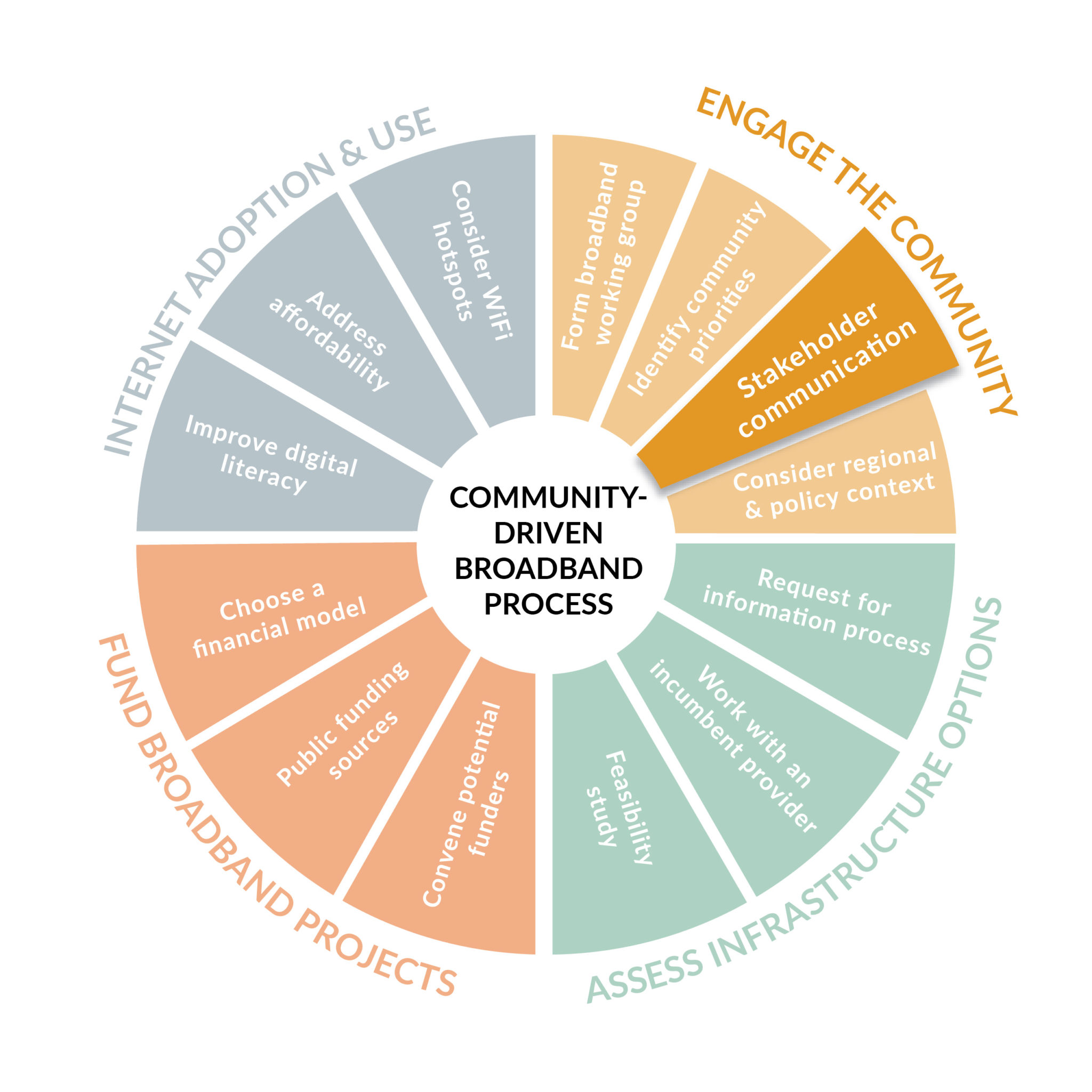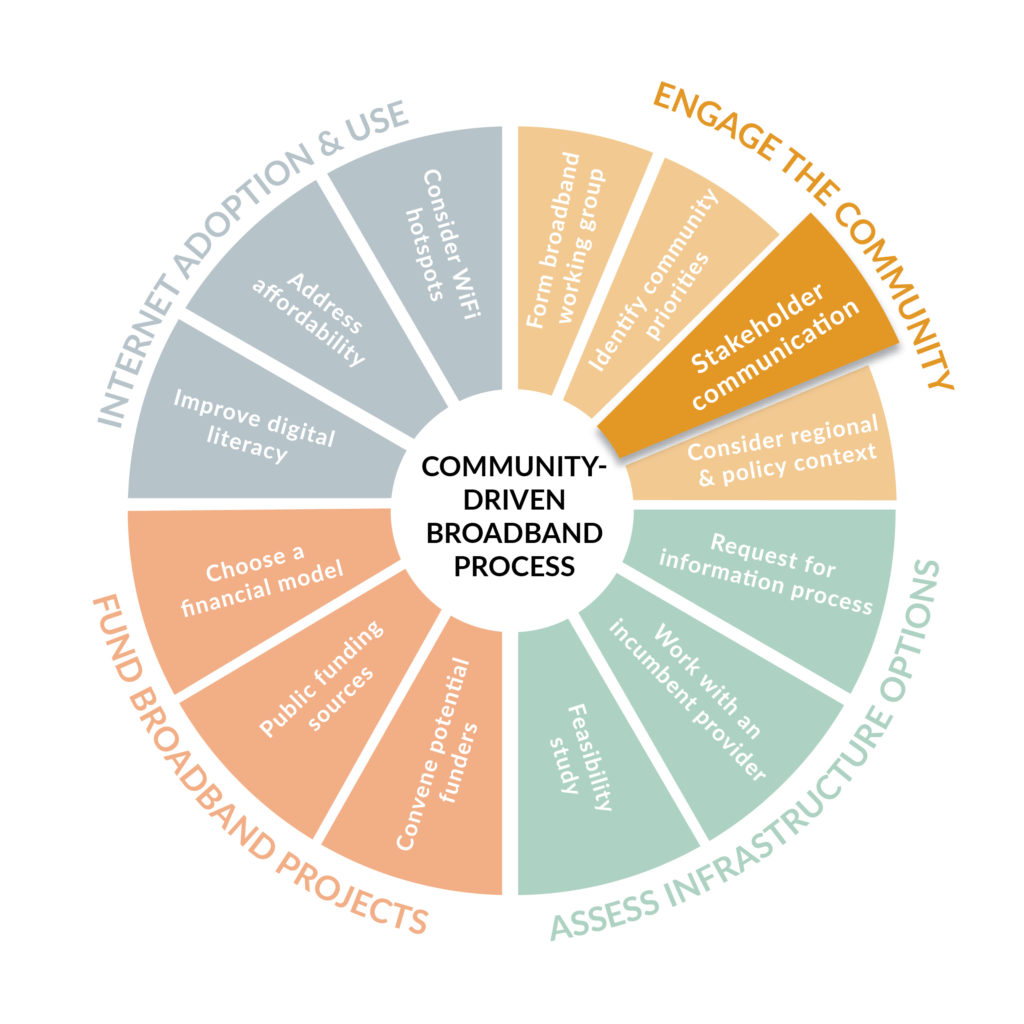 Frequent and transparent communication helps maintain community support.
The Fox Islands Broadband Task Force wanted a place where they could share their progress on exploring current and future broadband needs and options with the residents of North Haven and Vinalhaven. As a Facebook page, they also post events, and share examples or stories about broadband efforts outside the community's own progress.
HOW IT WORKS
One of the Task Force members created a Facebook page, which provides space for generating buzz about the topic and for sharing information. Task Force members post events that can be shared by page followers to other individuals who are their friends on Facebook.
KEY FACTORS
Set a plan. Determine how the Facebook page or group, or other online forum or site, will be used. Ask yourself what will be posted, how and when? What actions do you want people to take, or how do you want them to respond? Decide what types of posts will not be made, and what comments will not be tolerated: what types of comments will require attention immediately or will be deleted by the page managers.
Identify managers. Who will post updates? Who will help manage comments? Also identify others who can spur conversation and/or answer questions. Keeping the dialog going on social media is how posts get seen.
Q&A WITH PAT MCCORMICK, MEMBER OF FOX ISLANDS BROADBAND TASK FORCE
What was the thought process on educating the community about broadband?
When people see or hear about something in more than one place, they're more likely to take notice and learn about what's going on. We wanted a place that allows us to create and share calendar events, and is easy to find.
Why do a Facebook page?
Most people are already on Facebook, and there's a Vinalhaven Facebook page that operates a lot like a community calendar. People already know how to use Facebook. When a few people "like" our page, their friends will see that the page was liked, and more and more people can find us quickly. Even those who aren't Facebook members can still access the website address to see the page and events posted.
What's involved with managing the page?
Ideally, you'd like to have multiple people as administrators of the page, so that not just one person has to post all relevant information. Getting fresh content, which is also relatively diverse, posted is important, so that our activity shows up in people's news feeds (they see it when they sign in to Facebook).
It what ways has the page been helpful in educating the community about broadband?
We post photos of meetings and events, so people can see their friends on panels or in the audience. This gets community members more interested than they may have been in just being aware of an event occurring. When they see events or articles in their Facebook news feeds, along with other places they've come across or heard about broadband, it helps generate that buzz.
What advice would you offer other communities thinking about using social media for education on broadband?
Ask people you know how they use social media, to get an idea of what would be most successful. Don't expect any one way of disseminating information to be sufficient. Remain flexible, to make course corrections in case any problems come up.
CHALLENGES
Time commitment. Community outreach of any form takes time. To be effective, Facebook pages cannot be left alone without management. Discussions can run off topic at best and at worst can lead to negative outcomes. The Facebook page should support progress toward the goal of improving internet service.
Lack of feedback. Don't expect positive feedback about the forum's existence. People may still be benefiting from the information even though they aren't responding publicly. It might be a good idea to reach out to individual members of the group to ensure that the information is being received and is helpful.
Understand the limitations. Facebook pages or other online spaces cannot replace necessary face-to-face conversations with community members, in order to garner sufficient support for internet infrastructure improvement projects. Community meetings are essential, especially as a way to address any misinformation that may get around and to build credibility of the broadband working group.
RESULTS
Check out the Fox Islands Broadband Task Force Facebook page here.
Originally published February 2017