BACKGROUND
Monhegan Boat Line operates out of Port Clyde and has been serving the small island of Monhegan in one form or another since 1914. In addition to serving the needs of the year-round community, Monhegan Boat Line carries a large number of "day trippers" and other visitors to the island, as well as offers charters and cruises. As a private corporation, its business model is extremely reliant on consistent summer traffic as opposed to the sources of support available to non-profit operators.
Monhegan Boat Line is now run by a second-generation owner, Andy Barstow and his wife, Amy. Amy speaks about the seasonal shifts of the operation, the challenge of generating consistent income, and what makes Monhegan Boat Line work.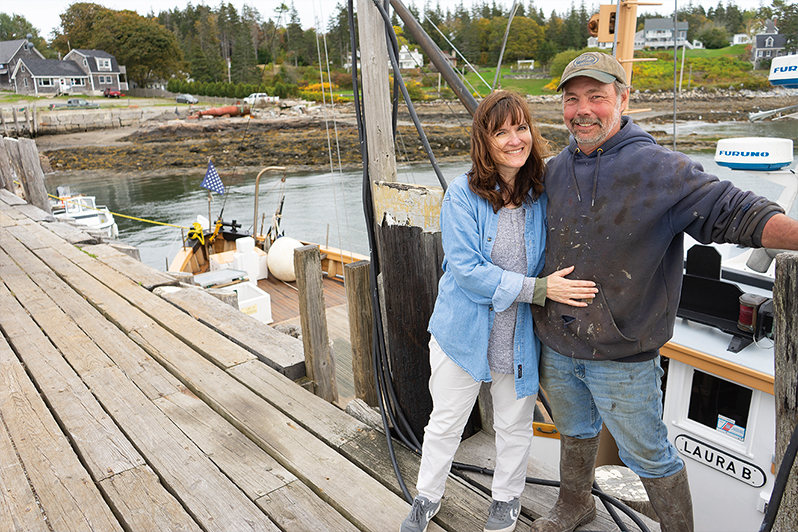 Q & A WITH AMY BARSTOW
The following interview has been edited for length and clarity.
Monhegan Boat Line's income generation is perhaps even more seasonal than other Maine ferries, how does it stay operational all year long?
There are perks with being open year-round: we get to keep key employees, we get to have a strong relationship with the island because they know that we're the ones that are coming even when we aren't making a profit. However, operating in the winter does have to be subsidized by both the mail contract and tourists coming in the summer months. The mail contract doesn't cover the winter runs on its own, but it wouldn't make sense to operate year-round without the contract because we'd be losing too much money all winter.
The cruises that Monhegan Boat Line holds are another source of income in the summer months. They started those in the 90s to generate more income. All sources of income are intertwined. Each part of it supports the rest, sometimes one part of the business makes more, sometimes others make less. Andy also does work on boats, does moorings and floats. It takes a lot to make ends meet.
What is the fare structure like for riders? How does that change depending on the type of passenger?
We do offer discounted fare for year-round residents. The tricky part is clarifying who is a year-round resident and who isn't. We've clarified that as being someone who is on the island for ten months or more out of the year. Those people can buy a book of tickets for a reduced rate.
What's it like being a private entity as opposed to a nonprofit or transit district?
We've looked into different funding with the Maine Department of Transportation, but we have never been able to get that. Being a private company and not being ADA (American Disabilities Act) compliant restricts access to certain funding sources. Once our renovations in Port Clyde are done (construction began in September 2019 and phase one is complete as of Summer 2020), the mainland side of the operation will be ADA compliant.
Are there any challenges that come with running a tourist business in a fishing village like Port Clyde?
We're a tourist business, and I think that we all have separate priorities. Port Clyde is a genuine fishing village, and we bring a lot of traffic into town. It's not ideal for those who come to live nearby and wish to have the spot for themselves. Local folk who work in town are appreciative of the fact that we are a hard-working group. We try to be a positive influence on the community. We provide in terms of paying taxes and providing jobs. Also, there are businesses around us that are supported by the fact that people are going out to visit Monhegan.
What are some major expenses and unexpected hurdles that come with operating a ferry service?
For us, we have huge overhead costs. We're still paying for the initial purchase of the company. You have the boat maintenance and you have the taxes. We own the property as well as the boat. We recently had to do a major dock repair. Until we had an engineer come and assess, we did not foresee having to do such a big project. We raised the dock, and addressed infrastructure concerns, and we also built a new building.
We were working in the business before we bought the business in 2010, and 2008 was horrible. Because there's so much overhead and maintenance, there's not a huge difference between our income and our expenses. When the economy drops, it's tough for a ferry operation. Even just this spring with the pandemic, the ridership numbers have been kept down, we haven't had a huge call to bring people out to the island. We're feeling it, and we are trying to figure out how to deal with it. You have to hope for the best but plan for the worst. You have to have a backup plan—a line of credit is helpful, but it's hard to plan for a whole season of losses. I've been told that a small business has to plan for a rainy day, but there's a difference between a rainy day and a tsunami. A tourist business in Maine only has a few months in which they get enough business to last them the rest of the year. If you lose that whole season… I don't know how many small businesses are able to survive that.
What challenges do you see with starting private ferry system today?
Any coastal business would run into challenges. We're lucky that we were able to buy this company already set up from my in-laws. How many families can start a business like this today? You need a huge amount of money for the initial investment: a piece of property on the coast and money for the boat and equipment. Long ago, the community might have gotten together and agreed that they needed a boat to get back and forth. And then they would have made money as they built their resources. That whole working waterfront dynamic is regrettably almost antique. It's an old way of life that is lost because people cannot afford the price of the being on the water. You lose a lot when that's gone.
RESOURCES
Originally Published June 2020