BACKGROUND
Chebeague Transportation Company (CTC) was founded in 1970, and although the islands of Casco Bay have been served by the ferries of Casco Bay Lines for over 150 years, CTC filled a market gap for islanders and visitors alike. The trip from the Portland Casco Bay Lines ferry terminal to Chebeague is over an hour long, and for most trips, Chebeague is the fourth stop. Meanwhile, the trip from CTC's Yarmouth terminal to the island terminal is a 15-minute direct trip. Casco Bay Lines transports freight and delivers the mail to the island, but for passengers, CTC's trip from Yarmouth is generally more convenient. CTC operates with two vessels, the Islander and the Independence. When both boats are in service, it provides the necessary flexibility for charter trips.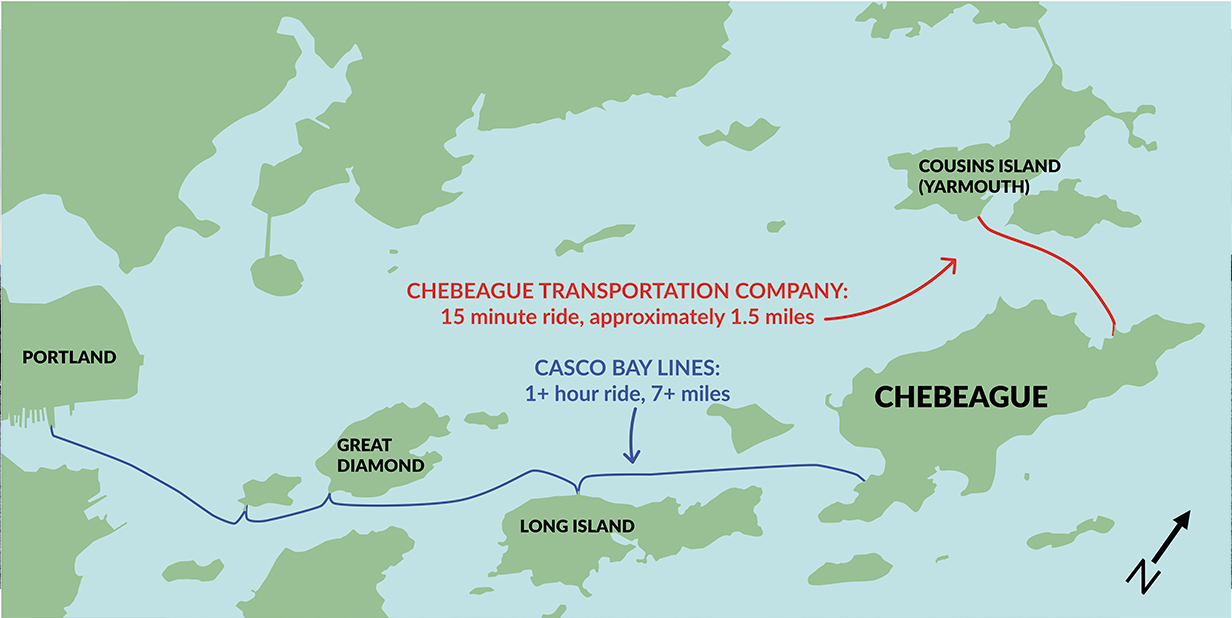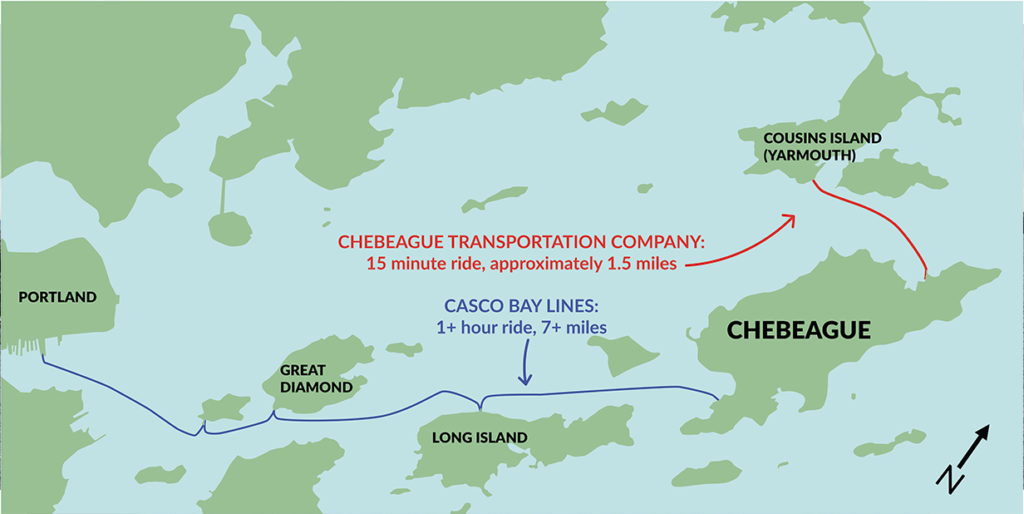 CTC operates as a nonprofit and is managed by a board of directors which includes residents and commuters, ensuring that community members are considered when decisions are made. The organization, however, was not always a nonprofit. Until 2014, it operated as a private company with shares owned by stockholders (to become a nonprofit, those stocks needed to be bought back by the company). CTC's emergency transportation services contribute to its ability to claim nonprofit status (more on that in the Q and A section).
The fifty years of service that CTC has provided the community of Chebeague has not come without challenges. General Manager, Carol Sabasteanski and Assistant General Manager, Matthew Ridgway shared some of the details of what it takes to run a successful ferry operation to a Maine island.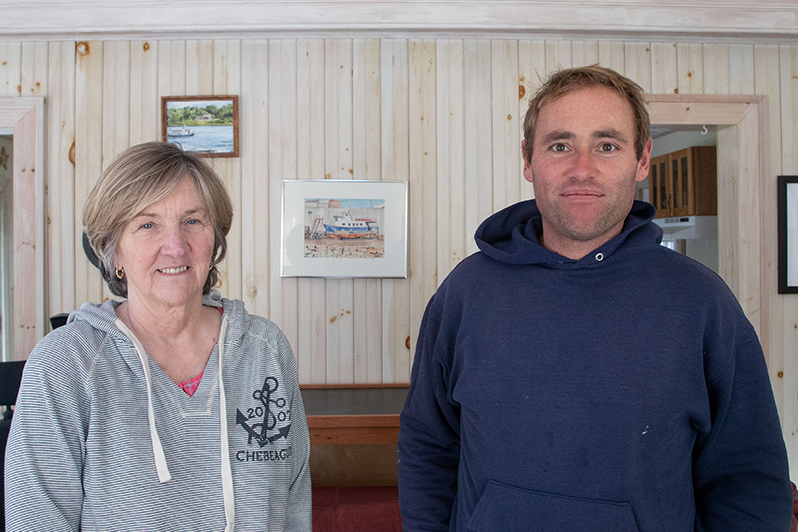 Q & A WITH CAROL SABASTEANSKI AND MATT RIDGWAY
How did CTC come into being? Would starting such a ferry be something that is more or less difficult today than it was in 1970?
Carol: CTC really came into being because they built the bridge from the mainland to Cousin's Island in the late 1950s. The bridge basically turned Cousins Island into part of the mainland, so a local started a water taxi. Then he ended up renting some land on Cousins which is now the parking area. It developed over the years, and when the original founder retired, the company bought the business.
In terms of how easy it would be to do this today, a lot of that depends on the corporate structure of the ferry business. From a regulation standpoint, today's world is very different when you compare it to the time when CTC was started. However, today everyone is held to the same standards regardless of whether you're a nonprofit, private business, etc.
Matt: A big challenge when it comes to starting a company like this is the mainland side waterfront access. The value of waterfront property would make it difficult to establish that side of the business.
Note: CTC attained access to their critical access point on Cousins Island decades ago by renting it from a landowner. They later acquired it through eminent domain.
There are multiple models in which one can run a ferry business … CTC used to be a private company, but now it's a 501(c)(3) nonprofit. What inspired the switch?
Carol: CTC has always operated as if it were a nonprofit. The intent was never to make money. When it was originally created as a for-profit, people on Chebeague bought stock in the company. They never expected a dividend. CTC didn't make money a lot of years, so taxes weren't an issue. Years before I arrived, there was a discussion about why we weren't an official nonprofit. That was one of the first things I worked on when I started in 2010—becoming a 501(c)(3). The main benefit is that there's no income tax.
We did look at becoming a transit district. While there are laws and processes that regulate becoming a land-based transit district (like a bus on the mainland), creating a ferry transit district requires special legislation. For example, when Casco Bay Lines became a transit district, there was a special act in the legislature. We explored the process to become a transit district, but due to apprehensions from some of the mainland residents, we decided to settle on becoming a nonprofit. Unfortunately, as a nonprofit, we aren't eligible for as many grants as we would have been as a transit district. (See Ferry System Governance Model Review, an excerpt from a study prepared for CTC which compares the pros and cons of several ferry ownership models.)
One of the primary reasons we were able to switch to a 501(c)(3) nonprofit is because of a very unique service that we do. We provide rescue services to the town of Chebeague 24 hours a day, 365 days a year at no cost to the town or to the patient. That means that our boat crew has a radio when they go to bed at night. They get calls in the middle of the night and have to transport patients. They may have to do this between 50-80 times a year.
An important note regarding operating like an ambulance: when it came to the purchase of our new boat, the Independence, we got our local legislators to work with us and go to Augusta. We spoke before the taxation committee and got our sales tax waived because we essentially act as an ambulance. We saved $63,000 from not having to pay sales tax.
How does CTC take in money? How does it lose money?
Carol: In terms of seasonality, without July and August, we'd be hurting. We run year-round, the same schedule, but we lose money all winter because it's for half the passengers. Starting in May we start making money again. We have about 8 or 9,000 riders in January or February and 15-16,000 in July or August. (as of June 2020)
Primarily, we take in money through fares. Regarding the fare structure, people who buy annual parking permits get a reduced fare. $39 for ten rides. It's usually $60 for ten rides. Commuters can get ten ride tickets that expire in a week, and that's $30. That's the lowest adult fare.
Another source of income is the barge operation. We barge from the Cousins Island lot from April to November. (The barge is for commercial freight and vehicles and is 43 feet long) It's very restricted by a court order issued back in the 1970s. We operate under restrictions, but it's a big part of the operation. Additionally, we have charters and cruises when we have two boats. We do Navy charters… anything we can do to use our assets. However, we don't have regularly scheduled cruises.
Some of the costs are predictable. Fuel, payroll… We run a consistent schedule, so the biggest variable is repairs and maintenance. It isn't just the ferry either, we have buses that shuttle passengers to and from our satellite lot. We try to plan for all that. The biggest threat is the economy. In '08 when we had that recession, this company got hit really badly. People don't travel when they can't afford it. When people are building houses, doing construction, we benefit from that. That doesn't happen in a bad economy.
What does it take to exist harmoniously in two separate towns?
Carol: I'd say in a situation where you have one town who is connected to the mainland by a terminal in another town, it's typical that the mainland town is not going to be entirely pleased with the existence of the ferry operation. We do have agreements between the towns of Yarmouth and Chebeague which basically restrict the ferry operation in terms of what hours we can operate, how big our boats can be, and how many trips we're allowed to make. There's also a joint standing committee between the two towns that can meet and talk about any issues we have and try to resolve them, so there are mechanisms in place to deal with any conflicts that do come up.
That's one of the big issues when it comes to starting a company like this. You have to work those details out between the towns.
Matt: The majority of the town of Yarmouth is supportive of Chebeague Island. And they understand that the communities are linked. Our kids go to Yarmouth school after 5th grade. They participate in Yarmouth rec center programs… my son plays hockey with kids from Yarmouth. We all go over and buy groceries there. People from Yarmouth come out on their bikes in the summer… the majority of the relationship between the towns is positive.
Where is your workforce coming from?
Carol: We've got a combination of mainland and island employees, but the crew has to be on island if they're on duty in case there's an emergency call in the middle of the night. We've got a small population here, 350 people. Trying to draw licensed individuals, captains, deckhands from a pool of 350 people is a challenge. Having the company be island-based is something that provides obstacles. There's a bigger labor pool on the mainland. We've been adding benefits to try and attract island people to work for CTC. These are just drawbacks inherent to the nature of running a business on an island.
RESOURCES
Chebeague Transportation Company's website
Ferry System Governance Model Review — An excerpt from a study prepared for CTC which reveals pros and cons of different ownership models
Originally Published June 2020