BACKGROUND
Washington State Ferries are currently the state's biggest diesel polluter, burning 18 million gallons of diesel fuel each year. However, that likely will soon change, as Governor Jay Inslee introduced an aggressive plan in 2020 to convert Washington's aging ferry system into a zero-emission ferry fleet. The plan calls for Washington State Ferries' most polluting vessels to be retrofitted with lithium ion batteries to supplement diesel engine power with electric power, and new diesel electric hybrid ferries to be constructed within the next few years. It also calls for the possible development of a network of charging stations at the state's ports. Ultimately, such moves could cut the ferry system's carbon emissions 70 percent by 2040.
This plan, part of a larger vision for creating a sustainable and vibrant maritime economy, will require unprecedented cooperation across many government agencies and private enterprises. Washington Maritime Blue, a public-private partnership, is coordinating the effort that includes 70 businesses, research institutions, non-profits, public agencies, tribes, and municipalities. It is being helmed by CEO Joshua Berger, a licensed merchant mariner and Governor Inslee's former Maritime Sector Lead.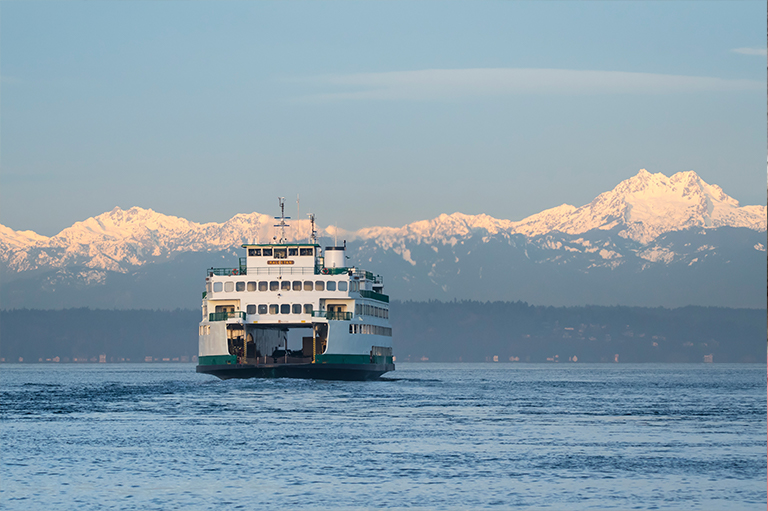 HOW IT WORKS
Washington Maritime Blue is designed as a cluster organization. This structure brings together regional businesses, suppliers, and institutions to work together to create the most complete roadmap for future projects. Electrification of the ferry system is just one of the goals of Washington Maritime Blue; it also funds an accelerator program to incubate sustainable maritime businesses, for example.
Washington Maritime Blue's efforts to coordinate sustainable maritime innovation come at a fortuitous time. Policymakers are increasingly advocating for aggressive cuts in greenhouse gas emissions. In addition to matching up with the governor's environmental vision, the organization's mission also aligns with the U.N.'s International Maritime Organization's goal to cut emissions in half by 2050. In addition, the organization likely will benefit from the tailwinds created by the Biden administration's efforts to cut emissions and promote energy efficiency.
The goal to shift toward electric power comes at a time when technology has made such a pivot more affordable than before. Battery technology has improved to such an extent that energy storage capability is growing exponentially. In 2020, for example, US advanced energy storage capacity surpassed the 1 gigawatt mark for the first time, according to the research firm Wood Mackenzie Power & Renewables, and there appears to be no end of growth in sight. Advancements in more affordable battery storage capability has spurred a huge level of investment in electrifying maritime industries. Joshua Berger has likened this pivot to the shift from sailing to steam power.
We asked Joshua to go into more detail about how Maritime Blue has been successful in creating a collaborative approach among a broad swath of stakeholders to advance the electrification of the world's second largest ferry system.
Q&A WITH JOSHUA BERGER OF MARITIME BLUE
Can you explain the value of the cluster organization to getting a project like this done?
We brought the entire supply chain—manufacturers, the shipyards, the naval architects, the ports' transit authorities, private investors, the Coast Guard—in a room together, and the cluster organization is that central organizing project manager. We create the safe place where the whole supply chain can come together.
Sometimes you have to get creative and unique about how contracts work, and which way money flows… It's not always easy, because you have to manage relationships, and sometimes contracting language between a public entity and a private entity gets sticky, but it's worth it. You're addressing all of the issues and all the opportunities together at the same time.
How do you get businesses that might be competitors to collaborate together on projects like this?
Everybody wants to get projects underway. They want to prove their technology and they want access to public dollars to bring down the cost to get these new pieces of technology in the water. We're just more effective and can do it faster together.
We brought all the major engineering and manufacturing firms together and said, "Ok, leave your salespeople at home, send your engineers, and together let's come up with what the standard's going to be (for the design of port charging stations). Once we figure that out, then you all can compete for the next 25 terminals against each other. But unless we work together to set these standards, there won't be a market for you to even compete in."
What has been a hurdle to building this collaborative approach?
When it's time to create public-private engagement agreements, memorandums of understanding, and contracts, you need to have the lawyers and infrastructure in place, and models and examples of this work.
We're out ahead of a lot of this kind of infrastructure, so to speak, and so we're having to make a lot of it up as we go. That slows down the process, and it also can also create trust issues. This process can build or break relationships and collaborations, so having that infrastructure in place early, that's something I wish we had done.
The ferry systems that are in the process of electrifying are some of the biggest in the world. How can a small ferry system tap into a similar system of resources?
We don't feel like we're doing this alone here in Washington. We have great relationships with our friends in L.A., San Diego, Boston, Oslo, Singapore, France. And Maine's really no different; we have great partners in Maine right now.
So, we want to make sure that if we have a template for a joint innovation agreement, we want to be able to share it. If we have an investor that's interested in projects, we want to share that. You have a startup that needs some support? We want you to be able to share it with us.
The blue economy is nascent. There is a tremendous amount of opportunity, and it's happening rapidly. We have to do this together. Our regions will compete, for sure, but there's more than enough to go around for all of us.
RESOURCES
The interview above has been edited for clarity and length.