Since 1999, the Island Institute Fellows Program has provided a unique opportunity for recent college or grad school graduates to apply their skills and experience to help build sustainability within communities whose way of life and identity face a myriad of challenges. Fellows can often be used as an organizing force for broad ideas when communities have shown interest, but lack the human capital to move projects forward.
HOW IT WORKS
Each year, interested island communities can apply to the Island Institute to place a Fellow in residence to work in community-based organizations. The Island Institute then finds highly qualified recent college or university graduates to fill these positions. Fellows spend 24 months living in island and remote coastal communities, working on critical, community-identified projects. They help to move larger projects forward by leveraging volunteers, facilitating access to technology, building resource networks, capitalizing on local experience, and formalizing institutional knowledge.
KEY FACTORS
Direct service. Because Fellows' projects are developed by community members who have expressed a specific need, and because of the small populations of the communities, the direct service has a greater impact.
Ongoing professional development. Fellows receive training throughout their terms of service, including quarterly retreats and opportunities for additional classes or workshops as they pertain to their skill-building.
Connections with site advisors. Many advisors have served in their role for several Fellows, and these ongoing relationships between the Island Institute and the advisors have ensured that leadership at the host sites is solid and that the Advisors clearly understand their role.
Non-displacement. Fellows work on projects that no one else has the time to focus on. As such, Fellows build capacity and sometimes create space for a paid position that did not exist before their fellowship, but they do not displace islanders from existing jobs.
Rigorous recruitment. Prospective Fellows complete an application, then go through a multi-level screening process and on-site interview before being selected for a Fellowship. Fellows need to be resilient, motivated, and truly interested in island living, and the recruitment and application process is designed to make sure that candidates chosen for a Fellowship have the skills to succeed.
Community partnerships. Fellows work within the communities on stakeholder visions. This program is different from others, because the Island Institute does not impose a project on the community. Each community comes to the Island Institute with their own ideas and a set of invested stakeholders.
Q & A WITH MEGHAN COOPER, 2014 – 2016 ISLE AU HAUT FELLOW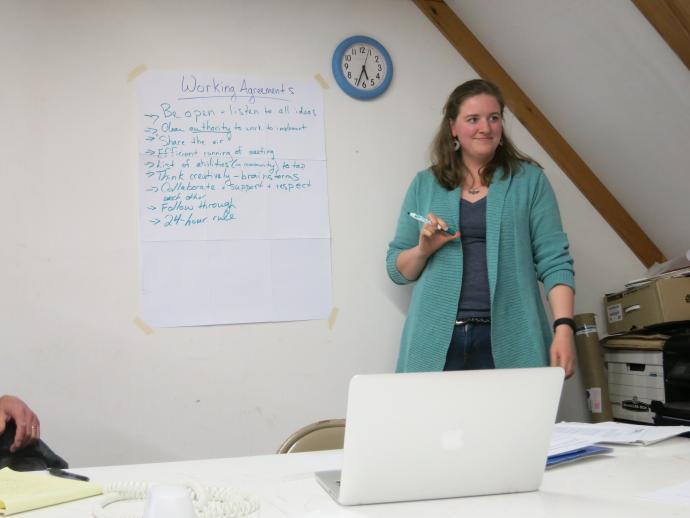 Can you describe what your role and responsibilities are as a Fellow on Isle au Haut?

Last summer, I facilitated the formation of the Isle au Haut Comprehensive Plan Review and Implementation Committee (CPRIC). This committee's purpose is to prioritize and take action on the recommendations made in the town's comprehensive plan, approved in 2015. I also created a municipal website for Isle au Haut of which I'm currently the webmaster, I have been working on organizing and preserving the Isle au Haut Historical Society's documents and photos, and I have supported the Isle au Haut Lighthouse Committee in their fundraising efforts to restore the lighthouse. And as my service learning project with the Isle au Haut School, I have helped the students learn about the impact of electronic waste and organize an electronic waste collection day, which will take place in early June.
What are some challenges?

I am lucky in that Isle au Haut is very supportive of their Island Fellows and has been very supportive of my work and my projects. The biggest challenge day-to-day is that I am free to work on what I want, when I want, so I have to make sure I stay focused. Of course, that is also one of the things I really like about the Island Fellow position. For a while, I tried to maintain a regular schedule where I would work on specific projects at the same time every day for a set amount of time, but it just didn't work for me. Things would come up on a regular, yet unpredictable, basis, and I would get frustrated that my schedule had been messed up again. Now I determine my schedule day by day and expect that it won't always go the way I plan.
What would you want potential Fellows to know about the position, in terms of island life, a particular project, adjustments, etc.?

The biggest thing, and perhaps the most surprising for me, is how different the islands are from each other. They have similarities, obviously, but each community has its own particular difficulties and personality. Advice for a Fellow on Isle au Haut could apply to a Fellow somewhere else, but it also might be completely irrelevant. One thing that is probably true for most Fellows (or anyone in a tiny community) is how visible you are in the community. Everyone knows pretty much everything (and likely has opinions on it), so it is important to be conscious of your actions and words. The advantage of a small community, which in my opinion far outweighs the inconveniences, is that people are generally extraordinarily helpful and generous, and you will get to know a greater percentage of the community at a much deeper level than you might in a larger town or city.
What do you think makes for a successful Fellowship?

The support of the community is key, but so is the personality of the Fellow. It is important for a Fellow to be self-motivated, independent, and truly interested in the work. Being able to ask for the support and help you need is also important. Because it is such an independent job, it is essential to be proactive when it comes to asking for what you need.
How do you see your presence and work on Isle au Haut benefiting the community?

It has become a cliché to say that islanders wear many hats, but it's absolutely true. There are not enough people on the island year-round for people to not take on multiple roles, and it can be difficult for new projects to get started when the community is working hard to keep things running the way they are. Having a Fellow come in, whose specific job is to get new projects and innovations up and running, then set up a plan to keep them going after he or she leaves, can be just what is needed to kick-start a project.
How do you see it benefiting your own growth, both professionally and personally?

Personally, the Fellowship has given me a lot of practice working independently, planning and managing projects for myself, and staying flexible. I have also made many wonderful friends on Isle au Haut who will be a treasured part of my life for years to come.
I am very appreciative of the Island Institute's professional development support, which has allowed me to build skills in a variety of areas, including project management, archival preservation, and teaching about agriculture. Working with the comprehensive plan and town committees has sparked my interest in a career in community planning and management, and I plan to attend graduate school in the fall for a Master's degree in Policy, Planning, and Management. This is not a path I would have even considered two years ago, but my time as a Fellow on Isle au Haut has convinced me that working in this field will be an exciting and fulfilling opportunity.
CHALLENGES
Funding the program. Fundraising by the Island Institute covers ¾ of the cost of having a Fellow—the other quarter is covered by the nonprofit or municipality hosting the Fellow. Splitting the cost ensures community buy-in and full commitment toward the project.
Lack of housing. Most islands are already extremely short on housing, and finding another winterized place for the Fellow to live can be quite challenging.
Finding an advisor with enough time. As Meghan explained in the Q&A, islanders wear many hats. Advising a Fellow, while it increases capacity on a project overall, is another responsibility for a busy islander to take on.
OUTCOMES / RESULTS
Since the program began in 1999, the Island Institute has placed more than 100 Fellows in 21 Maine island and coastal communities, including all 15 year-round island communities. They have worked more than 300,000 hours on a wide range of community-driven projects (see graph below), brought in hundreds of volunteers, and acquired grant funding for many new and existing projects or organizations.
During their fellowship, Fellows have been shown to increase the number of volunteers and volunteer hours, increase the number of systems established or streamlined, and help coordinate the creation of off-island and inter-island resource networks. When the Fellow departs after two years, sustainability plans are put in place and systems are able to function without the direct input of the Fellow. In the long term, organizations are better able to identify and meet needs and adapt to changing needs at lower cost and with less time, through the use of systems, volunteers, and technology set up by the Fellow.
The Fellows also benefit by learning professional and interpersonal skills and gaining valuable experience. As of 2014, 59 of the 103 Fellows still live and work in Maine, and many have chosen to stay and make their lives on Maine's islands.

ADDITIONAL RESOURCES
Originally Published April 2016