Efficiency Maine, the statewide administrator for energy efficiency programs in Maine, has been working to lower the barriers to energy efficiency for Mainers through creative and innovative program designs. Through its Home Energy Savings Program and Affordable Heat Initiative, Efficiency Maine provides rebates and loans to encourage Maine residents to make their homes more energy efficient. These programs are designed to be accessible to Mainers across the entire state and to make weatherization and energy efficiency upgrades more affordable to residents of all income levels.
Efficiency Maine has used funding from the Regional Greenhouse Gas Initiative (RGGI) and other sources to ensure that the support for this program has remained relatively stable from year to year. This stability has helped the state build a strong network of home performance contractors operating in most parts of the state.
"It is all housed within Efficiency Maine to find cost-effective programming to deliver efficiency incentives to Maine households. Efficiency Maine administers those funds in lots of different ways… we've got incentives and rebates available for people to choose the highest efficiency installation. When people are doing an installation or a retrofit, we really want to compel them to go with the most efficient option possible."

BRIDGET DOXSEE
PROGRAM MANAGER FOR LOW INCOME INITIATIVES
EFFICIENCY MAINE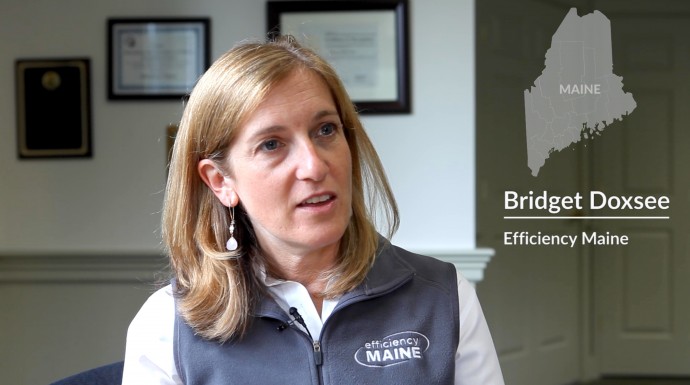 HOW IT WORKS
Efficiency Maine's Home Energy Savings Program (HESP) offers rebates for energy assessments and air sealing, insulation, and efficient heating systems which help lower the cost of efficiency upgrades for Maine residents regardless of income. The Affordable Heat Initiative (AHI) provides enhanced rebates for low-income households and residents of mobile homes. Unlike some other states, Efficiency Maine allows program participants to choose to make efficiency upgrades either all at once as part of one comprehensive weatherization project, or to install upgrades in stages with a rebate for each stage. This makes the programs more accessible to more Mainers across the income spectrum. For example, a homeowner can choose to start with an energy assessment and basic air sealing for as little as $200 with a HESP rebate or as little as $50 with an AHI rebate. Participants can then make additional updates including insulating basements, walls, or attics or installing efficient heating systems as their budget allows.
IMPLEMENTATION
The Home Energy Savings Program provides rebates for single-family primary residences and one-to-four unit rental homes. Participants are required to conduct an energy assessment and install basic air sealing measures to access insulation rebates. For more information, visit the Efficiency Maine Home Energy Savings Program page.
The Affordable Heat Initiative provides enhanced rebates for owner-occupied single-family and two-unit homes, condominiums and mobile homes. Efficiency Maine has worked to develop eligibility criteria that make the program accessible to as many low-income homes as possible. For example, the eligibility criteria include any owner-occupied mobile home and any owner-occupied home with a combined building and land assessed value of $80,000 or less. For more information on the Affordable Heat Initiative and other low-cost and no-cost energy options for eligible homes, visit the Efficiency Maine Low Income Weatherization, Heating, and Water Heating Rebate page.
CHALLENGES
Efficiency Maine advertises primarily through digital channels including its website and ads on Hulu, Pandora, and other streaming services. Advertising through these channels may be an effective way to market to much of the state, but many residents of rural areas lack access to high-speed internet and may not be reached by online marketing. Similarly, Efficiency Maine relies on weatherization contractors to market their rebate programs to their customers, but in rural communities where there aren't contractors marketing their services, residents often do not know that these resources are available.
For these reasons, community-based weatherization initiatives like Weatherization Weeks and Weatherize campaigns can be effective ways to boost awareness and address some of the geographic barriers to energy efficiency in rural places.
OUTCOMES
In the 2017 fiscal, HESP provided rebates for more than 7,500 energy efficiency projects around the state resulting in more than $25 million in lifetime energy savings. In the same year, AHI supported more than 500 projects with lifetime energy savings of more than $3.8 million.
RESOURCES
Originally Published November 2018