Many island elders need help with daily tasks but aren't ready to leave their homes. For example, they can get up from a chair by themselves or with the help of one person, but need assistance to bathe or cook three meals a day. They may not need to move to an assisted living home, but can benefit from regular visits from an in-home care provider.
Chebeague Island's residential care facility, Island Commons, has been open for 16 years, and they've recently launched an in-home care program called Chebeague Cares.
HOW IT WORKS
The staff do just about everything, from "rise and shine" services and medication reminders to light housekeeping and laundry. There are a few exceptions: as a "non-skilled" Personal Care Agency, they can't provide medical services like injections or wound care. And if the elder needs more than one person to help them stand up from a chair (a "two-person assist"), then they are beyond the level of care that Chebeague Cares can provide.
They also offer "in-home" hospice care at the assisted living facility, meaning that coordinator Amy Rich can hire a caregiver to work with that single resident nearly full time during the end of their life. Families are happy to have that option and avoid having to move their loved one in the last months of life. Chebeague Cares has done the same thing for patients who didn't want to remain isolated in rehab after surgery.
IMPLEMENTATION STEPS
Conduct one-on-one surveys with potential participants to determine need, willingness to pay, and desired services.
If there are willing clients, get licensed as a personal care agency.
Create business plan, contracts, etc.
Find staff
Fundraise to subsidize prices and reach low-income clients.
Create advertising materials and launch programs.
Q & A WITH AMY RICH, COORDINATOR AT ISLAND COMMONS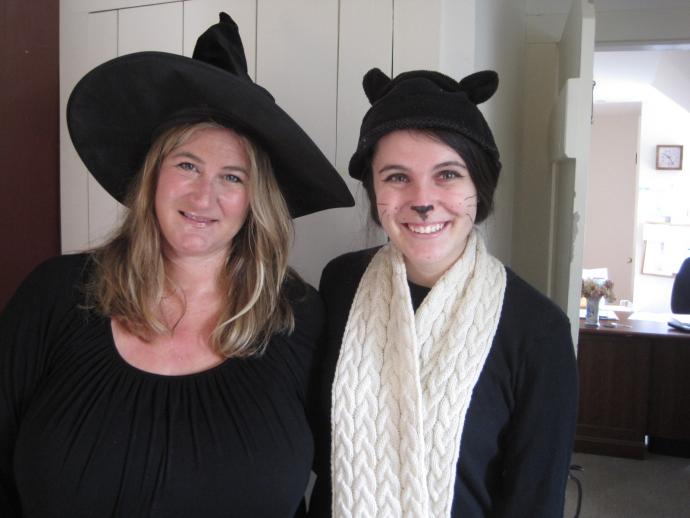 How did you decide how much to charge?

We charge $26/hour, and people of an older generation think it's an enormous amount of money. But we're fully insured, with workers comp, and I pay my workers well. Staffing here is an adventure, and I had to make it attractive for people who want to do eldercare. After all expenses, we make about $1.50/hour. I would tell anyone who wants to do this, "Unless you can figure out something that I have missed, you're doing this to offer another wonderful program to your community, because you know that it's needed. Not because you want to make money." We're not MaineCare approved, because last time I checked the reimbursement was about $10/hour. I couldn't even pay someone.
How about other business planning?

We started with an old-fashioned business plan and figured that we have to have a two-hour minimum. We have some people who would call and say, "Can you just help mom come to the car?" We are a business, and I can't get someone to go get 20 minutes of pay and blow their whole morning.
We also have 2 different contracts, one of which is a sliding scale. We're lucky that someone has donated $10,000 to enable a sliding scale based on Maine's 2015 poverty rates. I can't waiver my prices, but I can change the client's, and that $10,000 has been invaluable to offer services to my lower income residents.
Right now, we're breaking even. We're working with two or three users at a time, usually. We usually have the same staff that work at the assisted living facility, but it's challenging because I can't let them go into overtime.
How do you decide who you can work with?

We decided that we need to have an assessment meeting and fee. A client is above our level of care if they're a two-person assist. I can't, in good conscience, send a worker out to someone who can't get up with just one person assisting them. There are people on Chebeague who are way above our level of care. So the assessment, just a brief conversation and checklist, is invaluable. The assessment fee is hard for people, but $150 just covers our time and footwork.
Can people use long-term care insurance?

Some people do, and it depends on what kind of insurance they have. Usually, they will ask me for a Quickbooks printout that they submit. I'll submit how much it all costs for the year, or summer, and they'll get reimbursements. I'll fill out any paperwork that is necessary.
How do you get past resistance to signing up?

The elder's caregivers (usually family) will say, "They need this!" But it's tricky. Sometimes we'll say to the elder, "Marianne is just going to come in, and you let her know what cleaning you need done, what you can't get to today, and she'll go with you to get the mail since you love getting the mail," and we kind of empower them with the program, until they're comfortable with it. When you say, "This is our in-home care program, and we're going to help you get off the toilet," you lose a lot of people who have been taking care of themselves for 90 years.
What is going well?

The three people that we've been servicing for the past few months are so thankful. They've told us that they've had a bit of their summer back, that they have safety, and though they weren't sure at the beginning, they love having a companion. I work hard to match people up based on personality. I'm proud of how we're taking care of these people, and I can stand behind our work. Everyone who uses it is very satisfied, both the caregivers and the clients.
What advice would you offer someone who wants to start an in-home care program?

How well you know your population, and what they truly want (not what they're telling you they want), will determine your end success in launching an in-home care program. You need a group of dedicated people (not just one!) who are going to sign up. You need to sit down with potential clients and ask, "What would you love to have done for you that would make your day easier? Is it something you can see yourself spending $20/hour on, or is that out of your reach?" You also can't underestimate the administrative time it takes to field calls and do assessments.
CHALLENGES
Finding enough clients. Especially among the year-round population, there is a surprising gap between what many island elders say they would like available, and what they are actually willing to pay for. Amy recommends doing in-person meetings before launching a program to find a group of elders who will be your dedicated clientele and make sure that prices will be acceptable.
Finding staff. There is a small pool to choose from, and Amy has to pay well to make jobs attractive. Because of the limited staff available, many full time staff from Island Commons also work for the Chebeague Cares program, and they must be paid overtime (see below), adding another financial burden.
Small program size. Chebeague Cares is a program of the Island Commons Resource Center, and falls under the same tax ID. Amy Rich, who runs both, says that despite the fact that the current situation can lead to staffing challenges, Chebeague Cares is too small to justify the time it would take to create a separate 501(c)(3), and it would completely double the taxes every year.
Creating clear boundaries. It's helpful to have a contract that clarifies limits and exceptions, i.e. if the staff will provide care after 6:00pm, stay overnight, or charge more for a husband and wife than a single person in the same home.
Competition with more casual arrangements. It can be easier and cheaper for some islanders to arrange for help on their own. A Personal Care Agency is registered, insured, and trained, but that also means higher prices.
OUTCOMES / RESULTS
Chebeague Cares has been up and running since November 2014. They are breaking even and are able to offer many services, but they don't have many clients yet; only 2 to 3 people at the time of the interview in August 2015. There are many islanders who are above the level of care that Chebeague Cares is able to provide, but they are unwilling to move into the Island Commons assisted living facility and are instead hiring skilled (i.e. medical) assistance or relying on their families. Other islanders whose income levels are too high to qualify for the "sliding scale" offered by Chebeague Cares are simply unwilling to pay for the service, and find other ways to manage.
SIMILAR PROJECTS
Islesboro's Beacon Project and Vinalhaven Eldercare Services also offer in-home care. Many other islands provide more informal in-home care arrangements for residents or summer visitors.
SIDEBAR: TELEMEDICINE & ISLAND ELDERCARE CONFERENCE
Especially on the more remote islands, traveling to a medical appointment can be costly, time-consuming, or nearly impossible. The Maine Seacoast Mission provides telemedicine services through staff traveling on the Sunbeam V to Frenchboro, Isle au Haut, and Matinicus. It also provides land-based telemedicine units on Swan's Island and Islesford where locals have been trained as health aides to utilize the technology, and elderly island residents can meet with their doctor on screen—it's like high quality Skyping. A handheld camera and other devices allow nurse Sharon Daley, who travels on the Sunbeam, to show doctors a sore throat, ear infection, and more.
Sharon and the Seacoast Mission also provide flu shots, bring audiologists and other specialists out for visits, and provide support for island elders in end-of-life planning, dealing with insurance, and more. The elders sign up for appointments when the Sunbeam is visiting, or call Sharon to make arrangements.
Sharon also helps organize an annual eldercare conference on Islesboro, gathering eldercare workers, and advocates from nearly every year-round island in Maine. They share updates, lessons, and discuss policy.
"Just getting people together from islands and talking about common problems and issues is a great support to each other," says Sharon. "You don't need to reinvent the wheel. When a group has learned how to do something, they can share that with others."
Originally Published March 2016