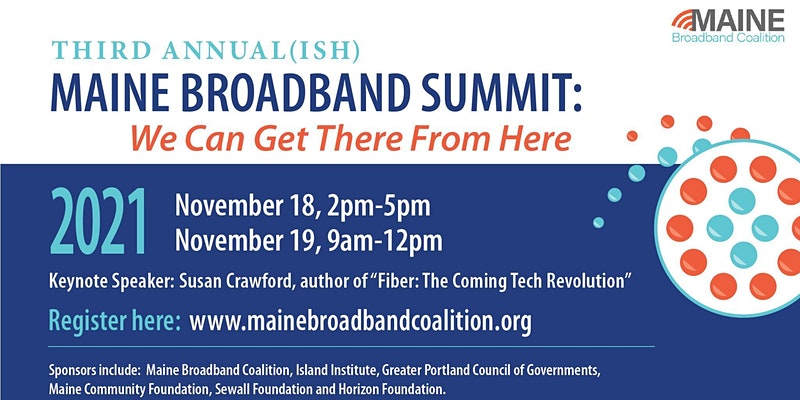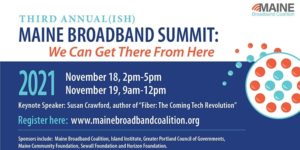 Join the Maine Broadband Coalition for the third annual(ish) Maine Broadband Summit, November 18-19, 2021. The broadband landscape in Maine has evolved since the last summit, and it's time we convene to share and learn together as we continue forward toward statewide reliable internet access.
Through two, half-day virtual sessions, the Summit will cover complex elements of the broadband process and feature a keynote address from Susan Crawford, the author of Fiber: The Coming Tech Revolution—and Why America Might Miss It.
Sponsors include: Maine Broadband Coalition, Island Institute, Greater Portland Council of Governments, Maine Community Foundation, and Horizon Foundation.
Join for some or all of the event, share your experiences, and learn from others. Register today!
---
2-Day Schedule Overview
Thursday, November 18, 2021 ONLINE
2:00 – 2:20 Welcome & Road Map for Conference
2:20 – 2:45 Keynote Session
2:50 – 3:45 Digital Equity & Inclusion Plenary
3:50 – 4:45 Financial Roundtable Plenary
4:50 – 5:00 Closing
Friday, November 19, 2021 ONLINE
9:00 – 9:15 Welcome & Governor's Address
9:15 – 9:40 Keynote Session
9:40 – 9:45: Senator's Address
9:50 – 10:45 Concurrent Sessions A
10:50 – 11:45 Concurrent Sessions B
11:50 – 12:00 Closing
---
Speaker highlights – thursday, november 18
Keynote
2:15 p.m.-2:45 p.m.
Join us to hear from Peggy Schaffer, Executive Director of the ConnectMaine Authority, and Tim Schneider, Chair of the Maine Connectivity Authority Board to hear about the growth of the state authorities and their future paths forward. We'll hear from each state leader and then open for questions from the audience.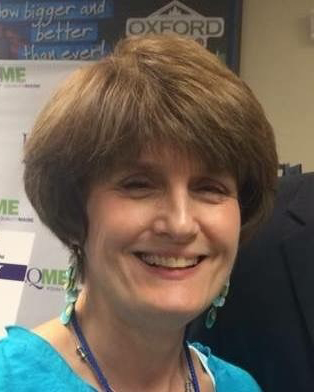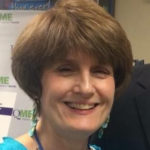 Peggy Schaffer
Executive Director, ConnectMaine Authority
As executive director, Peggy Schaffer manages the Authority's rulemaking efforts, investment decisions and policy recommendations. Peggy was the Small Business Advocate for the Secretary of State's office, and served as the Co-chair of the Maine Broadband Coalition, a statewide group advocating for high-speed broadband. Peggy was the Chief of Staff in the Senate Majority Office and the Senate President's office. Peggy also worked as the lobbyist for the Department of Economic and Community Development, where she helped develop and implement many of the State's key economic initiatives under both King and Baldacci and was part of the team of people that created Maine's Research and Development infrastructure.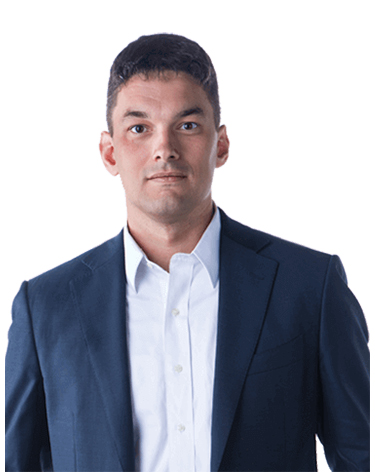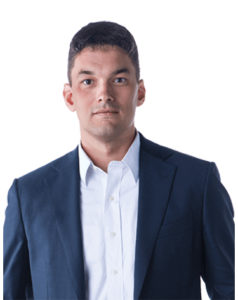 Tim Schneider
Chair of the Maine Connectivity Authority Board
Tim Schneider is General Counsel and Principal Consultant for Tilson. Prior to joining Tilson, Tim led the Maine Office of the Public Advocate, the independent state agency that represents Maine utility customers. As Public Advocate, Tim served on the Executive Committee of the National Association of Utility Consumer Advocates, and played a central role in setting Maine's energy and telecommunications policy, with particular focus on ensuring that electricity bills were affordable for low income electricity customers, expanding access to broadband, and developing forward-looking distributed generation policy. He is a graduate of Harvard University and New York University School of Law.
---
Speaker highlights – Friday, November 19
Governor's Welcome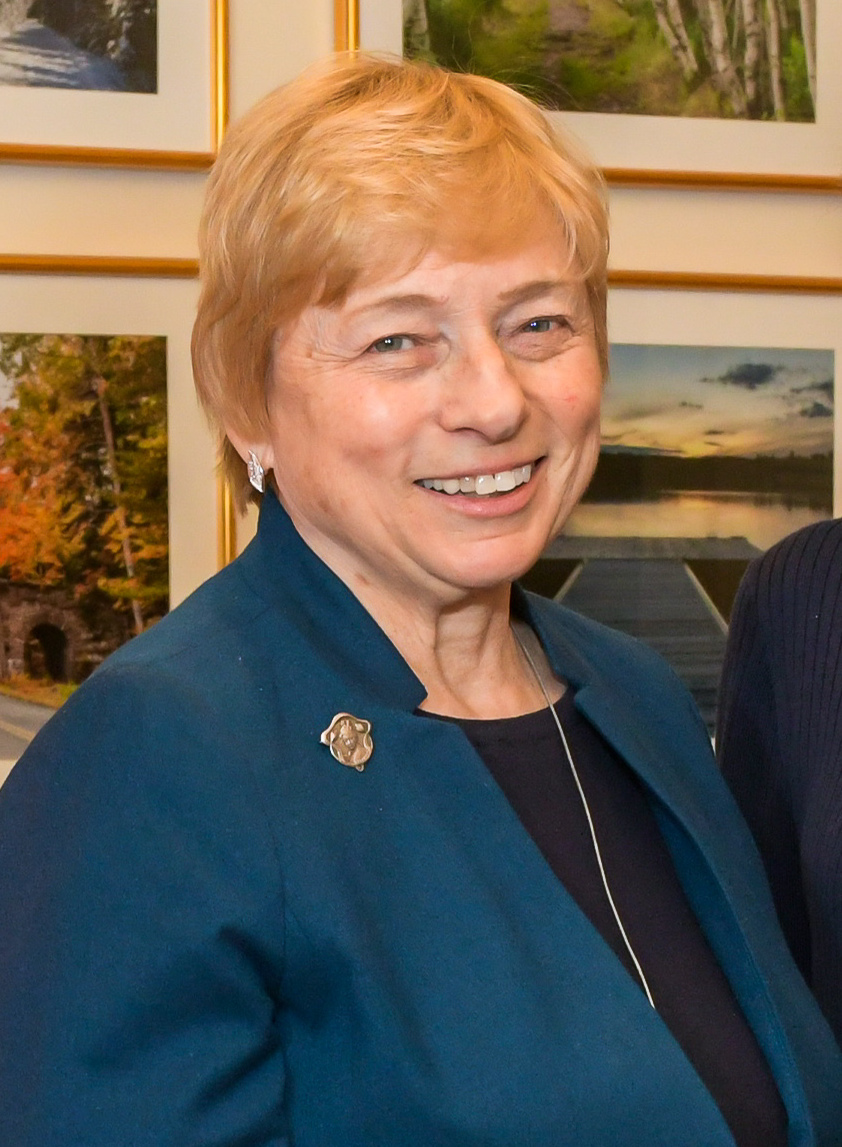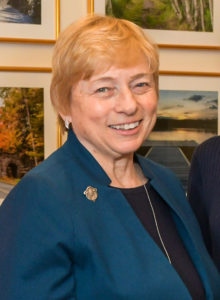 Welcome from Governor Janet T. Mills
9:05 a.m.-9:15 a.m.
Join us for a welcome on Day 2 by Governor Janet Mills.
After an eventful year for broadband funding and strong state leadership and action, Governor Mills will be sharing her initiatives for closing the digital divide with the Maine broadband community.
Keynote
9:15 a.m.-9:40 a.m.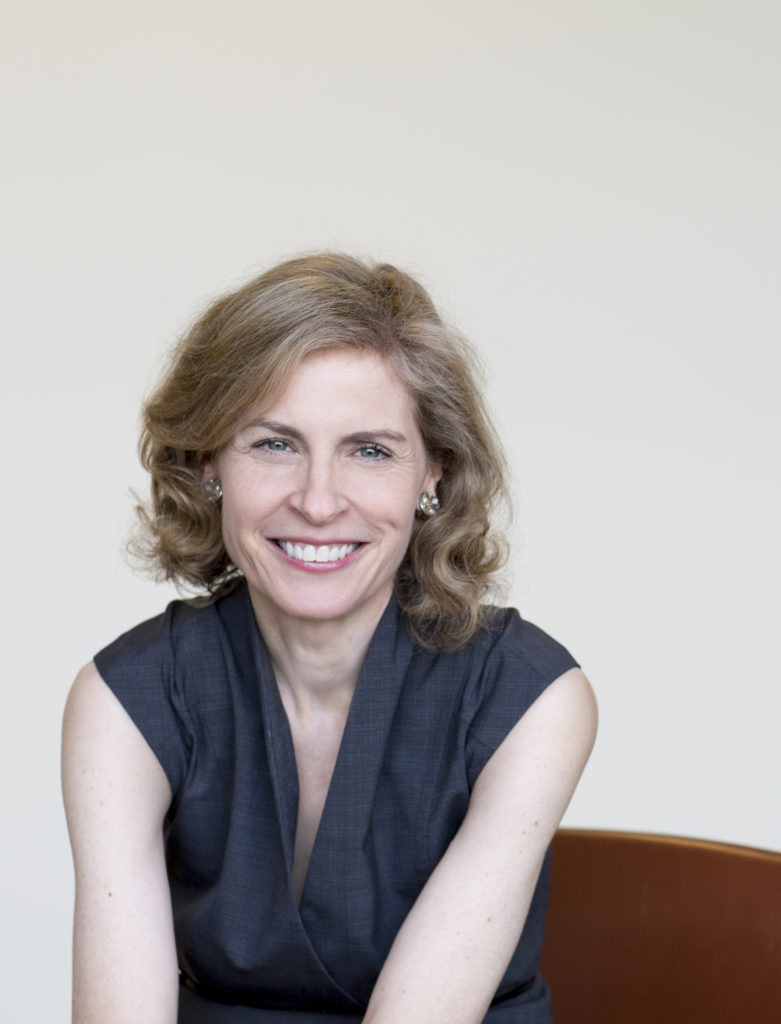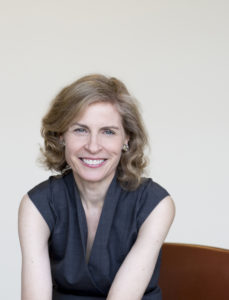 Susan Crawford
Author of Fiber: The Coming Tech Revolution—and Why America Might Miss It

Susan Crawford is the John A. Reilly Clinical Professor at Harvard Law School. She is the author of Fiber: The Coming Tech Revolution—and Why America Might Miss It, Captive Audience: The Telecom Industry and Monopoly Power in the New Gilded Age, co-author of The Responsive City: Engaging Communities Through Data-Smart Governance, a contributor to Wired, and an expert in tech, public policy, and how they affect our lives.
She served as Special Assistant to the President for Science, Technology, and Innovation Policy (2009) and co-led the FCC transition team between the Bush and Obama administrations. She also served as a member of Mayor Michael Bloomberg's Advisory Council on Technology and Innovation and is now a member of Mayor Bill de Blasio's Broadband Task Force. Crawford was formerly a (Visiting) Stanton Professor of the First Amendment at Harvard's Kennedy School, a Visiting Professor at Harvard Law School, and a Professor at the University of Michigan Law School (2008-2010). As an academic, she teaches Internet law and communications law. She was a member of the board of directors of ICANN from 2005-2008 and is the founder of OneWebDay, a global Earth Day for the internet that takes place each Sept. 22. She is one of Politico's 50 Thinkers, Doers, and Visionaries Transforming Politics (2015); one of Time magazine's Tech 40: The Most Influential Minds in Tech (2013); one of Prospect magazine's Top Ten Brains of the Digital Future (2011); and one of Fast Company's Most Influential Women in Technology; IP3 Awardee (2010).
Senator's Address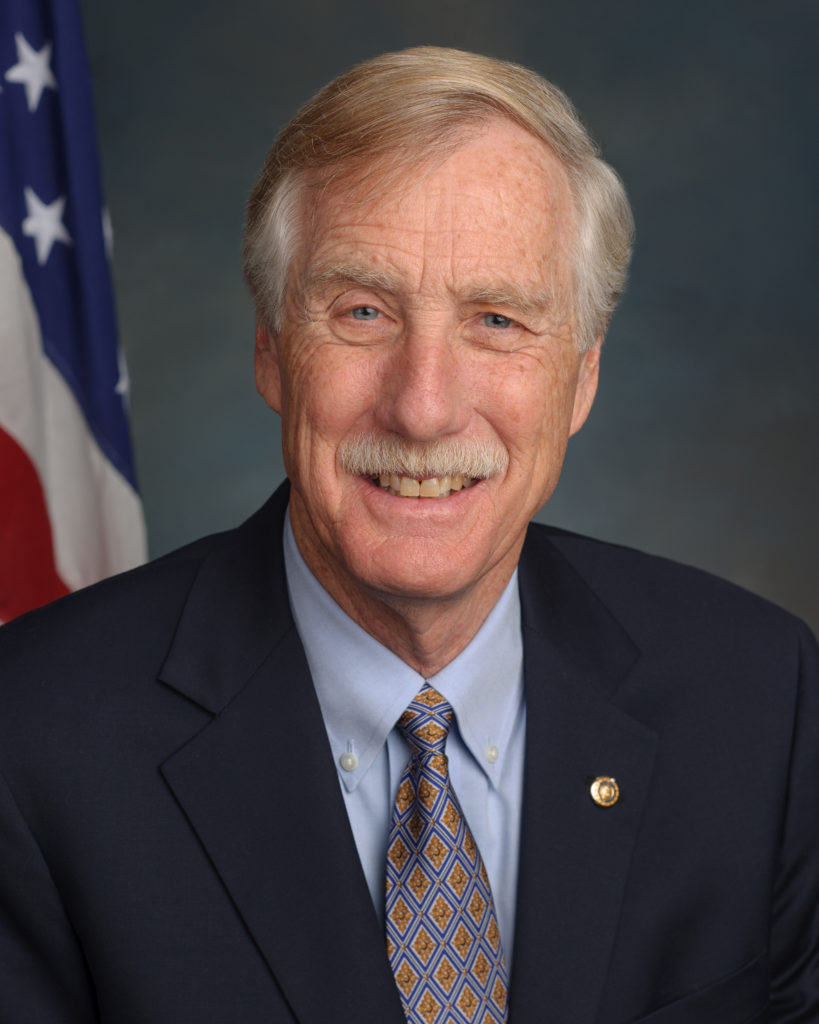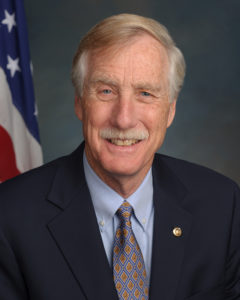 Address from Senator Angus King
9:40 a.m.-9:45 a.m.
On the heels of the passage of the Build Back Better infrastructure package that will bring roughly $300 Million to broadband efforts in Maine, Senator King will address broadband leaders as we continue to plan and implement projects that will bring reliable, high-speed access to all Mainers.