This month marked the second anniversary of Maine Won't Wait, the Maine Climate Council's 4-year climate action plan. Partners from across the state are working hard to put the plan into action. Together we are making progress on reducing emissions, advancing clean energy, and protecting Maine's infrastructure and environment from the impacts of climate change. We want to acknowledge the substantial progress made in the past year and share projects we've been working on, here at the Island Institute, to realize the plan's recommendations in Maine's island and coastal communities.
Tracking the Progress of Maine Won't Wait
The State released a 2022 progress report detailing the year's accomplishments. Here are some of the highlights: 
82,326 heat pumps have been installed in Maine since 2019. The goal is to have 10,000 by 2025.

 

More than 9,100 homes have been weatherized, exceeding the halfway mark of the State's goal of weathering 17,500 homes by 2025

 

127 communities are part of Community Resilience Partnerships, an opportunity for cities, towns, and Tribal governments to set climate resilience priorities and increase local climate projects and planning.

 

There are 14,477 clean energy jobs in Maine. The goal is to grow that number to 30,000 by 2030.
To learn more, check out the 2022 progress report and interactive dashboard.
Implementing Climate Action along Maine's Islands and coast.
In the year ahead, our team is looking forward to continuing to support the Climate Council's efforts through our participation in their working groups and subcommittees and Island Institute's Dr. Susie Arnold's position on the Council. Through our work with communities, we are also putting recommendations from the plan into action. Below are some of the initiatives we've undertaken on the ground and on the water.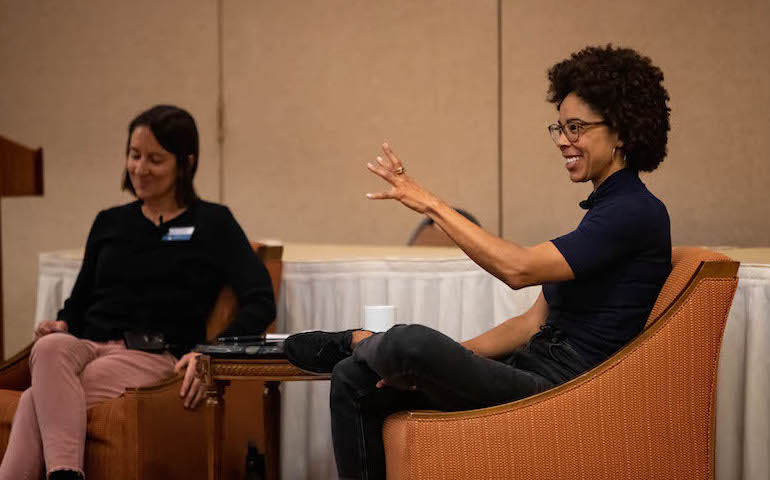 Sharing Climate-Forward Solutions at our Climate Symposium
Two years ago, the Maine Climate Council's 2020 Maine Won't Wait publication made clear that climate action requires the support and engagement of Maine people. Though delayed by the pandemic, we finally helped move toward that goal by convening our first annual Climate Symposium. By bringing folks together to converse about solutions being tested and work underway, we strove to empower and embolden Mainers to act, engage, lead, and to have hope. In total, 17 presenters shared 14 inventive coastal climate solutions with attendees ranging from coastal and island community members to state and regional climate professionals. Learn more by reading our blog post.
Helping Communities Transition Their Energy Systems
Island Institute is now supporting five communities, three of which are in Maine, to plan for energy resilience through a Department of Energy program for island and remote communities. Each community receives significant time and planning expertise from staff from the national labs to address their specific energy priorities and questions. Islesboro and Eastport are in the first cohort, and will finish up their planning projects in early 2023. Islesboro seeks to transition off fossil fuels in their buildings, and increase local renewables and resilience while creating an energy system that is financially accessible to all residents. Eastport is looking at how local renewables (e.g. tidal and solar) and storage can provide backup power during outages, and how energy efficiency and electrification will impact the grid. Mt. Desert Island is just getting started with its project in the second cohort, and is focused on transitioning to 100% net clean energy for the island, as well as grid resilience. Island Institute is also supporting the Aquinnah and Chilmark on Martha's Vineyard, and Beaver Island, Michigan. Applications for the third cohort will open in early 2023. Check out our blog post to learn more. 
Supporting Community Resilience Partnerships
The Island Institute is currently acting as a service provider to six Maine coastal and island communities through the Governor's Office of Policy Innovation and the Future's (GOPIF) Community Resilience Partnership (CRP) initiative. In this role, the Island Institute supports Monhegan Island, Chebeague Island, Long Island, Gouldsboro, Swan's Island, and the Cranberry Isles as they identify community priorities related to extreme weather and energy projects as well as aid in seeking funding for such  initiatives.Through grants and direct support to municipal governments, the Community Resilience Partnership (CRP) assists communities in considering energy transitions and becoming more resilient to extreme weather, flooding, and rising sea levels. The program is administered by the Governor's Office of Policy Innovation and recommended by Maine's four-year climate action plan, Maine Won't Wait. A community must meet three criteria, including adopting a resolution of commitment, completing a pair of self-assessments, and holding a community workshop to prioritize initial climate resilience and clean energy actions to enroll in the partnership. The enrollment process is designed to help communities take stock of their current activities and identify a few next steps based on their priorities. Once enrolled, communities are eligible to apply for $50,000 Community Action Grants to undertake additional planning efforts or to implement the priorities identified during enrollment. Learn more in the Ellsworth American and on our blog. 
Powering the Coast with Electric Outboards
The Island Institute has been working over the last year to build relationships with suppliers and potential users of small marine vessels as we explore getting more electric outboards on the water.  We see the transition to electric outboards as one response to environmental, economic and social disruption. Our goal for the summer of 2023 is to have opportunities for people to see electric boats in action, demonstrating their performance in commercial settings.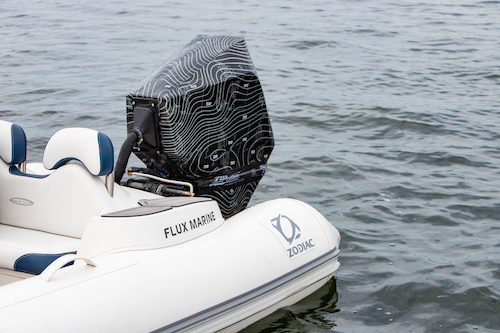 As the technology takes root here in Maine, we will need a workforce trained and ready to work on outboard electric motors. To that end the Island Institute, in partnership with the Maine Community College System, Mid-Coast School of Technology, and Maine Electric Boat Co. has developed a three-tiered digital badge course on electric outboard motors.  Level 1 is an online course for a general audience. It is set to launch by the end of this calendar year and will provide a foundational understanding about electric outboard technology and its current and future uses and applications. Levels 2 and 3 will include online as well as hands-on, in-person training and are designed primarily for boat yard technicians and people already in the field of boat maintenance and repair. 
With significant progress underway at the state and regional level, we have a lot to be grateful about as 2022 comes to a close. We are eager to continue to move the needle in climate action during the year ahead and grateful for a community of committed and enthusiastic partners and supporters here in Maine.  
If you'd like to learn more, explore the State's climate action website, or reach out to us to share your thoughts or questions on climate action in Maine.