In spring 2021, we undertook a carbon footprint study with the Maine-based seafood company and partner of the Island Institute, Luke's Lobster. As two organizations who care deeply about the long-term sustainability of Maine's fisheries and responding to climate change, we set out to do this work with the consulting firm Council Fire. This is the first time a study has measured the greenhouse gas emissions along one company's supply chain of Gulf of Maine lobster. This type of assessment not only advances a leader in the sustainable seafood industry closer to their net zero goals but also benefits the working waterfront here in Maine by pinpointing carbon hotspots and identifying opportunities for sustainable solutions that can be used as a blueprint by others. After months of work, we are pleased to share our results.
The study showed that lobster has a relatively low carbon footprint compared with other animal protein—2.89 lbs of greenhouse gas emissions for every pound of lobster sourced from Luke's Lobster. The crab they source from Massachusetts, which was also included in the study, has a slightly lower footprint, at 2.11 lbs of emissions per pound of crab. This stacks up well against other animal protein, including beef (60 lbs emissions per lb of protein), lamb (24 lbs), farmed prawns (12 lbs), pork (7 lbs), and chicken (6 lbs). (See here to contrast with other food.)
Specifically, we measured the emissions from harvesting lobster and crab, wharf operations, processing, restaurants, and most of transportation. In this initial study, we did not include emissions related to employee commuting, transportation from grocery distributors to consumers' homes, or home preparation or disposal of Luke's products. We recognize that this carbon footprint may be lower than other Gulf of Maine lobster purchased from and sold elsewhere, given that Luke's Lobster has already undertaken many emissions-savings efforts like purchasing renewable energy.
The biggest chunk of emissions for lobster along its supply chain, 75%, comes from fishing, both from the fuel used by boats (62%) and bait used in traps (13%). This aligns with other types of animal-based food—emissions from harvesting or farming typically overshadow other areas like packaging and transportation.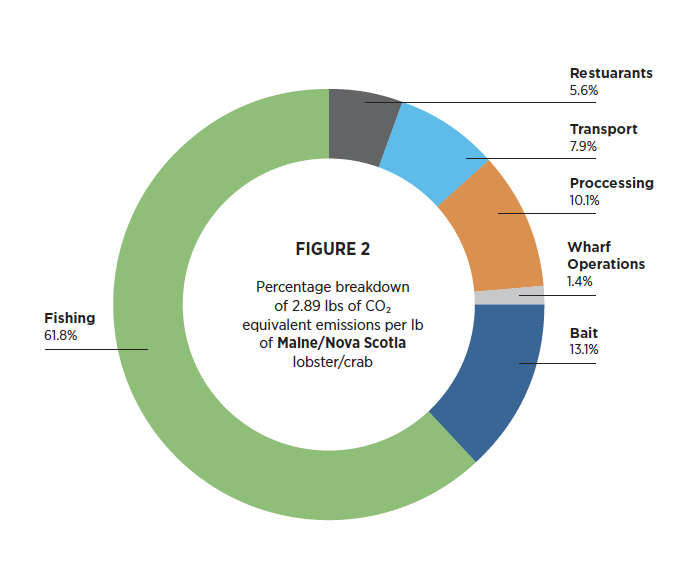 Knowing the scale and source of emissions from lobster will help us understand and prioritize our options for reducing carbon pollution associated with this fishery. So, what does climate action look like for the lobster industry in Maine?
Shifting boats away from fossil fuels must be a big part of our solutions. Electric engines are significantly more efficient options. Companies like Glas Ocean in Nova Scotia are developing retrofit kits to transition lobster boats to electric hybrid. I was excited to see the first boat they converted when I visited Halifax this past summer. (Take an in-depth look at alternative propulsion for lobster boats here). For smaller vessels as a nearer-term starting point, we are working with partners like Flux Marine and Maine Electric Boat Company to get fully electric boats on the water for commercial use, ideally next summer.  
There are plenty of other options for near and medium-term action to move the lobster industry away from volatile and expensive fossil fuels—including solar, switching to bait made from byproducts of other uses, and electric trucks as they become available.  
While some of these efforts have high up-front price tags, they stabilize costs and save money in the long run. Funding support is available today for many of these options. We're here to work alongside folks in the lobster industry and the seafood sector more broadly to navigate these transitions.
Read the full report here.