What do 40,000 heat pumps, 5,577 electric vehicles, and 2,043 homes weatherized all have in common? If you guessed that they are all highlights from a year of climate action in Maine, you guessed right!
December 1, 2021, marked the one-year anniversary of the release of Maine Won't Wait, the State of Maine's groundbreaking climate action plan. Mainers from around the state gathered in person and online to celebrate progress and help launch a series of new initiatives to support the plan's implementation. Read below to learn more about some of the highlights of the past year as well as various ways that you can get involved.
A year of progress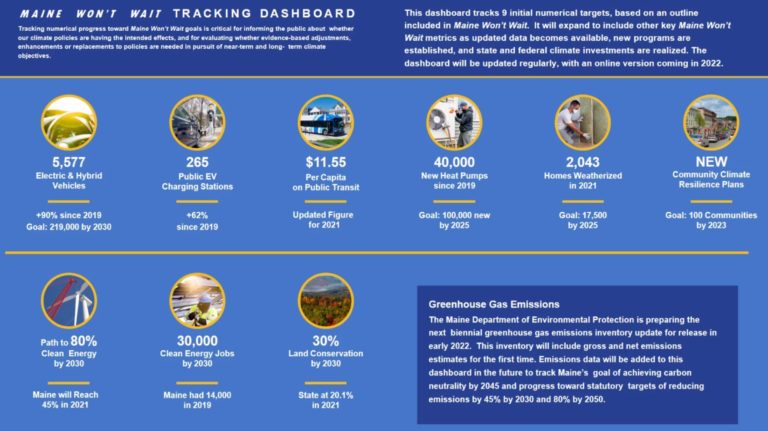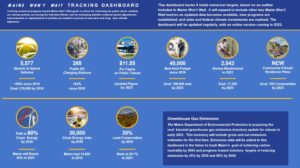 The one-year progress report released by the State last week highlights recent action towards all eight of the strategies in the climate action plan, as well as progress made toward nine numerical targets in the form of a dashboard.
Thanks in part to the tremendous effectiveness of Efficiency Maine Trust, the state is making great progress on its emission reduction targets.
As a community development organization, we're particularly excited about the progress being made to ensure that all Mainers, and all Maine communities, can engage in and benefit from climate action. Through deep work on defining what equity means for the plan's implementation, launching a community resilience grant and technical assistance program for municipalities and tribes, and efforts to expand capacity building programs like the Maine Climate Corps and Maine Service Fellows, Maine people are being placed at the center of this work. The State has even launched a new website to help make these complex issues more understandable and make it easier for us all to act.
But this progress comes not a moment too soon. The scientific consensus around the dangers of climate change is stronger than ever, and we are getting a clearer look at what this means for Maine. We continue to see intense downpours, heat waves, flooding, wildfires, droughts, warming winters and waters, and all the associated disruptions to communities and species. The Scientific and Technical Subcommittee of the Maine Climate Council continues to document the latest science, detailed in the 2021 Maine Climate Science Update, to guide the Council's decision-making.
Impacts for Maine's islands and coast
What do the Climate Council's efforts mean for the islands and the coast of Maine? For the past year, we've been working closely with communities and businesses to bring the plan's recommendations to life. Here are some of our bright spots:
Chad Strater, owner of The Boat Yard in Yarmouth, operates one of the electric outboard motors he purchased with the help of a Spark! grant for use on working skiffs to access local aquaculture farms.

Expanding clean energy and climate adaptation investments in the blue economy through partnerships with Luke's Lobster, Tenants Harbor Fisherman's Co-op, The Boat Yard, and Efficiency Maine Trust.

Connecting Maine islands to best-in-class technical assistance and the Island Fellows program to design locally led clean energy projects in Eastport and Islesboro.
Catalyzing discussions with community leaders and business owners on how to plan for sea level rise through the release of our widely-watched short film, "A Climate of Change: Sea Level Rise," and a host of facilitated dialogues at the town and regional level.
Putting a spotlight on the importance of addressing additional challenges climate change poses to existing working waterfront properties, both in terms of maintenance and changing infrastructure needs to accommodate changing catch and harvests.
Highlighting pathways to climate resilience jobs at our first-ever Workforce Pathways conference in October 2021.
Contributing to a first-ever federal policy platform to increase climate resilience for islands in the U.S. through our role in the Climate Strong Islands Network.
Leading statewide efforts to expand access to high-speed, affordable broadband service as a strategy to help rural communities and businesses adapt to climate-driven changes to Maine's economy.
Our work continues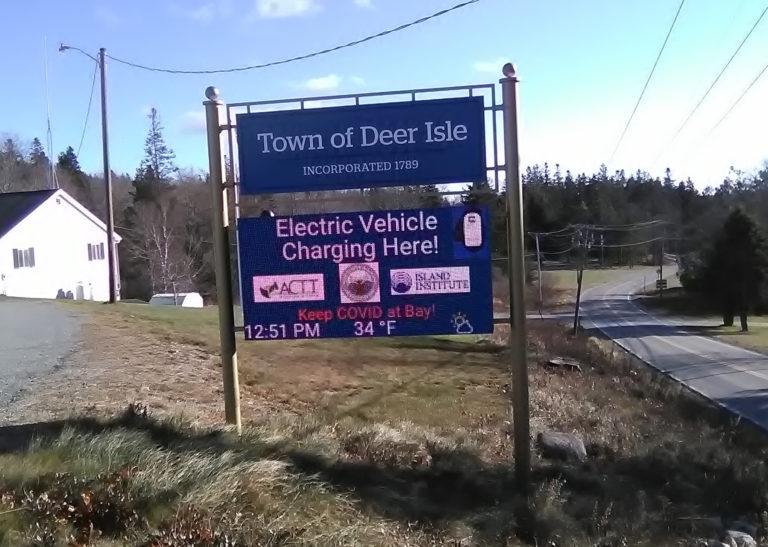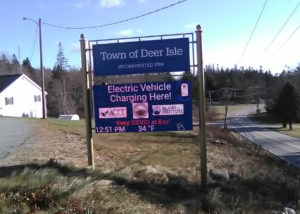 In 2022, our staff will continue to support the Council's efforts through our participation in five of the Council's working groups and subcommittees and through the recent appointments of Dr. Susie Arnold to the Council itself and as co-chair of the Scientific and Technical Subcommittee. We will also continue our work on the ground and on the water, including:
The release of a first-of-its-kind greenhouse gas emissions inventory for Luke's Lobster in late winter, followed by the launch of a broader effort to help Maine's seafood sector reduce its reliance on fossil fuels.
Sharing what we've learned on the climate services of farmed kelp, including its ability to remediate ocean acidification, with seaweed farmers in Alaska and Norway.
The launch of a pilot project to develop strategies that help more people prepare for jobs that address climate change as massive scale ups are needed.
An analysis of opportunities, including the potential for electric ferries, to enable the Maine State Ferry Service to increase the quality of service provided to island communities and operate more cost effectively over the coming decades.
Highlighting the climate challenges facing Maine's working waterfronts at the National Working Waterfront Network's July 2022 conference in Boston.
Where are you seeing progress being made, and where do you want to lean in? We'd love to hear more from you on how you're thinking about climate action in Maine. Not sure how to get started? Check out the resources below for a few suggestions.
Here in Maine, we are fortunate to have the leadership, enthusiasm, and now more resources than anticipated to achieve our goals. Through continued collaboration and courage, we are looking forward to moving the needle in the year ahead!
---
Additional Resources
Explore the State of Maine's new climate plan website, a comprehensive resource for climate action in our state.
Partner with us! Communities can apply to receive national energy planning assistance through the Island Institute and the U.S. Department of Energy and ShoreUp Funds for sea level rise resiliency. Marine businesses can also apply for Spark! grants to support projects on energy action.
Get rebates from Efficiency Maine to install heat pumps, weatherize your home or business, or buy an electric vehicle. Your actions will show up on Maine's climate dashboard!
---