For the next feature in our ongoing series of Archipelago artist profiles, the Island Institute's Lisa Millette introduces us to Maine jewelry maker, Gail Miller, whose upcycled scrap metal jewelry has been featured in Archipelago since it opened in 2000.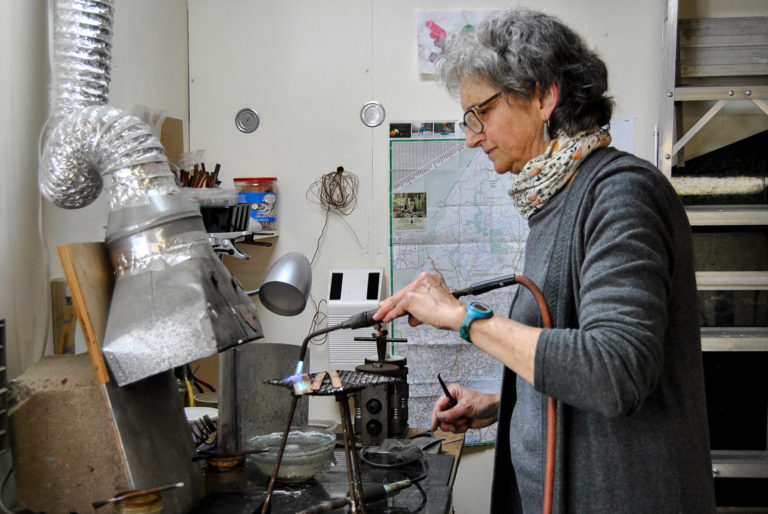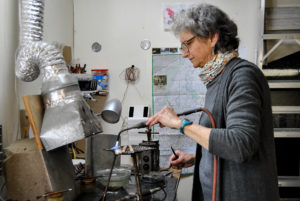 Before internet shopping and social media, Gail Miller took a lunchtime hobby, and in two years, turned it into her full-time business. It started when Gail went to work for Heritage Lanterns. At the time, the lantern business was located on Cousins Island. For Gail, a resident of Chebeague Island, the commute was great, and through her work in the assembly department there, she learned soldering and metal work. She stayed with the company when they moved to Yarmouth, and while the boat commute was longer, she and a couple of co-workers started to craft with scrap metal from the lantern fabrication. It fed her creative, crafty side, and when she began to sell her upcycled scrap metal jewelry at a local crafts store, her pieces sold well. "I started selling stuff like crazy and thought: you know what? Maybe I could make this a real business."
In 1992, just two years after starting her lunchtime craft making, Gail left Heritage Lantern to work on her jewelry business full time. Gail had already been a creative soul dabbling in arts and crafts, and now she had an excuse to buy material and make things en masse. Using scrap brass, nickel, and copper bought from her previous workplace, she cut her shapes by hand with metal snips and began displaying her wares at the Yarmouth Clam Festival and shows up and down the coast. Inspired by Chebeague and the surrounding islands, her initial designs were lobsters, lighthouses, and seagulls. She made farm animals for the Fryeburg Fair (people loved the animals) and brought in new designs as wholesalers requested them. To celebrate Maine's 200th anniversary, she also created a "Happy Birthday, Maine" collection.
---
"I started selling stuff like crazy and thought: you know what? Maybe I could make this a real business." – Gail Miller
---
Gail listens to her customer's wants, and some have become friends providing valuable product input. Her clientele is attracted to her reuse of material, and while she outgrew using scrap from the lantern shop, she works in recycled metal when she can get her hands on it.  Recently, she began a verdigris line using the old roof from the Miller Library at Colby College. With an understated charm, Gail's jewelry is accessible, wearable everyday, and—without the use of precious metals—affordable.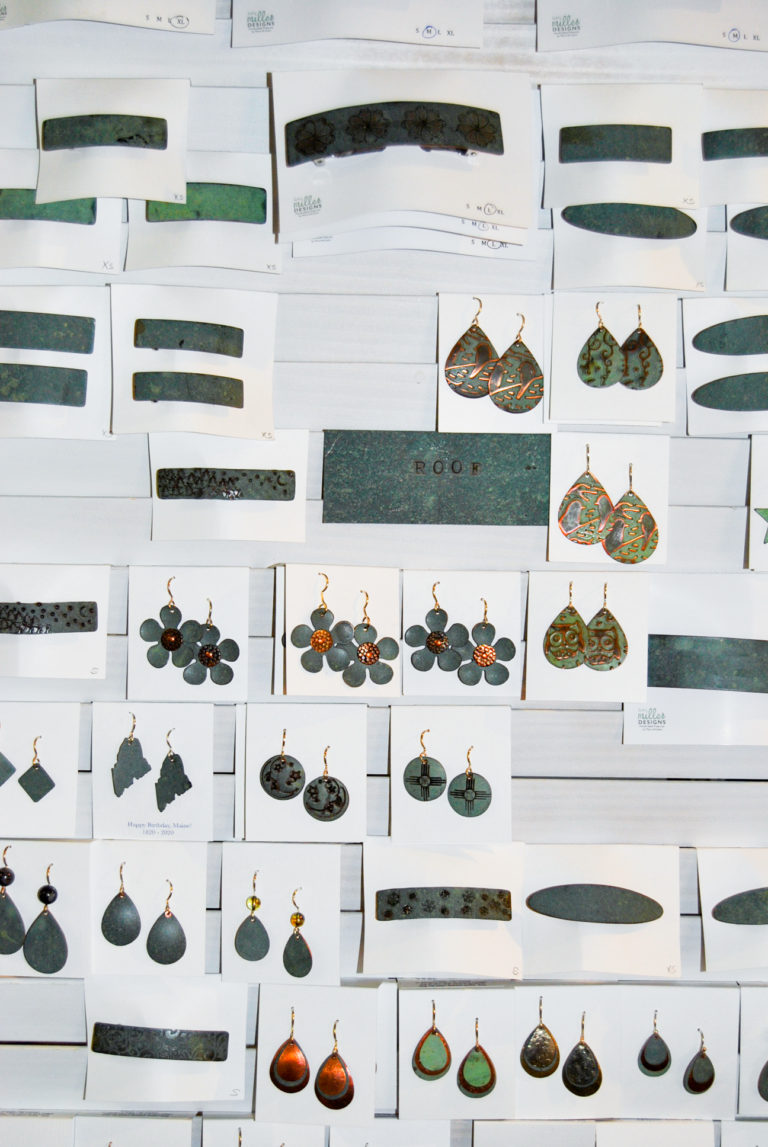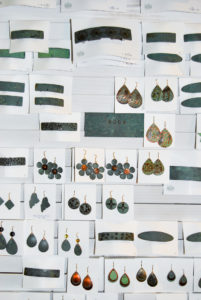 While the first couple years were tricky, Gail received the gift of instant credibility when a large order of ornaments came in from L.L. Bean.  Hand cutting all the ornaments, she developed tendentious in her elbow pushing her to pivot her business model. She invested in a hydraulic press and found a dye maker in New Mexico whom she still sends her designs to so they can be made into dyes. L.L. Bean continued to buy from Gail for about four years, and soon people began recognizing her work after seeing it at the retail giant.
The success of her business allowed Gail to continue making jewelry as her sole source of income, perhaps an anomaly in a state where many juggle two, or sometimes three, jobs for a sustainable living. The business provided enough support that Gail and her husband, a lobsterman, were able to put two kids through college as well.
Gail and her husband moved off the island to Naples in 2017. A one-woman show, she often spends seven days a week in her converted garage-turned-shop working the press to cut out the shapes for earrings, pins, barrettes, and pendants—sanding down sharp edges, polishing the metal, stamping designs, painting, and securing barrette or pin backings.
For Archipelago alone, Gail punches over a thousand pieces for the more than five hundred earrings the store sells each year, many of them printed and painted before the ear wires are attached. And we are just one of the stores she sells to. The variety of facets required to create her jewelry supplies Gail with the kinetic vigor to get it all done. Says Gail, "I love what I do. If I get sick of pounding metal, then I do book work and then design something new. I love being busy and that I'm able to flit from thing to thing."
While she is still full of vivacity, as the years went on, going from show to show became harder and Gail started to move toward more wholesale orders. Each year, the spring New England Trade shows typically kick off her ordering, and she can depend on a few larger orders paid up front to purchase materials to begin making pieces for Maine's busy summer retail season. In 2020 though, trade shows were cancelled due to the COVID-19 pandemic leaving Gail and many other makers without those initial orders to kick off their year. Thankfully, Gail already had a retail website built, and she put her efforts into marketing her web sales. In addition to being a necessary shift from the pandemic, Gail can make more from a direct retail sale than through wholesaling. Many artists keep up both retail and wholesale markets to balance out their finances throughout the year: retail sales will bring in more overall; however, wholesalers are a reliable buy before the summer season.
---
"I have a fun life. I love getting up every morning and walking 10 steps to my job and creating every day. I still love it." – Gail Miller
---
Last year, Gail's husband retired from lobstering. He now joins Gail in the shop running the hydraulic press and babysitting the grandkids. Since she started in 1992, Gail has never looked back. "I have a fun life," adds Gail. "I love getting up every morning and walking 10 steps to my job and creating every day. I still love it."
Archipelago is proud to have sold Gail's jewelry since we first opened our doors in 2000. Next year, Gail celebrates 30 years of having her own business. Congratulations, Gail and thank you for being a constant in our Maine community of artists and makers!
---
To view the collection of Gail's jewelry currently available through Archipelago, click here.
To read more of the artist profiles in our ongoing series, visit our Meet a Maine Artist page here.
---
About Archipelago
Archipelago, the Island Institute's store and gallery, showcases Maine artists and makers whose work reflects the beauty and endurance of Maine's islands and coast. A key element of the Institute's small business program, Archipelago has provided over $4.2 million in income to artists and makers and advanced the careers of more than 1,500 Maine residents since opening in 2000. In addition, Archipelago staff spend over 400 hours a year mentoring artists to help increase their skills and knowledge for running arts-based small businesses. Learn more here.