For the next feature in our ongoing series of Archipelago artist profiles, the Island Institute's Lisa Millette introduces us to encaustic painter, Helene Farrar, whose nature-inspired pieces create a profound connection to Maine and the world around us.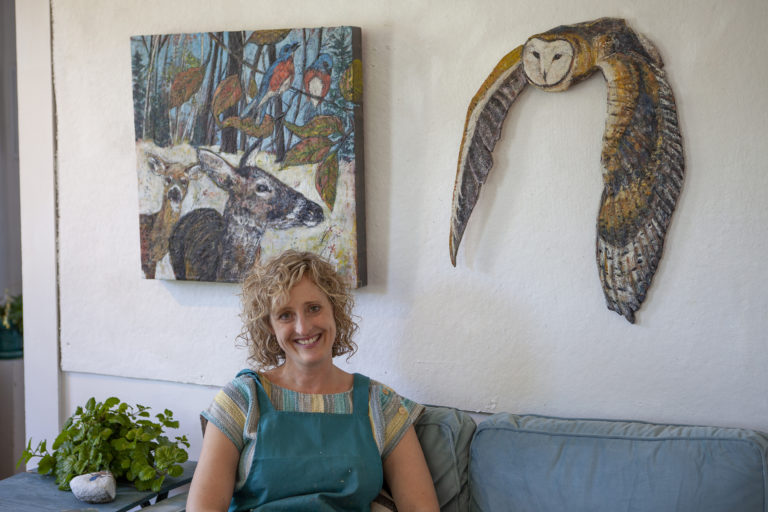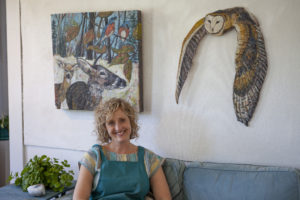 When I first started working at the Island Institute's store, Archipelago, the retail manager, Frances, gave me a tour around as she does with all new hires. You get to know the artists through their work first and then slowly through years of drop-offs and pick-ups at the store, visits at shows, gallery openings, and downtown Rockland's "First Friday Art Walks." The walls of the store and the gallery area rotate works by different artists throughout the year, and it was here that Frances first introduced me to Helene Farrar through her encaustic1 pieces featured in Archipelago's Fall 2017 Gallery Show. I remember being struck by the vibrancy and intensity of color in Helene's work as well as the feeling of peace and groundedness they create.
"Helene from Maine," I will never forget Frances saying. A quick rhyme to remember the correct pronunciation of her name. Like many of us, Helene straddles that line of not quite being from "here" (Maine) or "there" (anywhere else), and both come through clearly in her work. Her family came to Hallowell from New York when she was five years old, and then she moved to Farmington with her mother after her parents divorced. However, her extended family continued to live in New York City, and she has visited more times than she can remember.
---
"I'm very connected to painting that area [Farmington] and Sugarloaf in particular because I've spent a lot of time near those mountains walking and hiking. So when I do imagery related to that area, I always feel a strong connection to place. It feels very much like home." – Helene Farrar
---
Helene's childhood was surrounded by art. Growing up, she said "part of our culture as a family was going to galleries and art museums." An uncle, an engineer and metal sculptor, had converted his basement into a studio and family art gallery, and Helene fondly remembers her and her brother spending visits experimenting and working with clay, stone, and fiber arts. Her great-grandfather was a dress designer, and a grandfather created collectable model ships from scratch. Coming from this line of artists and seeing the art created in her uncle's basement, Helene's mother predicted that she would become a textile designer. Helene doesn't feel the guess was too far off as some of her recent floral encaustic pieces have the look and feel of a textile pattern. Despite this immersion in family art, Helene was the first, and so far only member of her family, to formally study art—first getting her bachelor's at the University of Maine and then her MFA at Goddard College.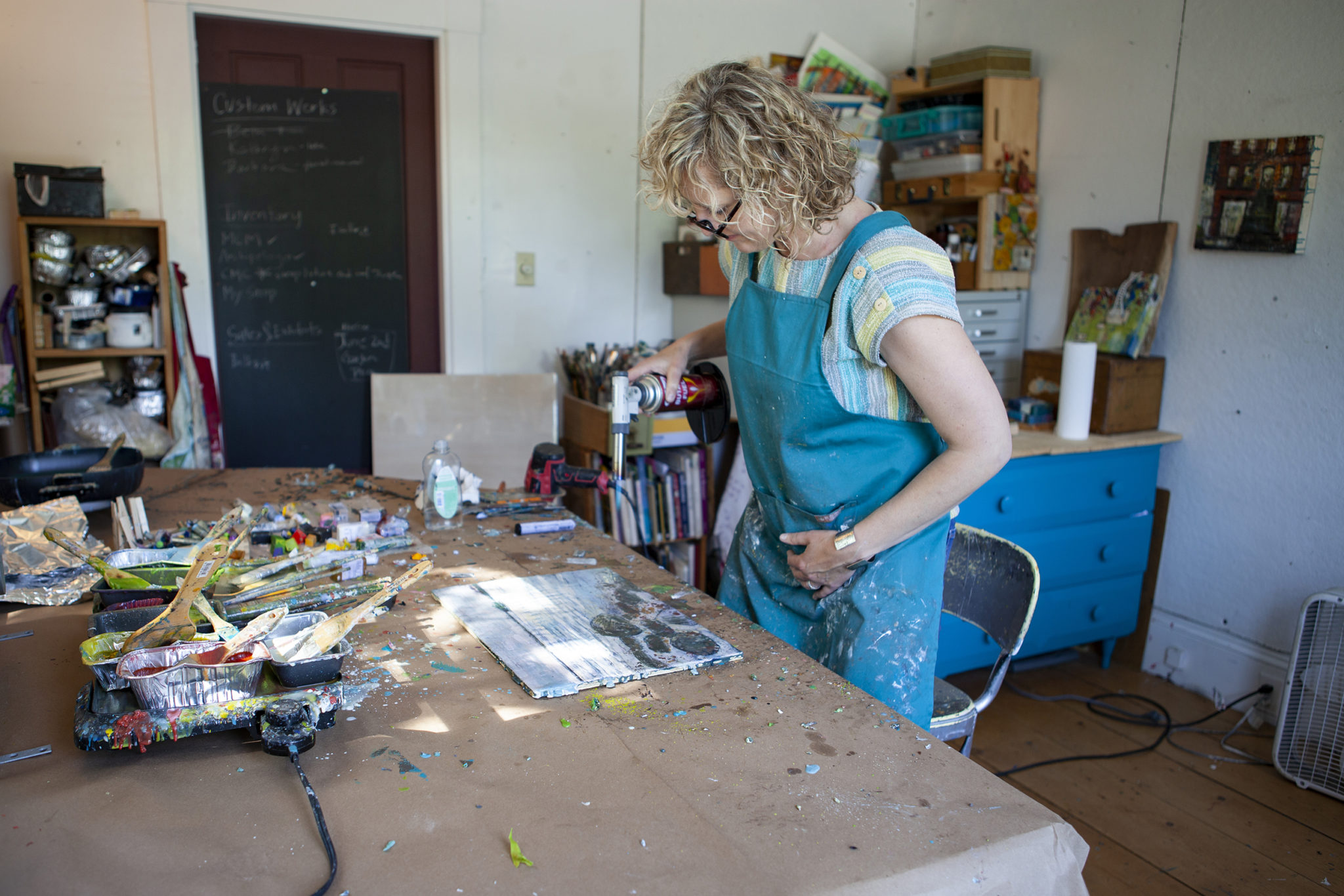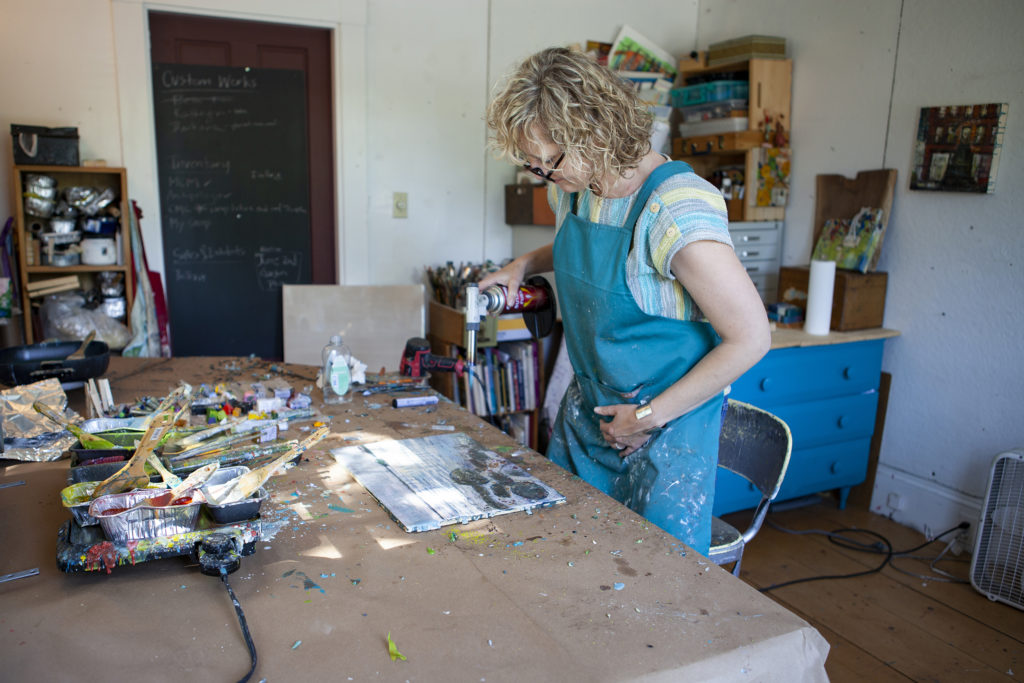 Art was not only Helene's choice of study—much to the chagrin of an aunt, who being from a different generation didn't think one could make a living with art as their profession—but it has been both her passion and her career for over 20 years. Helene has made her living teaching and producing art, and right on Route 202 beyond Augusta, she has her own building in Manchester which includes spaces designated for her studio, gallery, and classroom. Bright white walls, houseplants, and her dog make the space cheery and inviting. She held her first summer camp in that space this year and will launch adult and kid classes this fall. In her studio in the back of the building, she has a large table set with a griddle to keep the encaustic paints liquid, a torch at the ready for setting the wax, and a window looking into the parking lot of Maine Cabins Masters across the street.
Her love of working with encaustics began about 15 years ago. A studio-mate began dabbling in encaustics using a clear paint with her sculptures. "It was mostly the smell I loved. The smell was really evocative." Shortly after, she saw an encaustic show in Portland and being a texture person, it really got to her. Exercising caution around her pregnancy, Helene waited until the birth of her daughter and then took a class in encaustic painting at her old studio with Otty Merrill. She has been painting in that medium ever since, and each year found that she is doing less of everything else.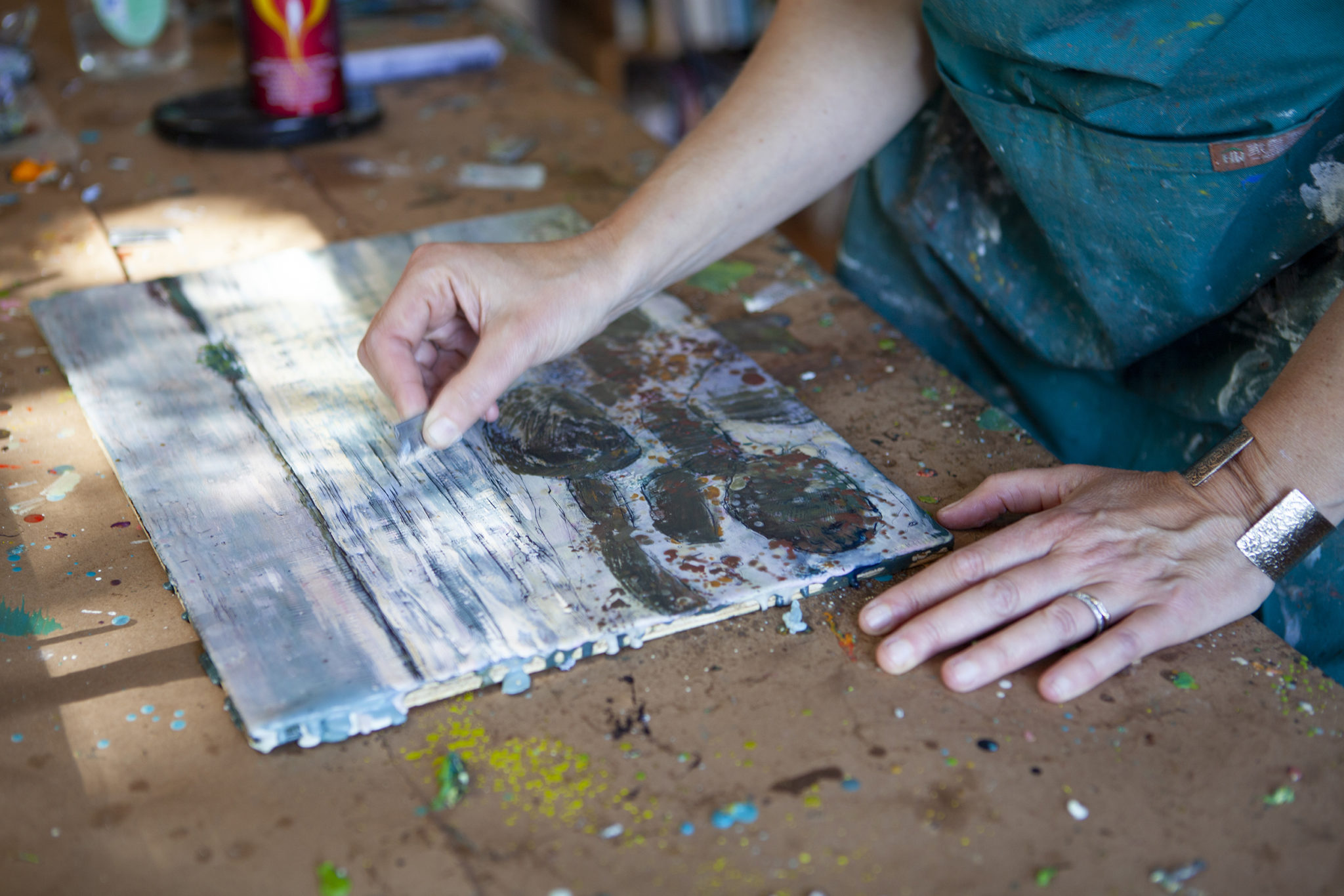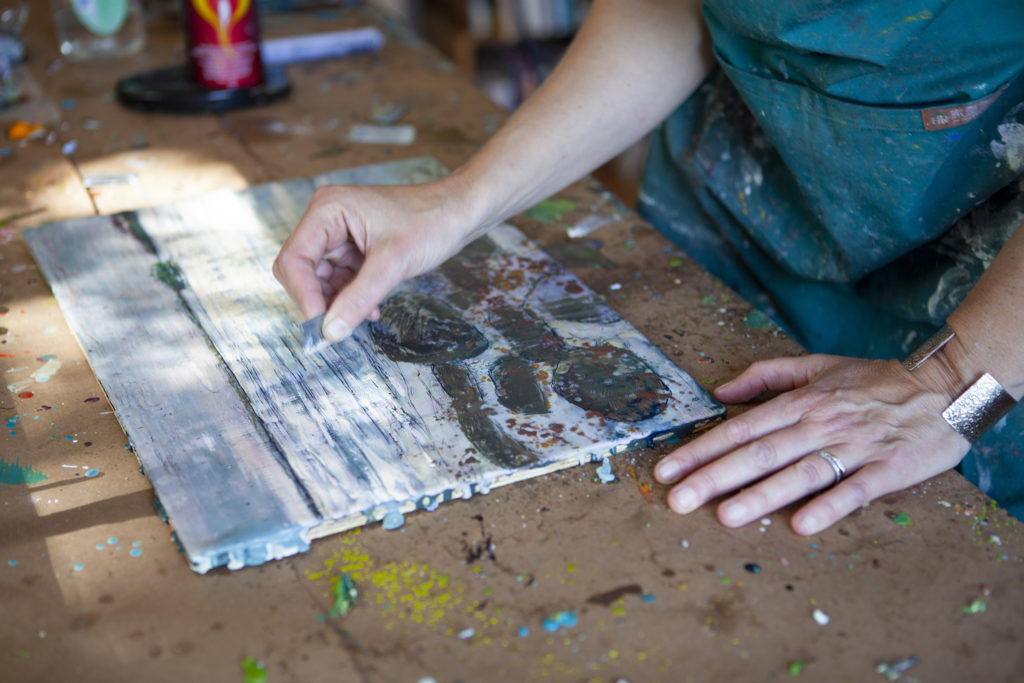 Helene would define herself as a city person recharging and finding inspiration in the vibrancy of city life. But in the past five years, she feels more grounded in nature and connected to the Farmington area where she grew up. "I'm very connected to painting that area and Sugarloaf in particular because I've spent a lot of time near those mountains walking and hiking. So when I do imagery related to that area, I always feel a strong connection to place. It feels very much like home."
Known for her nature-inspired encaustic paintings of trees, flowers, and birds, she often paints landscapes and places from memory soon after visiting a place, while her relationship to the experience is still fresh. Her feelings and image of the place or creature then live frozen in time and space painted on a wooden panel. Such was a recent case when, after visiting Crescent Beach in Owls Head during the pandemic, she completed two paintings of the place within the week. Other paintings revisit a single subject again and again for as long as that connection remains strong, such as a group of birches and ash trees behind the bank across the street from her studio. Some of the variations in these images come easy, like a change in weather or season, while others reveal themselves through new vantage points and angles.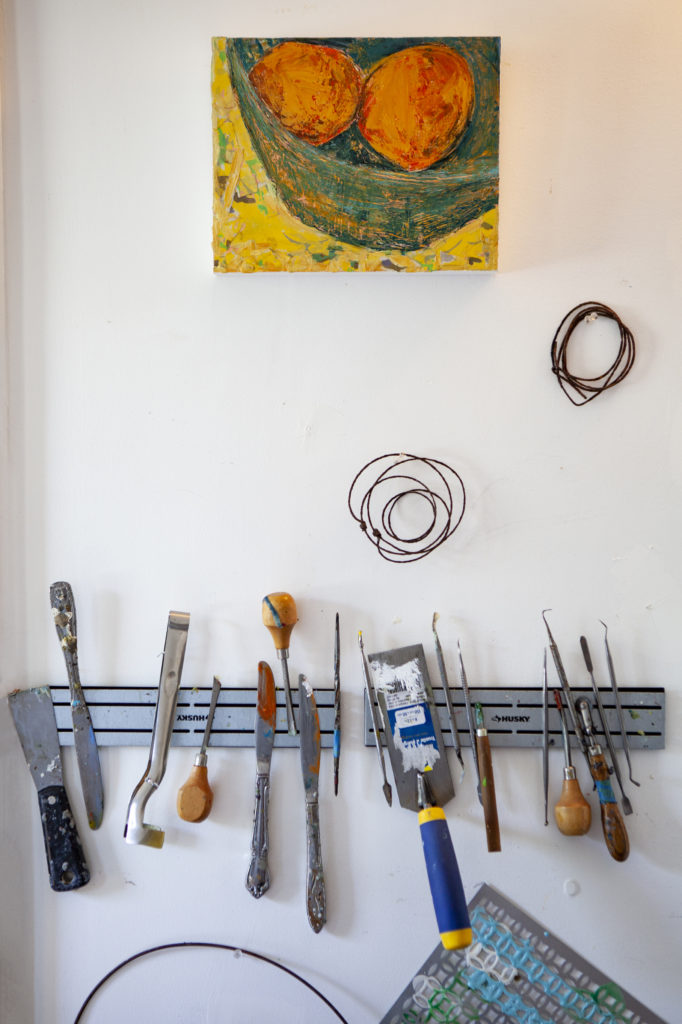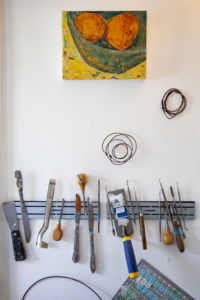 Knowing Helene's work through Archipelago, I've seen many different expressions of the aforementioned stand of birches and ash, her playful hens and roosters, or her more serious birds like ravens and owls. Visiting her space, I viewed several pieces from another collection which focuses on the human condition. Begun in the winter of 2016-2017, Helene started "What We Carry," inspired by a local woman from Augusta and national events. As is often mentioned, artists are carriers of the times and seek to express and put forth interpretations of those times whether in turmoil, upheaval, celebration, or peace. These pieces made me think about what I hold invisible and visible, my struggles and bright lights, and my reactions to both the big and small things around me. They also nudged a reckoning of how these things we carry—whether momentarily or forever—interact and affect each other and the greater world around us. How might these things I carry, intentionally or unintentionally, affect others? And equipped with this awareness, how might I meet myself and others with greater softness?
In her statement about this work, Helene writes:
"Like a window into distant lands that inhabit our emotions and imaginations, 'What We Carry' is a view into human nature about what we cherish, collect, remember, and carry. These works are to inspire introspection, individually and collectively. What We Carry is an attempt to begin discussions about this mystery behind our human nature. These works allow one to see the unseen like an act of personal intention. And to encourage collective and individual compassion and understanding in our messy lives."
Helene's pieces range from 4"x4" to 24"x30"—the bright colors and engaging textures of her pieces sharing her vivacity and spirit. I look forward to what Helene may share or nudge within all of us through Archipelago's walls now and into the future, and I know where I can stop in for an extra dose of inspiration if I'm ever headed west on Maine's Route 202.
---
To view the selection of Helene's paintings and cards currently available through Archipelago, click here.
To read more of the artist profiles in our ongoing series, visit our Meet a Maine Artist page here.
---
About Archipelago
Archipelago, the Island Institute's store and gallery, showcases Maine artists and makers whose work reflects the beauty and endurance of Maine's islands and coast. A key element of the Institute's small business program, Archipelago has provided over $2.5 million in income to artists and makers and advanced the careers of more than 1,500 Maine residents since opening in 2000. In addition, Archipelago staff spend over 400 hours a year mentoring artists to help increase their skills and knowledge for running arts-based small businesses. Learn more here.
1Encaustic painting, also known as hot wax painting, involves using heated encaustic medium (commonly beeswax and resin) to which colored pigments have been added for creating artworks. Molten medium is applied to a surface—usually prepared wood, though canvas and other materials are sometimes used.