Along with our friends at Luke's Lobster, we wanted to celebrate International Women's Day by highlighting a few of the courageous, talented, and smart women who are making incredible contributions to our state every day. Today we look to the Island Institute's own Marine Scientist Susie Arnold, the women of Atlantic Sea Farms, and environmentalist Amara Ifeji—all of whom are making huge steps for our oceans and our planet.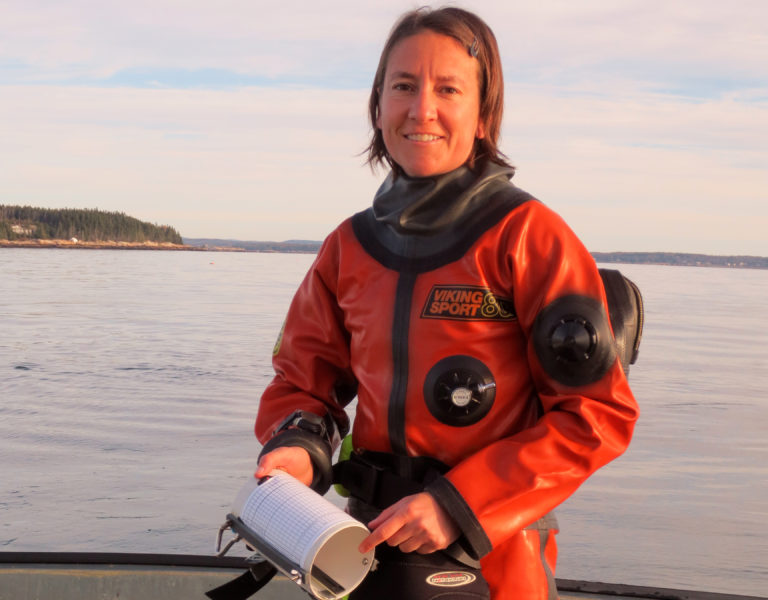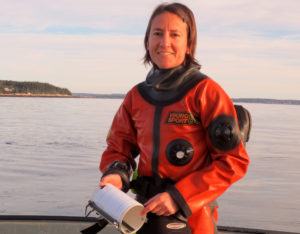 Susie Arnold, Marine Scientist, Island Institute
As the Marine Scientist at the Island Institute, Susie Arnold works on the impacts of climate change and ocean acidification on Maine's marine resources and fisheries-dependent communities.
Through her work, Susie is helping coastal communities better understand the implications of ocean climate change so they can make informed decisions about adaptation. She is also conducting applied research to understand the environmental benefits of kelp farming, including its ability to remediate ocean acidification.
"Climate change is impacting Maine's coast in so many ways, from rising seas to changing water chemistry," says Susie. "It's so critical that we all do our part to mitigate these changes and give communities the tools needed to adapt along the way. I'm proud to be working with so many female leaders on these efforts!"
With recent appointments to the legislatively established Ocean Acidification Commission as well as the Maine Climate Council's Scientific and Technical Subcommittee and liaison to the Coastal and Marine Working Group, Susie has emerged as a leader at the interface of science and policy in our state. Learn more about the Island Institute's ocean acidification work here.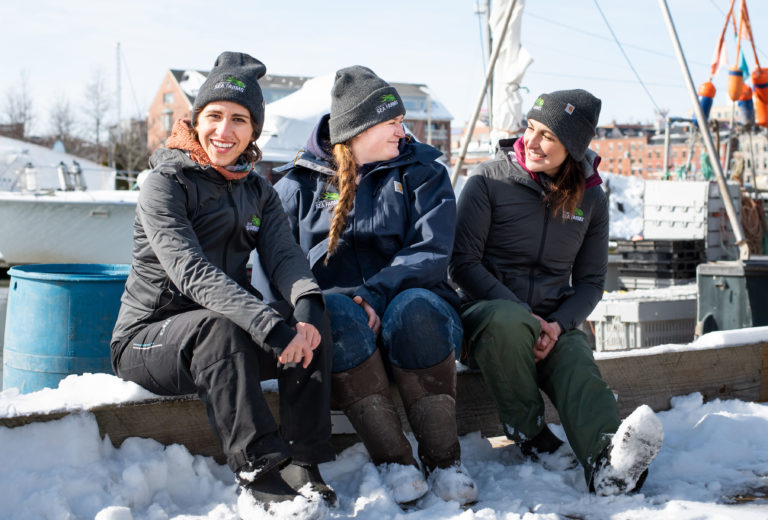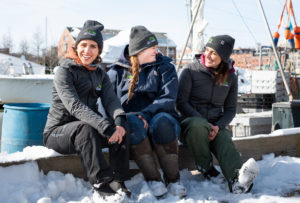 The Women of Atlantic Sea Farms
If you're not yet familiar with Atlantic Sea Farms, have you been living under a kelp-covered rock? The Saco, Maine-based team, led by President and CEO Briana Warner (who we're proud to say previously served as the economic development director at the Island Institute) work tirelessly to make a positive impact on our oceans through their work with kelp in Maine.
In addition to Bri, Sales and Marketing Director Jesse Baines, Retail Sales Manager Zoe Croft, and Kelp Innovation Specialist Liz Johndrow all work with Maine fishermen, and partner farmers like Karen Cooper of North Haven, to help them diversify their income by starting seaweed aquaculture farms, and they provide technical and lease support, gear setup, and harvest training to support them through the process.
"Everything we do here at Atlantic Sea Farms, and every bite of our kelp that people eat, drives positive economic and environmental impact back to Maine's coast," says Baines. "The thought leadership and drive demonstrated by this women-run company is building an entirely new industry."
Through the farming of kelp, Atlantic Sea Farms is helping to reduce ocean acidification in our waters, and bringing healthful, sustainable Maine kelp to homes across the country! Learn more here.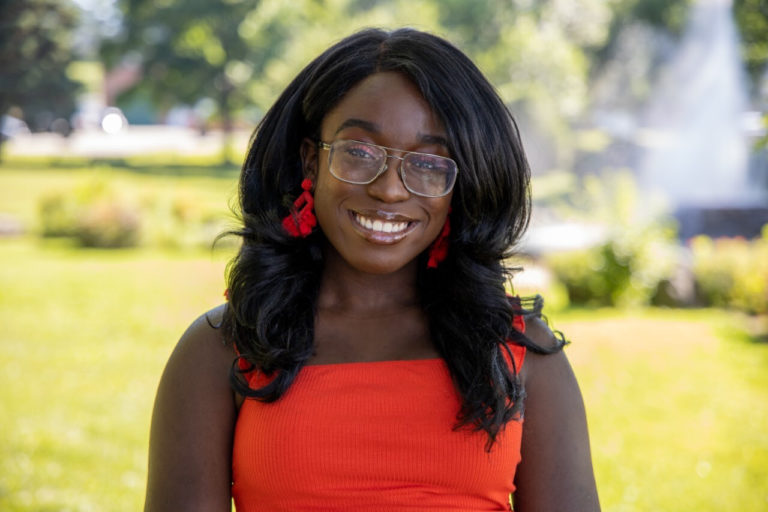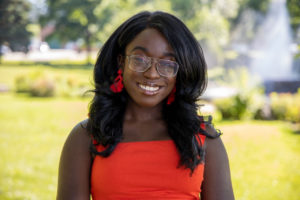 Amara Ifeji, Environmentalist
Amara Ifeji is a 19-year-old from Bangor, Maine, who focuses on environmental leadership and supporting young environmentalists through her work as the Grassroots Development Coordinator for the Maine Environmental Education Association (MEEA).
At MEEA, Amara advocates for intersectional climate justice solutions, equitable access to the outdoors, and empowering youth to spark change in their local communities through MEEA's Changemakers and JustME for a JustUS youth networks.
"I always loved connecting with the outdoors but never really had much opportunity to do so because of where I grew up, as well as my socioeconomic status and the deep fear that many BIPOC people have when it comes to engaging with the outdoors," says Amara. "The work that I do at the Maine Environmental Education Association is really rooted in making sure all youth in the State of Maine have equitable access to the outdoors. So we do a lot of policy work with the nature-based education consortium around climate education as well as local outdoor learning advocacy."
Recently named a National Geographic Young Explorer—one of just 24 young environmentalists recognized for their work on conservation, food insecurity, pollution, and water access around the globe—Amara has already distinguished herself through her contributions to the protection of our environment.
In addition to her work in environmental science and policy, Amara also serves as a mentor to young environmentalists across Maine and is a genuine inspiration to all ages. We had the pleasure to work with Amara as a speaker for our recent Young Leaders Series as well as last October's Island Teachers Conference, and we can't wait to see what she accomplishes next!
---
Building on a longstanding collaboration focused on strengthening Maine's coastal economies, the Island Institute and Luke's Lobster have created a for-profit/nonprofit partnership to energize Maine's marine economy, build resilient supply chains for sustainable seafood, and provide opportunities for fishermen and aquaculturists. In addition to its economic impacts, the joint endeavor will include social and environmental objectives focused on clean energy and water quality improvement projects for fishing wharves, B Corp training and support for businesses considering certification, and assessment of and climate pilot projects leading to the decarbonization of the seafood supply chain. To learn more, click here.