The coast of Maine is changing in unprecedented ways, and as a result, so are the people who are central to its economy and culture: lobster fishing families. Island Institute is poised to provide fishing families with the enduring support they need to meet this challenging moment— but only with your help.
When you become a member or renew today, you'll help provide funding and resources to fishing families to innovate within their their existing businesses, protect crucial access to working waterfronts, and ensure the small businesses that support Maine's lobstermen have the resources they need.
Learn why Emma & Sam say fishermen "feel like they're being attacked from all sides"— and how Island Institute is helping forge the path forward.
Rapid change is challenging Maine's most vulnerable lobstering communities. 
In 2021, Maine's lobster fishery supported nearly 18,000 jobs producing $725 million in revenue. However, climate change, regulations aimed at preserving the endangered right whale, and other economic pressures are threatening the future of this essential industry and Maine's coastal communities.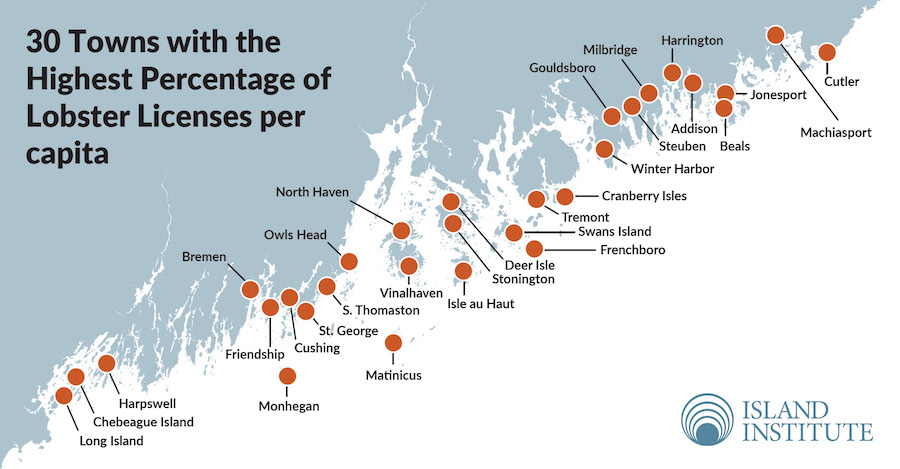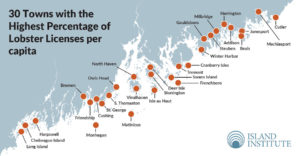 The Gulf of Maine is warming faster than most water bodies on the planet. 2021 was the hottest year on record in the Gulf of Maine, and lobsters are shifting to the north and east as temperatures rise.
The endangered North Atlantic right whale is also being negatively impacted by climate change. Whales are more vulnerable to ship strikes and entanglements because they are showing up in new areas in search of food. As a result, the National Marine Fisheries Service moved to accelerate the implementation of regulations protecting the whales as required under the Endangered Species Act. These proposed regulations would include additional limits to when, where, and how lobstermen can fish, all of which would drastically change the fishery and Maine's coastal communities.
In addition to climate and regulatory challenges, the prices of bait and fuel are up while lobster prices are down. Making ends meet last year was hard, it's going to be even harder for Maine fishermen and coastal families without support from Island Institute and other partners.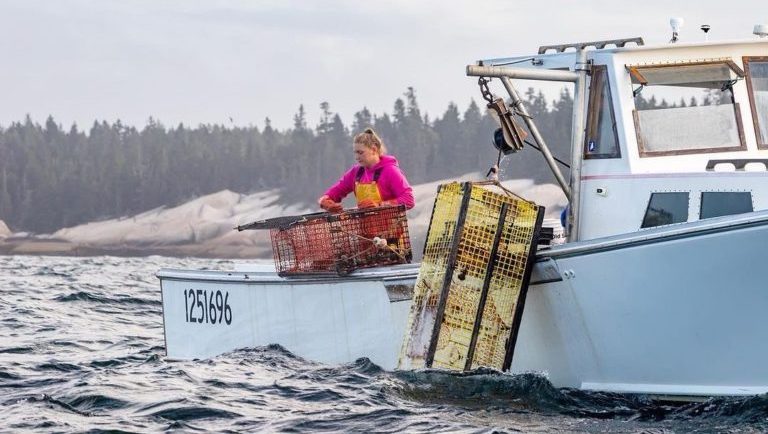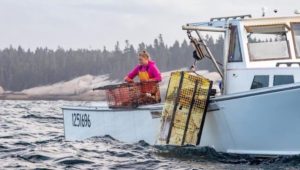 Recently, legislation advanced by Maine's state and federal officials delayed implementation of these regulations until 2028 which allows more time for improved data to be collected to inform management models and innovations in more whale-friendly gear to be field tested. However, even with improved scientific models and adaptations in the fishery, these new regulations are likely to put intense pressure on Maine's lobstermen and their communities.
The future of the lobster industry will look much different, and that future will be defined by how fishing communities adapt today. Learn more here.
We're partnering with fishing families

to
innovate, diversify and try new things.
EMMA & SAM WORK in the lobster fishery ON LITTLE CRANBERRY ISLAND, AND THEY'RE DIVING INTO AQUACULTURE.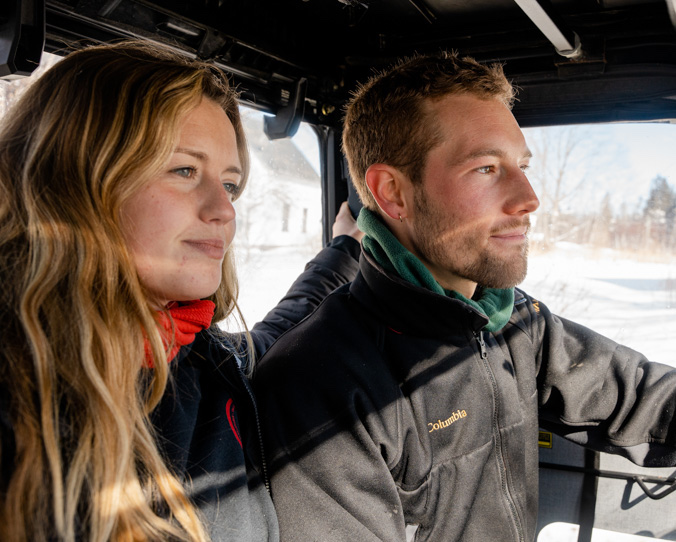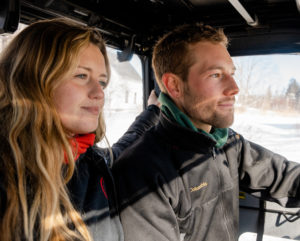 Emma is a 7th generation islander and fisherman. After graduating from college, she returned to the island and has been working towards her lobster license while also starting a small-scale scallop aquaculture farm. Sam works as a sternman as well as a cold-water diver, providing diving services to lobstermen and other local aquaculturists.
They are committed to working on the water, in the lobster fishery AND in aquaculture. Compass Workforce Grant funding allowed Emma to purchase equipment to collect scallop spat and made it possible for Sam to complete his diving certification and buy cold water scuba gear.
With your help, Compass Workforce Grants for lobster fishing families will be made available for those ages 15 and older who are captains, sternmen, or apprentices, as well as those who provide business and book-keeping services, shop work or any direct support to an individual lobster business. Compass grants can be used for workforce expenses such as training/tuition and related travel costs, as well as the purchase of equipment and supplies for re-skilling, diversifying, and innovation.
"We both would like to be an example of people within the (lobster) industry that are hopeful for its future but also interested in diversifying our income in other ways while being on the water." – Emma Fernald, Islesford
---
connor & hannah rely on income from Lobstering on north haven, and they're expanding their scallop and seaweed farm.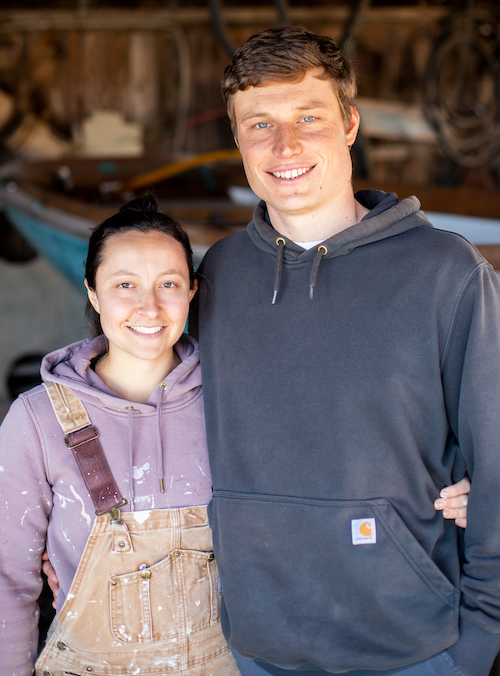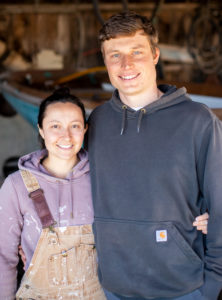 Connor O'Neil and Hannah Twombly are residents of North Haven who currently rely on income earned from working on a lobster boat, and they're looking to diversify their income by expanding their aquaculture business. The couple recently turned to Island Institute for support to purchase equipment for their farm, and assistance funding a diving certification and captain's license. 
Their business plan includes both lobstering AND aquaculture— a path many in the lobster industry may choose to supplement their incomes. At Island Institute, we are eager to watch their approach to diversifying into aquaculture and share best practices with others. Island Institute plans to continue supporting Connor and Hannah by helping connect their business with buyers and make the leap from ocean to table.
We are helping lobstering communities define the fishery of the future by supporting small businesses, promoting aquaculture, protecting working waterfronts, and funding Compass Workforce Grants for fishing families. These grants can be used to innovate within a lobster business, diversify through aquaculture or other ventures, and/or reskill to pursue new workforce pathways.
"I remain hopeful traditional fisheries will grow and thrive, and I also hope there's space for new things." – Connor O'Neil, North Haven
Watch the video below to hear from Connor & Hannah about the challenges facing the lobstering community on North Haven, and how Island Institute is supporting them and other fishing families adapt to change.
Your gift is a lifeline for the people at the center of our coastal communities.
Fishing families are a vital part of Maine's island and coastal communities. In addition to their positive economic impact, fishermen and women serve as town leaders, volunteer firefighters and EMS, teachers, coaches, and small business owners. Their children attend local schools and bring vitality to their year-round communities. For generations, they have shown resilience and adaptability in the face of change, and they are doing it now more than ever before.
While the challenges facing the lobster industry are likely to be historic in their impact, Island Institute is designed to be a beacon of support. With your help, we can provide enduring support for fishing families by:
Expanding Compass Workforce Grant funding for lobstermen to innovate within their existing business, add new income streams, and/or reskill to pursue new workforce pathways.
Protecting access to working waterfronts for the coast's most vulnerable fishing communities.
Supporting small business owners with Business Resilience Grants and technical support.
Thanks to our members and donors, Island Institute is able to shift our work to focus on the communities who depend on a thriving working waterfront. Join us in supporting Maine's fishing families and the communities that depend on the lobster fishery of the future.
Together, we can ensure Maine's fishing families thrive
for generations to come.