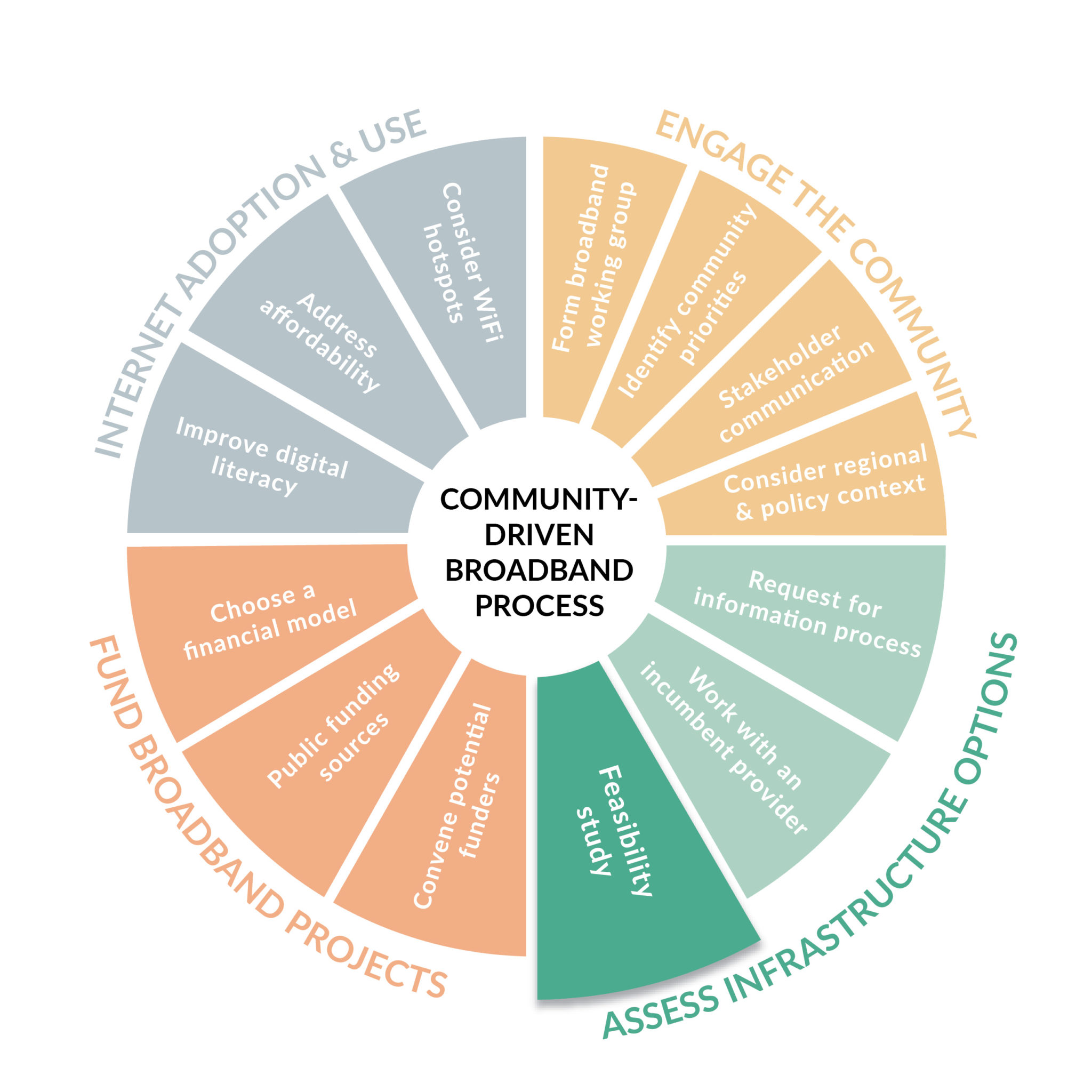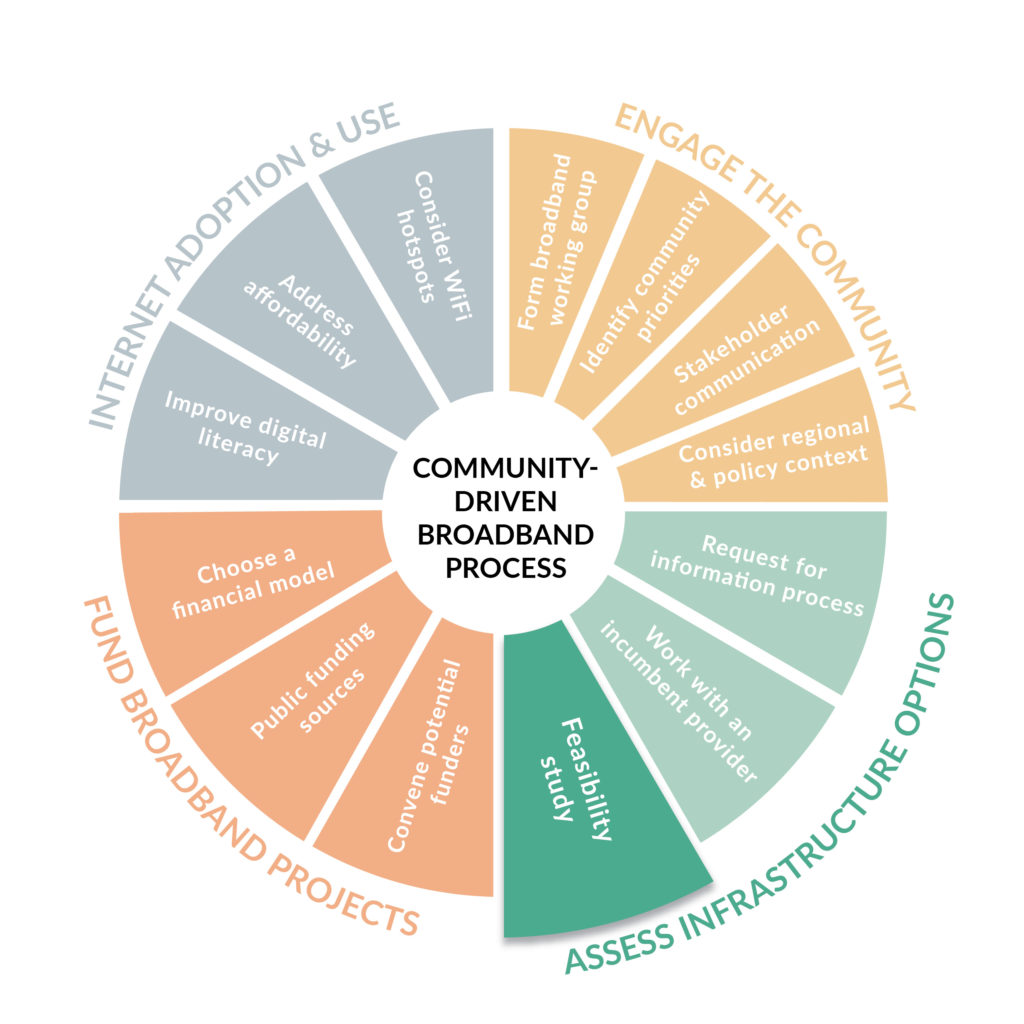 A feasibility study provides information on existing infrastructure and needs.
Broadband is an effective way to address some of the challenges associated with island life. High-speed internet can provide economic, educational, medical, and other benefits without the need for physical connectedness. In order to best determine baseline connectivity and community goals around broadband, it is important to do a thorough study before settling on any infrastructure improvement project or public-private partnerships. Many Maine communities are commissioning studies to learn what internet access and speeds currently exist in their town and how they might invest in infrastructure.
HOW IT WORKS
In 2012, private donations and municipal funds were used to conduct a feasibility study. Based on the results of the study, residents voted to approve spending for an infrastructure design and financial model for building a new network with gigabit speeds. The final phase began in June 2016, when residents voted to move forward with construction of the first universal, municipal-wide, gigabit internet system in Maine. Listen to a podcast about incredible committed shown by their broadband committee.
Feasibility studies are not cheap, and it is often hard to garner significant financial support to fund this essential step. Given the ability of a feasibility study to define a strategy forward on broadband improvement, the Island Institute helped other islands take this first step by funding a multi-island study.
KEY FACTORS
Seek private donations. Try to supplement possible public funding. Raising private funds lessens possible tax burdens, can delay the need to solicit public funds, and allow time for community members to do as much educational outreach as possible. It also is a great opportunity for some community members able to offer their assistance to get the project started more quickly and cost-effectively.
Engage community leaders. Involve community members with diverse backgrounds from information technology, public or private finance, and public service. Convene a small group of broadband champions willing and able to give their valuable time, in order to enhance the project and educate others. Ensure key political leaders are also engaged and knowledgeable. This will support outreach efforts and ensure broader community support when public funding is necessary to move forward with an internet improvement project.
Communicate often. In addition to posting notices for broadband committee meetings, prominently post the meeting minutes. Make public announcements about progress made; using social media or community newsletters is a great way for the word to spread.
Q&A WITH ISLAND INSTITUTE BROADBAND STAFF
What is the importance of a broadband feasibility study?
A feasibility study clearly identifies a community's needs around high-speed internet—whether it's businesses, educational or telehealth opportunities, government services, or attracting and retaining young families. These community objectives create a framework within which the community broadband working groups can pursue better internet service for their community. On a technical level, feasibility studies identify existing infrastructure, so communities know what they have to work with.
Feasibility studies can be costly, tens of thousands of dollars; how did you work to make it affordable?
It's important to seek economies of scale—once you incur expenses to do something once, it doesn't cost as much to do something multiple times, up to a point. Furthermore, we know that island communities, while all unique and different, share a lot of similarities and might be able to work together to find a solution. We found that some aspects of the study could be conducted for all islands for the same cost as conducting those aspects for just one or a few islands. The cost of a study can be reduced if multiple communities commission a regional study, which can still provide information at the individual community level. Other towns have found that regional approaches save money, including in a recent project by Rockland, Rockport, and Owl's Head.
Broadband isn't a familiar topic; how did you and Tilson staff engage communities?
Lack of broadband continued to be an issue that came up in discussions, both about economic development and community sustainability. I heard over and over that broadband could act as a virtual bridge to the mainland and could provide diversified career opportunities for people. We worked with community leaders and business people to help identify key members of the community interested in changing their broadband situation. A key part of a thorough feasibility study includes holding community meetings to identify community goals and assess technology limitations, which also create buy-in beyond the small broadband committees. Having reliable and strong community leaders guide the process helps to ensure that these meetings are well-attended, and that residents understand the purpose and limitations of a feasibility study.
What other recommendations do you have for communities interested in considering a feasibility study?
In addition to individual community leaders, make sure to involve the places that do or could provide public internet access. Feasibility studies usually include speed tests at identified locations that relate to the community's goals or vision, such as libraries, schools, and other municipal, nonprofit, medical, or business locations. These "anchor institutions" are very likely to connect to improved internet service, so they are important to consider when internet infrastructure improvement projects are being pursued. Managers and board members of anchor institutions can also be very helpful in communicating and educating about the project. Also, remember that the feasibility study is only the first step. Getting better internet to a small rural community will take a tremendous amount of effort and time from community leaders. The feasibility study can be a first test as to whether you have the community leadership necessary to be successful with an infrastructure improvement project.
CHALLENGES
Community awareness. Don't expect overwhelming community interest, let alone support, at first. Internet usage has long been a private matter: People easily notice if the roads are bad, but might not have experience to compare their internet service to other areas; roads are publicly funded, but internet infrastructure is not. It will take time to raise community awareness of the topic and properly identify community goals around preparing the town for the future.
Quality of data or knowledge. The results or conclusions of a feasibility study are only as good as the data going into it. The company conducting the feasibility study reaches out to existing internet service providers to find out what service and prices are available currently, what infrastructure improvements are planned or possible in the future, and how likely they are to partner with the community toward implementing a solution. It is helpful if community leaders reach out to internet service providers before/during the study as well, to help ensure that the provider shares as much information as possible. It's also important that community members actively participate in the study in order to best define community needs for broadband.
Priority level. Improving internet service doesn't always rise to the top of community priorities that need to be immediately addressed, especially in communities with many public service concerns like funding education, ensuring transportation, or addressing medical needs. However, falling behind the digital divide could put your community at a huge disadvantage in the new economy and in addressing those other priorities. After it becomes clearer through education that broadband is a necessary tool for the community to remain viable into the future, it may slowly rise up the priority list. Build on and celebrate the small successes along the way, with the knowledge that these projects take time.
RESULTS
Originally published February 2017