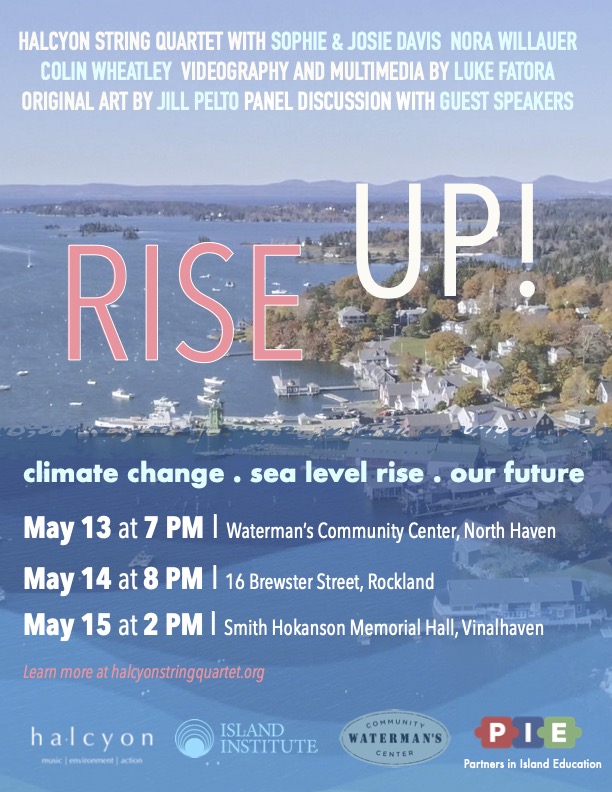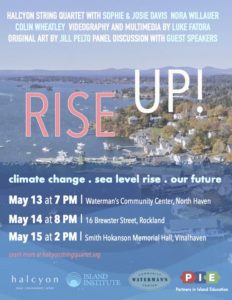 On May 13, 14 and 15, Halcyon String Quartet will present Rise Up!—a series of multimedia performances in North Haven, Rockland, and Vinalhaven—that explores the impacts of sea level rise on these communities and coastlines through a combination of live music and projected film.
The performances encourage reflection and action, inspire empathy, and call on people of all ages to think deeply about the opportunities for resilience and action within our communities.
Rise Up! features live music by Halcyon String Quartet, film by video artist Luke Fatora, and artist Jill Pelto's watercolor painting "Rising Mitigation." Each one-hour long performance will be followed by a 20-minute discussion with the musicians, artists, and special guests including Hannah Pingree, Gabe McPhail, Anna Siegel, and Riley Stevenson.
The Rockland performance will be held at 16 Brewster Street in Rockland on Saturday, May 14th at 8PM. Attendance is by donation, and seating is limited. 
Additional, ticketed performances are being held will take place at the Waterman's Community Center on North Haven on Friday, May 13th at 7PM and at the Smith Hokanson Memorial Hall on Vinalhaven on Sunday, May 15th at 2PM.
To reserve your seat for the Rockland event, or for tickets and more information on any of the performances, visit halcyonstringquartet.org.
---
Sponsored by: Halcyon String Quartet, the Island Institute, Waterman's Community Center, and Partners in Island Education