This is event is co-sponsored by Lincoln Theater and Shuck Station.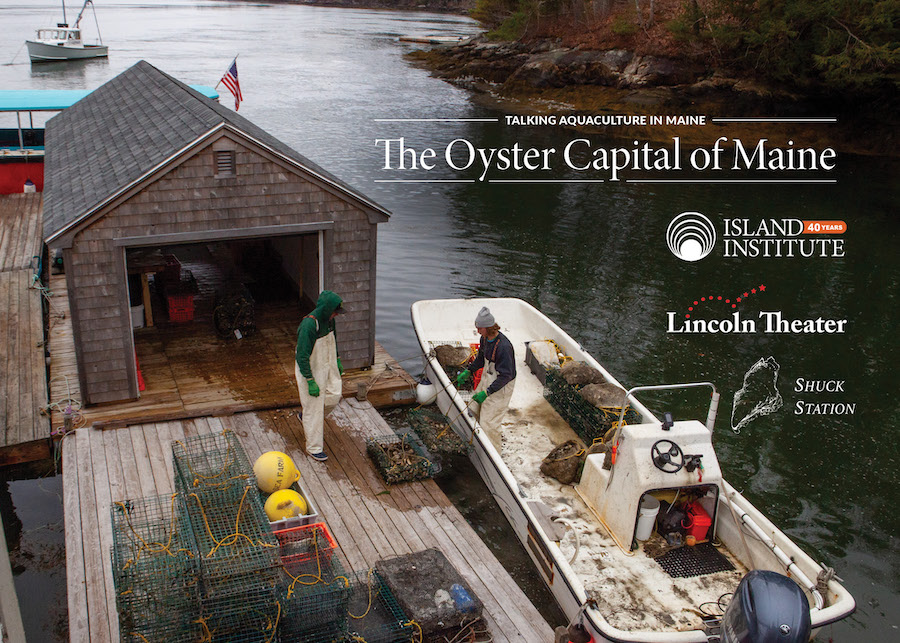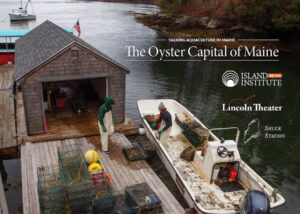 Since the glaciers receded from Maine, oysters have had a place in the Damariscotta River. Its famous shell mounds are a testament to this long history and the connection to the river held by the Nanrantsouak of the N'dakina and larger Wabanaki populations.
Join Damariscotta resident Sam Belknap and the Island Institute with a panel of three experts as we journey through the Damariscotta River's environmental and cultural history. Learn more about the birth of oyster aquaculture in Maine and what the future holds for this iconic river, its oysters, and aquaculture. Learn about the history of the river and what makes it so special from Coastal River Conservation Trust's Director of Education and Citizen Science, Sarah Gladu. Hear from Jeff "Smokey" McKeen, folklorist and co-founder of Pemaquid Oyster Company, about the birth of aquaculture in the river and the example it has set for the State of Maine. Finally, hear from restauranter, entrepreneur and oyster farmer, Brandan Parsons, about what drew him to the river and how his business highlights the region's growers.
Free and open to the public; no RSVP or ticketing required, but we'd love to know you plan on attending to plan for refreshments and more. Please register at the link above, and email membership@islandinstitute.org with any questions.
Moderator: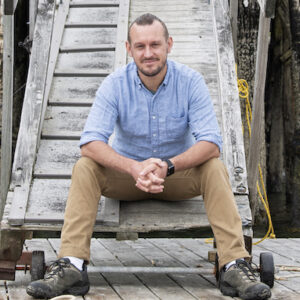 Sam Belknap, is the Director of the Center for the Marine Economy at Island Institute. Sam currently oversees a team of 5 Institute staff members working on an array of projects intended to support Maine's Marine economy and those people and communities that rely on it for their livelihoods and success. These include the organization's programs on Sustainable Seafood, Working Waterfront Protection, and Marine Decarbonization. He also oversees the 2.5-million-dollar public/non-profit partnership with Luke's Lobster (lukeslobster.com, that focuses on sustainable, triple-bottom-line support for the fishing sector in Maine.
Sam is an impact driven advocate for Maine's coastal and Island communities with decades of experience supporting those who make their living on the water. Sam grew up in Midcoast Maine and is the third of four generations of his family to have held a commercial lobstering license. He has experience as a lobster harvester as well as running his family's lobster wharf that, in addition to supporting commercial fishing operations, processed and sold lobster and crab value-added products.
Featured speakers: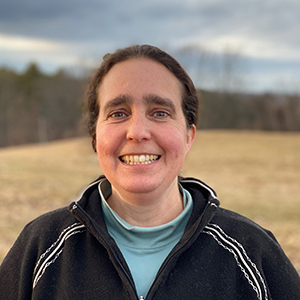 Sarah Gladu, is the Director of Education & Community Science at Coastal Rivers Conservation Trust.Sarah has been running Coastal Rivers' education program since 2005 and has worked in environmental education since 1992. Sarah currently coordinates Coastal Rivers' varied citizen science projects and is Chair of MCOA (Maine Coastal Observing Alliance). Previously she worked for the University of Maine Cooperative Extension coordinating state-wide water quality monitoring programs.
Sarah is a Registered Maine Guide with a B.A. in Environmental Policy from Brandeis University, where she also attained a Teaching Certification and a Wildlife Management Certificate. In 1998, she received a Master of Environmental Learning and Leadership from the University of Minnesota. Sarah lives in Waldoboro with her two daughters, her husband Tim, four Norwegian Elkhounds, four fish, three horses, chickens, ducks, sheep, one goat and one cat.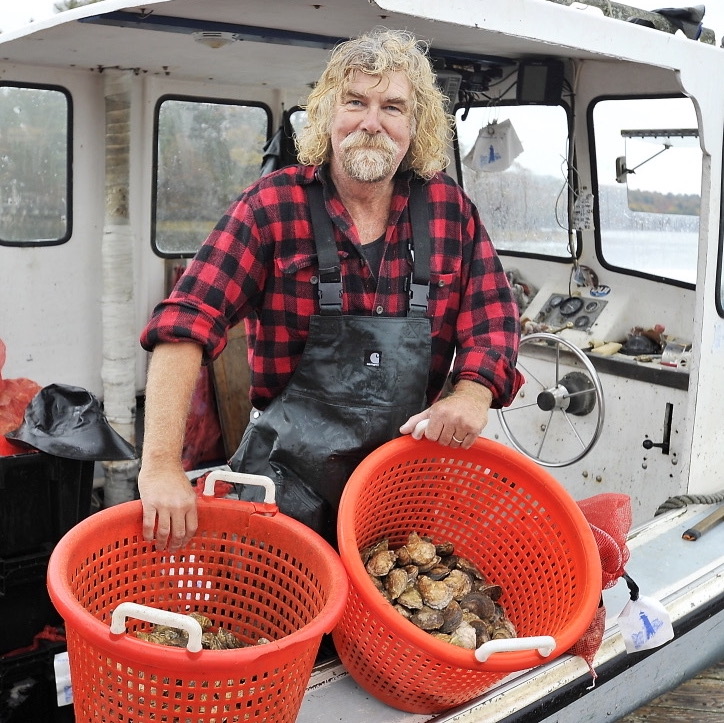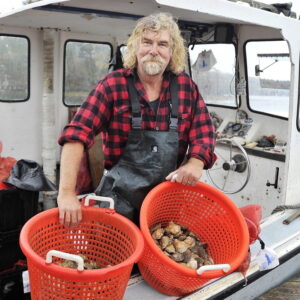 Jeff 'Smokey' McKeen, is Co-founder of the Pemaquid Oyster Company. Mckeen founded the Pemaquid Oyster Company in 1986 with partners Dr. Chris Davis and Dr. Carter Newell, and has been overseeing the farm's seed upwellers, nursery and sales programs. He recently served two terms on the Department of Marine Resources' Shellfish Advisory Council representing the shellfish aquaculture industry. In addition to his work as one of Maine's pioneer oyster farmers, McKeen is also a folklorist who has worked for various arts organizations and as a musician has toured extensively throughout Maine, New England, and beyond, including over a dozen international tours through South America, Eastern Europe, Africa, Central Asia, the Middle East and Asia. He currently performs with The Oystermen every Friday afternoon at Schooner Landing through September.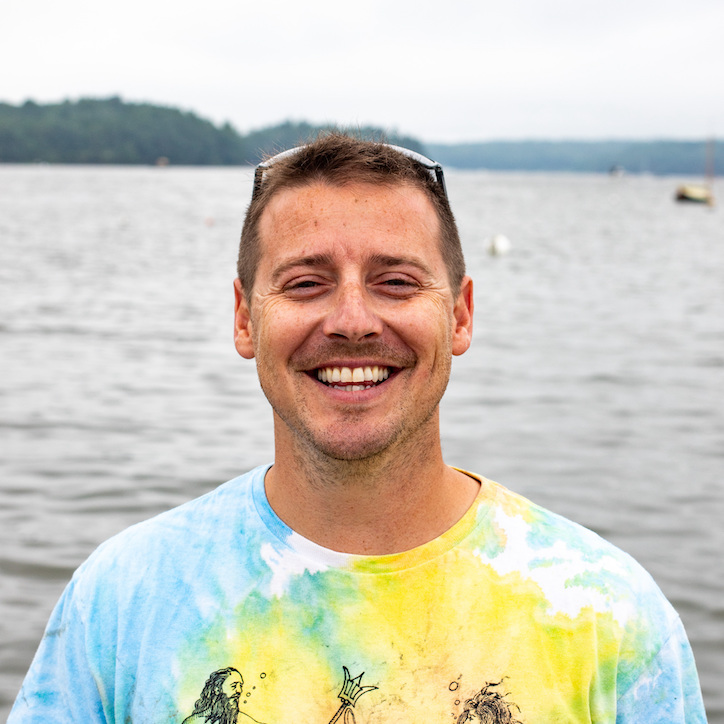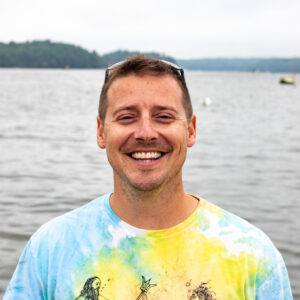 Brendan Parsons, is Owner of Shuck Station and Blackstone Point Oyster Co.. Having grown up in Damariscotta, Brendan first worked at an oyster farm in high school and then worked for a local catering company shucking oysters for weddings and cocktail parties. Brendan then graduated from the University of Maine in Orono with a degree in Economics and Renewable Energy. After a time skiing out west, Brendan started his first business in Portland, Maine called BP's Shuck Shack. By converting an old Oscar Mayer Hot Dog Cart, Brendan started Maine's first oyster food cart. Brendan then started his oyster farm, Blackstone Point Oyster Co. in 2016 and opened up the Shuck Station Raw Bar in the summer of 2017. Brendan is the reigning Maine oyster shucking champion, and is also a proud a sponsor of Island Institute's "Talking Aquaculture in Maine" series.