Join community leaders from across Maine, including Island Institute's Senior Ocean Scientist Susie Arnold, Ph.D., for a day of inspiration, learning, and action. Hosted by Maine Climate Council.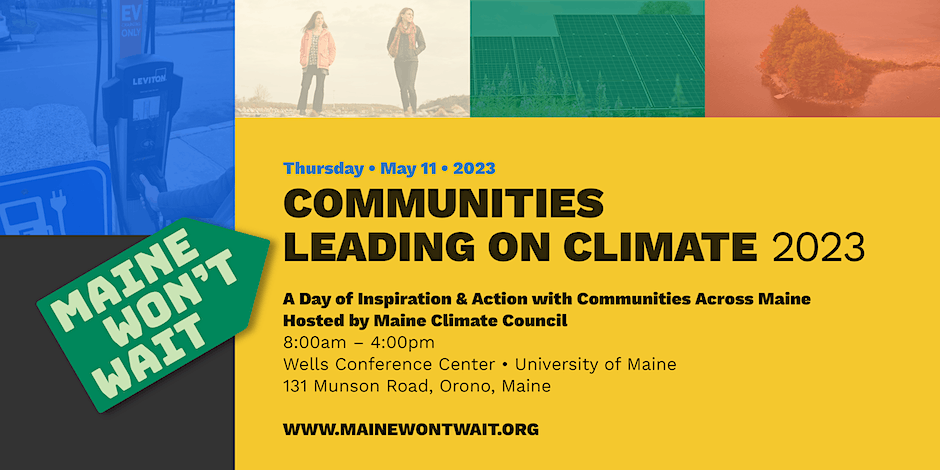 The Community Resilience Partnership invites you to Communities Leading on Climate, our annual conference to highlight the actions and accomplishments of Partnership communities. Come hear from community leaders from across Maine about all they've learned from interesting and vital work across the state.
Who should attend? City, town, and tribal leaders as well as interested community members who wish to learn how their communities can take climate action.
Over three sessions, communities and service providers will illustrate the planning-to-implementation process. Speakers will discuss planning aspects including community outreach, equity, federal funding, and more.
Session 1:Growing Public EV Charging Networks – Electrifying municipal fleets and expanding public EV charging capacity
Session 2: Energy Efficiency and Clean Energy in Public Buildings – Fitting municipal buildings with clean and efficient energy solutions
Session 3: Resilient Communities and Climate Ready Infrastructure – The building blocks of successful implementation
State and federal agencies will be on hand to share information about grants, technical assistance, and resources to support local clean energy, emissions reductions and resilience. Representatives will be present from: Maine Inland Fish and Wildlife, Maine DOT, Maine DEP, Maine DHHS/ Drinking Water Program, Department of Marine Resources/Coastal Program, Maine Municipal Planning Assistance Program, Maine Emergency Management Agency, Maine Clean School Bus Program/VEIC, Efficiency Maine Trust, Governor's Energy Office, USDA Rural Development, US EPA, New England Environmental Finance Center.
The program will also feature opportunities for small group discussions and networking.
Lunch will be provided, with vegan options.
Carpooling to this event will be facilitated by GOMaine. Check it out!
Attend virtually if you prefer. Click here and sign up to join the event via Zoom.