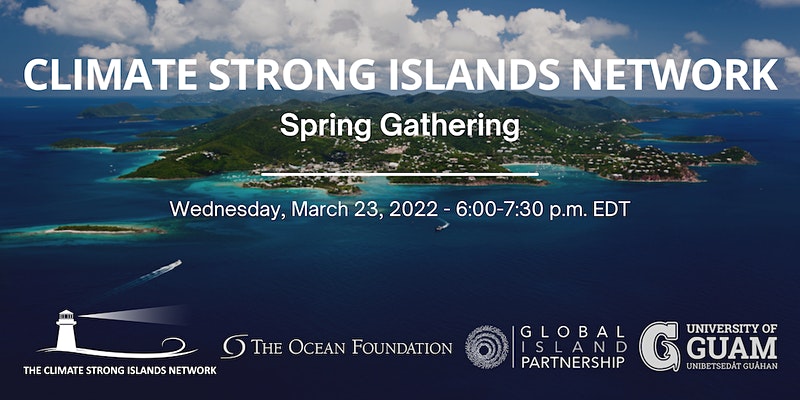 Join Climate Strong Islands Network (CSIN) members and allies for a virtual spring gathering, Wednesday, March 23, 2022, from 6:00 -7:30 p.m. ET.
During this online briefing, the Climate Strong Islands Network's leadership team will share the CSIN National Policy Framework and elaborate on seven key issue areas including:
Clean Energy
Watershed Planning
Food Security
Disaster Preparedness
Marine Economy
Waste Management
Transportation
Additionally, attendees are invited to participate in an interactive discussion about these key policy areas after the briefing.
This event is produced by the University of Guam and supported by CSIN policy advisors High Street Strategies. Special thanks to sponsors the New York Community Trust and the Ann Theodore Foundation.
---
About the Climate Strong Islands Network (CSIN)
The Climate Strong Island Network is a network of U.S. island community leaders and partners in philanthropy, business, academia, and government working across the continental U.S. and the nation's states and Caribbean Sea and Pacific Ocean territories.
Through biannual gatherings, public policy advocacy, working groups, and ongoing education opportunities, the Climate Strong Island Network works to expand U.S. islands' resources to support their capacity to mitigate the impact of extreme climate events.
The Climate Strong Islands Network is governed by an independent steering committee of island leaders and is co-hosted by The Ocean Foundation (TOF) and the Global Island Partnership (GLISPA) and is an organizational member of Local2030 Islands Network.