If you haven't heard of La Nef Chocolate, you are missing out on an awesome Maine small business. Founded on Monhegan Island, La Nef Chocolate is committed to conservation, sustainability and community building and has created a company that merges these ideals with art and chocolate! In 2020, they received a professional development grant from the Island Institute and in 2021, La Nef was awarded a business resilience grant – a series of microgrants that helped small businesses adapt to changing times. We are partnering with La Nef once again to create an Island Institute chocolate bar, and we ask YOU – our dedicated supporters, artists, and community members – to design the label for this tasty treat!
---
Contest prompt
---
The Island Institute partners with thousands of dedicated people who care about the coast of Maine and believe that a sustainable future for our communities and the environment is crucial. Please create an original art piece that exemplifies the ideology of "building community from the sea up."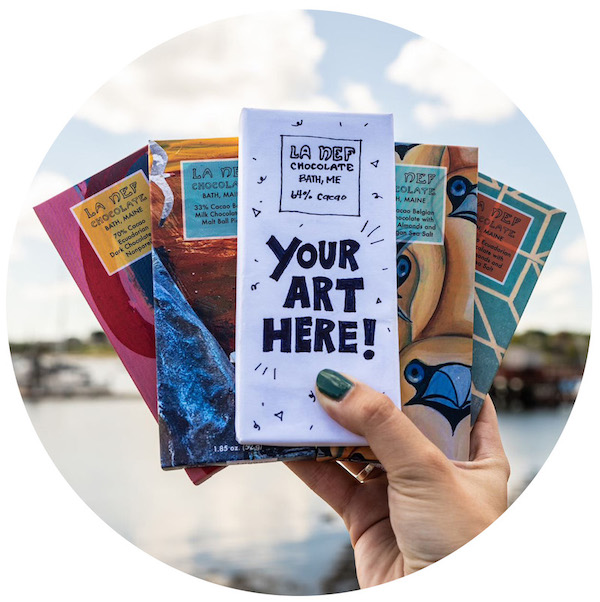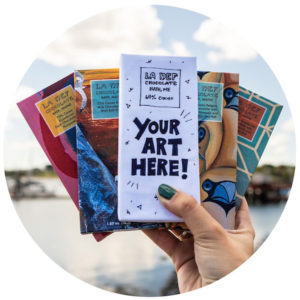 ---
Contest guidelines
---
The contest will be open for submissions between Sept. 6, 2022 and Sept. 23, 2022. Only artworks submitted during this date range will be eligible. Please submit artwork using the form below.
The contest is limited to one entry per person.
All contestants must complete the Art Contest Release Form  and submit with their artwork using the form below.
Contest open to all ages. If you are under 18, please complete the "In Case of Minor" section in the Art Contest Release Form.
Must be an original work of art, and submissions must be in a digital format.
The artwork must be a high-resolution JPG, TIFF, or PDF file. At least 300 dpi and in CMYK format.
The artwork should accommodate space for La Nef's labels. Please take this into account when designing your piece. A template of the chocolate bar box layout can be found here.
The winner will be picked by a jury of Island Institute staff and partners and announced on October 1st.
Questions? Please contact gbristol@islandinstitute.org.
---
PRIZES
---
The winner's artwork will be displayed on the 2023 Island Institute exclusive chocolate bar and sold at Archipelago – the Island Institute Store.
$250 cash prize and a selection of Island Institute swag and La Nef goodies.
---
ARTWORK SUBMISSION FORM
---
Together we can turn the tide
Please join the Island Institute community and make a gift today.
Your support will help preserve and protect Maine's working waterfronts for generations to come.