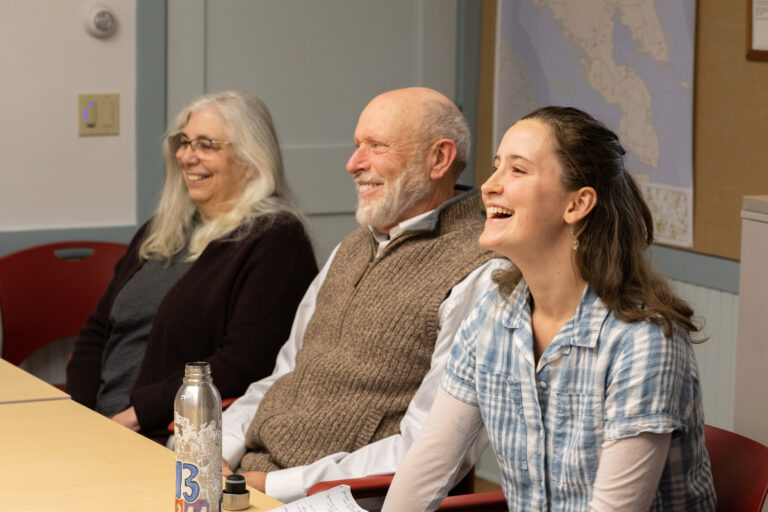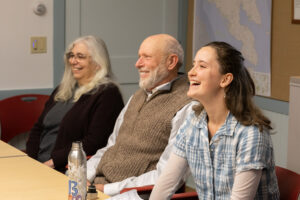 Last month, a resident of Brooklin received a heat pump hot water heater— free of charge. Helping this homeowner access Efficiency Maine resources for this heat pump was Island Institute fellow, Grace Carrier through their fellowship with Brooklin's Climate Response Committee. 
Island Institute's Fellows Program annually supports 10 recent college graduates who are living and working in rural coastal and island communities on community focused projects.   
"For nearly 25 years, the Island Institute Fellows program has provided critical capacity to Maine's island and coastal communities," said Kimberly A. Hamilton, PhD, Island Institute President. The program was recently awarded a USDA Rural Community Development Initiative (RCDI) grant for the support of three fellows, including Grace. "Over 150 Fellows have had a lasting impact in the rural communities where they are working. USDA Rural Development's support for this program is a welcome boost."  
RCDI grants are awarded to help non-profit community development organizations, low-income rural communities and federally recognized tribes support housing, community facilities, and community and economic development projects in rural areas. Island Institute's award will help offset program costs for three sites. Fellows placed with Brooklin's Climate Response Committee and A Climate to Thrive in Tremont are working on projects to bolster community resiliency in the face of climate change. The Sunrise Trail Fellow's work will hone on economic and community development in the towns of Cherryfield, Jonesboro, Columbia Falls, and Machias as they seek to engage users of the Downeast Sunrise Trail.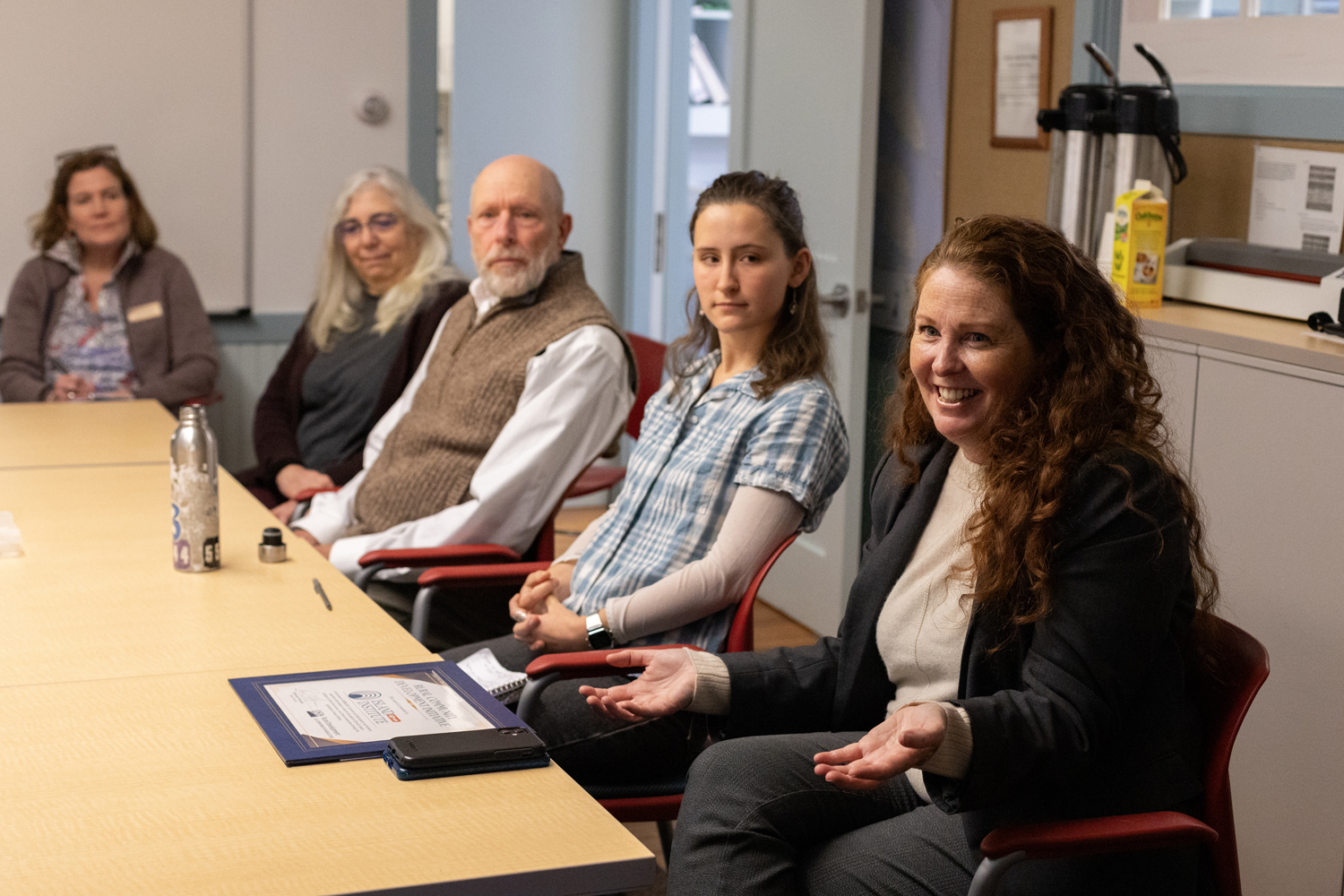 "The way that Island Institute carries out its fellows' program brings out the vitality of these small communities," shared U.S. Department of Agriculture Rural Development State Director Rhiannon Hampson. "I am thrilled that Island Institute is getting this award is because it represents a fantastic partnership for Maine."  
Fellows' 2-year projects help ensure that Maine's island and coastal communities have resilient economies, are invested in creating strong leadership and maintaining social resilience through times of change and are at the forefront of implementing integrated climate solutions. The USDA RCDI grant is a financial bolster of the fellowship program while simultaneously supporting Island Institute's mission to further the sustainability of Maine's communities.  
From the outset, fellowship projects are collaborative: communities identify projects in need of capacity and work with Island Institute to design the project into a fellowship. Island Institute then matches fellows' skills and professional goals to these community projects. Last fall, staff from Island Institute heard from Brooklin's new Climate Response Committee which formed partly through the town's participation in the state's Community Resilience Partnership launched in 2022. The committee had been made aware of Island Institute's fellowship program through regional partner Blue Hill Peninsula Tomorrow and wanted to explore if a fellow might be able to expand their capacity for energy transition work. Climate Response Committee members worked to define the capacity needed, outline clear project goals, and identify committee chair Doug Hylan to be the fellow's advisor. Through a competitive application process, Grace was chosen by the committee to be hired by Island Institute as Brooklin's fellow. Her fellowship started in September with a week-long orientation and introduction to the community and will run through 2025.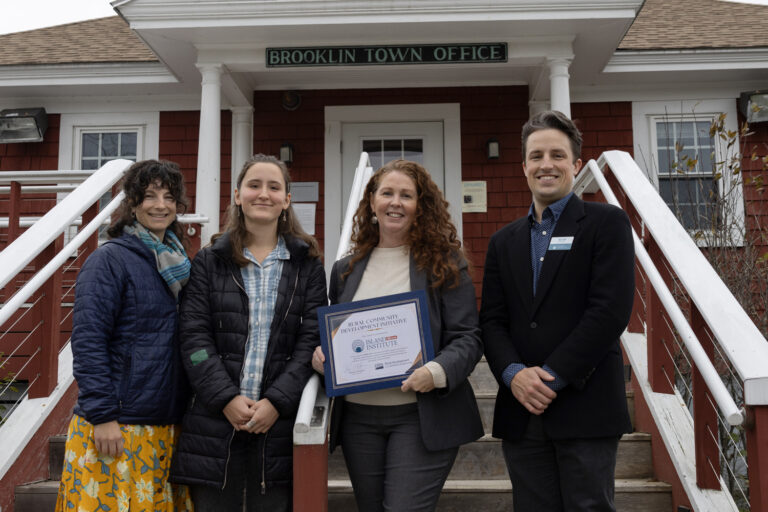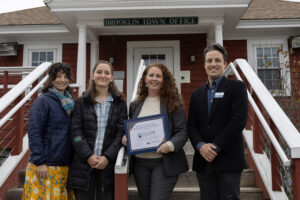 To celebrate the award, a group of community members, state delegates, and USDA and Island Institute staff gathered at the Brooklin Town Hall on Thursday, November 9th, including Doug Hylan, local business owner and chair of the town's Climate Response Committee. "Island Institute pitches their fellows' program as an extra pair of hands in town. Yes, it is, and for our committee it has been life-changing," said Mr. Hylan. "We are grateful to be working together with Island Institute and to USDA Rural Development for making this happen." 
This is not the first time Island Institute has sought access to this USDA program to provide additional capacity in rural, coastal communities. RCDI funding in the past has supported fellows' work in Vinalhaven, Milbridge, St. George, Machias, and the state's most north-easterly city of Eastport for projects ranging from school support to microgrid feasibility studies.  
Since the start of Brooklin's Climate Response Committee's home energy visit program, Neighbor-to-Neighbor this spring, they have been able to visit 16 homes. These homes have implemented heat pumps, hot water heat pumps, window inserts, increased or better insulation and more. A couple who participated in the Neighbor-to-Neighbor program shared that their electric bill in October 2022 was $110 compared with $28 this past October. 
Despite Grace having started in September, she has significantly increased the committee's availability to reach homeowners where they are at and assisting them to navigate complex technology, information, and rebate systems.  
"If I am talking with someone in town about my fellowship with the Climate Response Committee, I will ask them "What can we do?" and suggest that we could get to know one another better where they're comfortable — in their own home," shared Island Institute fellow Grace Carrier. "I think it's helpful for people to know their energy options and have someone sitting at their side as they fill out an energy program form online letting them know they're doing it right."