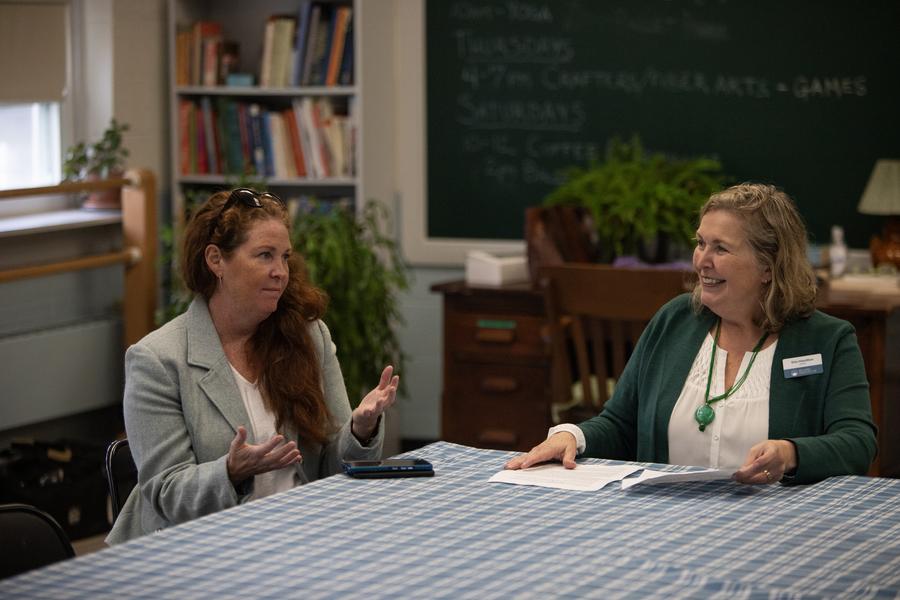 In an effort to support Maine's coastal and island communities, the U.S. Department of Agriculture (USDA) announced an award on October 17 to Island Institute for nearly $87,000 from its Rural Business Development Grant program. These funds will go towards supplementing the Tom Glenn Community Impact Fund's revolving loan fund.
"The work that Island Institute is doing with small businesses is benefitting all of us in Maine by helping us retain access to our sense of culture," said USDA State Director Rhiannon Hampson. "Island Institute will be taking this award to supplement its revolving loan fund. Through that fund they will work with coastal and island communities to identify what support will help these areas thrive."
"Small businesses up and down Maine's coast are the heart of our communities. They provide essential services and good jobs," said Dr. Kimberly A. Hamilton, President of the Island Institute. "These critical funds from USDA Rural Development could not have come at a better time. They are an important expansion of the toolkit of services Island Institute provides to help small businesses thrive on the coast of Maine."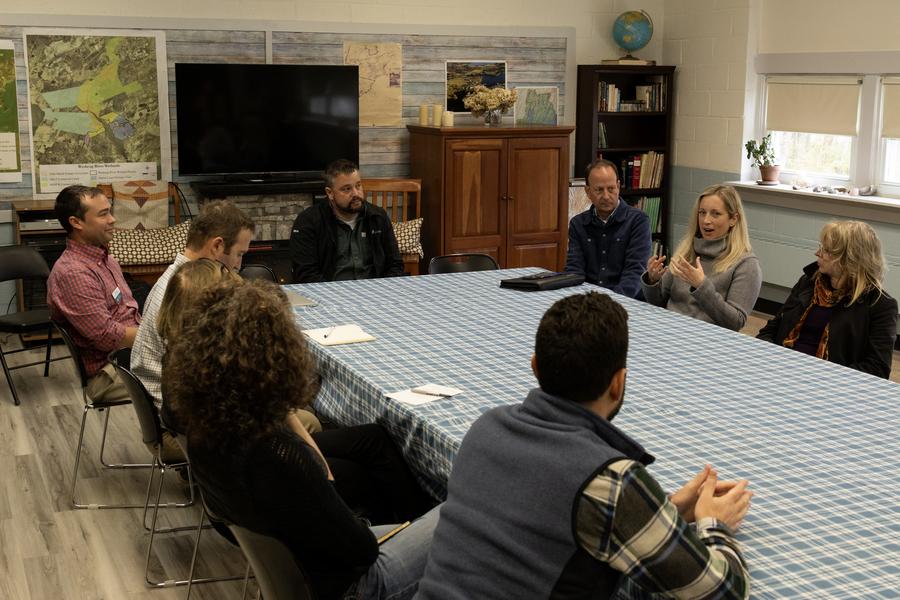 Island and coastal businesses face unique challenges whether those are the cost of housing and transportation, finding and retaining employees, adapting to a changing climate, or the lingering impacts of the pandemic. By finding ways to turn challenges into opportunities, small businesses often lead their communities by example and make it more possible for those with their own ideas to follow. By helping make funding for businesses more accessible, we can help safeguard economic stability and amplify the ripple effect that benefits not only a single business but an entire community. 
"This award will help us to significantly scale the number of businesses we're able to support in the coming years, and I couldn't be prouder that Island Institute is the first loan fund in several years to receive a Maine Rural Business Development Grant," said Alex Kravitz, Director of Program Impact and Glenn Fund at Island Institute.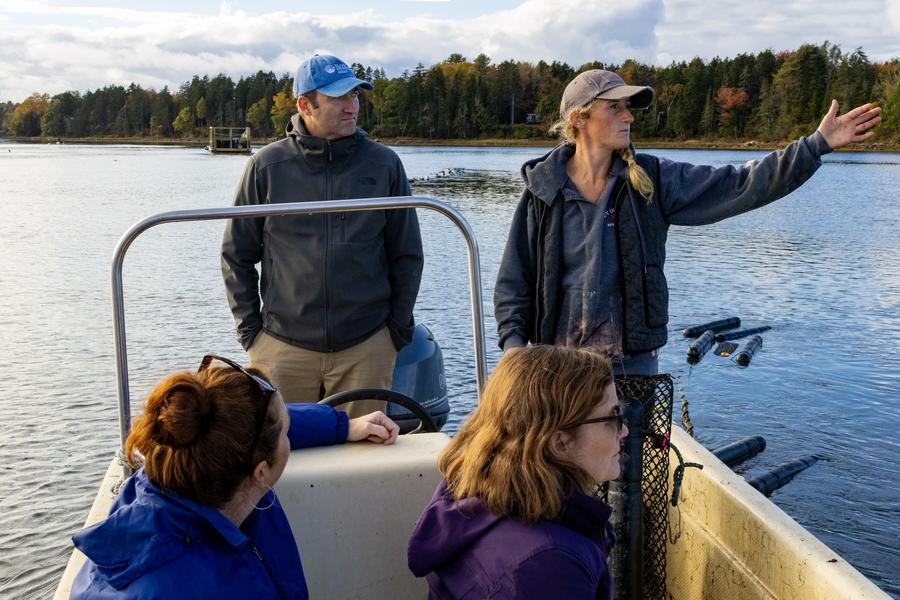 Maine's island and coastal businesses grapple with distinct challenges, from the high costs of housing and transportation to finding and retaining a skilled workforce. They also face the necessity to adapt to a changing climate and navigate the enduring repercussions of the pandemic.  This funding will help provide a competitive loan option from an organization that has been deeply embedded in these communities for the last 40 years.   
For over a decade, Island Institute has been a trusted partner of USDA Rural Development, administering funds aimed at diverse businesses and community purposes. These have included grants for aquaculture business expansion, clean energy installations, broadband connectivity for islands and the rural coast, and essential technical support in low-income communities. To celebrate this award, several local business leaders convened for a round-table discussion. 
"Support from Island Institute and USDA Rural Development helped me start my aquaculture business and enabled me to power it with solar energy," Krista Tripp, owner of Aphrodite Oysters in South Thomaston, shared enthusiastically. "This helps reduce my operating costs and reduces CO2 emissions, which is one of the best solutions for our changing climate." 
After the roundtable discussion, Krista Tripp led a tour of the Aphrodite Oysters farm where USDA representatives and other business owners could continue discussing the challenges and opportunities for Maine's working waterfront.   
Key themes from both the roundtable and the farm tour were the important role small businesses play in their community beyond employing people, the pressures that the housing crisis puts on these businesses as they try to retain or attract new employees, and how investments in infrastructure can propel a business forward.   
On the river, the group toured Aphrodite Oyster's farm and learned about how they are expanding their business. Steve Zimmerman, COO of Mook Sea Farm was also present and the discussion dove into the marketing, transportation, and logistics aspects of the aquaculture industry, allowing Director Hampson to draw parallels to other farmed food. Housing, working waterfront access, community relations, and the long lead time between starting an aquaculture business and generating revenue were also key topics of discussion.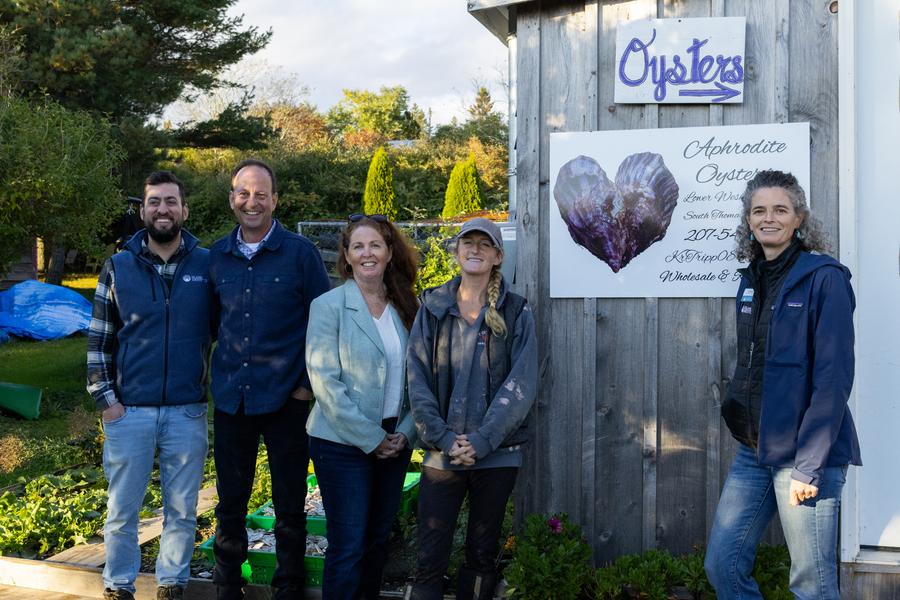 The juxtaposition of an electric boat and a growing aquaculture business helps shine a light on pathways for coastal communities to move forward in the face of economic and climate uncertainty.  
Director Rhiannon Hampson of USDA Rural Development emphasized the understanding of the unique challenges that coastal and island-based small businesses face. "Expanding access to patient capital and technical assistance in a way that is community-driven – that is the highest and best use of awards like the Rural Business Development Grant," she stated.  
In its 40th year, the Island Institute, founded in 1983, remains dedicated to sustaining Maine's island and coastal communities. In 2012, the organization initiated the Tom Glenn Community Impact Fund to provide various forms of financial support to small coastal businesses. This grant will bolster the Fund's capacity to support Maine's vital small business ecosystem. 
The USDA's generous support of the Island Institute stands as a testament to the vital role played by organizations such as Island Institute in preserving and enhancing the prosperity of Maine's coastal communities. It's a reminder that collaboration between government entities and local institutions can lead to meaningful change and enduring support for the backbone of these picturesque coastal towns and islands. 
To see more coverage of this event, watch this clip from WABI 5 Bangor.  
If you or a business you know may be interested in applying for a catalyst loan, please contact Alex Kravitz: akravitz@islandinstitute.org