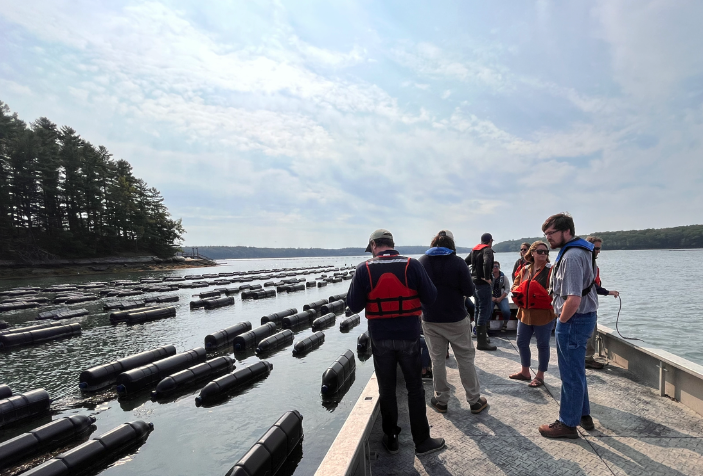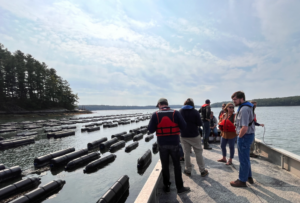 Earlier this month, Island Institute hosted an aquaculture tour that showed local and statewide policymakers the lifecycle of how farmers grow oysters.  This tour a variety of important legislators and others elected officials including state Sen. Cameron Reny, Reps. Allison Hepler, Victoria Doudera, Holly Stover, Lydia Crafts, and town officials from Newcastle and the Midcoast Council of Governments.  
This tour began where the story of oyster farming begins, at a hatchery, specifically the Muscongus Bay Aquaculture hatchery in Bremen.  Our hosts, Jeff Auger and his team, discussed the science and process that goes into growing the oyster seed that helps fuel Maine's growing aquaculture industry.  As we toured the facility and laboratories, policymakers asked questions to better understand how they can best support the growth of the industry.  
After a lively discussion about the impacts of climate change and regulation on aquaculture in Maine, we drove to the heart of Maine's oyster industry – the Damariscotta River.  Here we met up with Brenden Parsons, owner of Blackstone Point Oysters and the Shuck Station Raw bar and loaded onto boats to visit Jeff and Brenden's farms.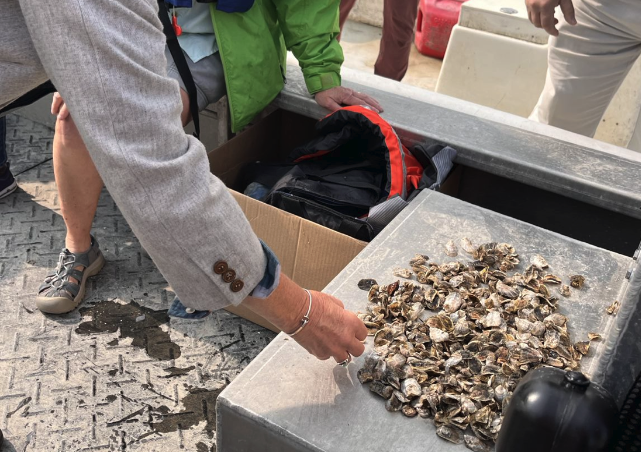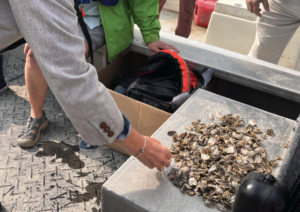 Once oyster seeds leave the hatchery, they grow in cages for roughly 18 months before harvesting.  Legislators were able to hold these infant oysters and observe an array of farms that pepper the Damariscotta.  While looking through piles of baby oysters a team from Blackstone Point Oysters stopped by on their way back to the dock to show us the nearly 500 pounds of oysters they had hauled and bagged for shipping after having started hauling before 6am.   
"The vitality of aquaculture in Maine is important to the state's future," said Representative Allison Hepler, Chairwoman of the House Marine Resources Committee.  "It was great to see the 'birth to table' aspects of oyster farming in the Midcoast, from the hatchery to the Shuck Station. I'm always impressed with the hard work, the variety of farming methods, and the wide knowledge base required to be successful. I also think it's important to acknowledge the environmentalism we see in this industry." 
Returning to land shortly after, the group took a short walk to the Shuck Station Raw Bar where farmers and policymakers could sit down to continue discussing the future of the industry over plates of fresh oysters from Damariscotta River farms.  The Island Institute is dedicated to helping our state's legislators be as well informed as possible about the importance of aquaculture farming for the future of our island and coastal communities.  Opportunities like this tour help show the lifecycle of the industry and give these policymakers a chance to ask farmers questions and see the farming experience up close.   
This work was supported in part by funding from the World Wildlife Fund.