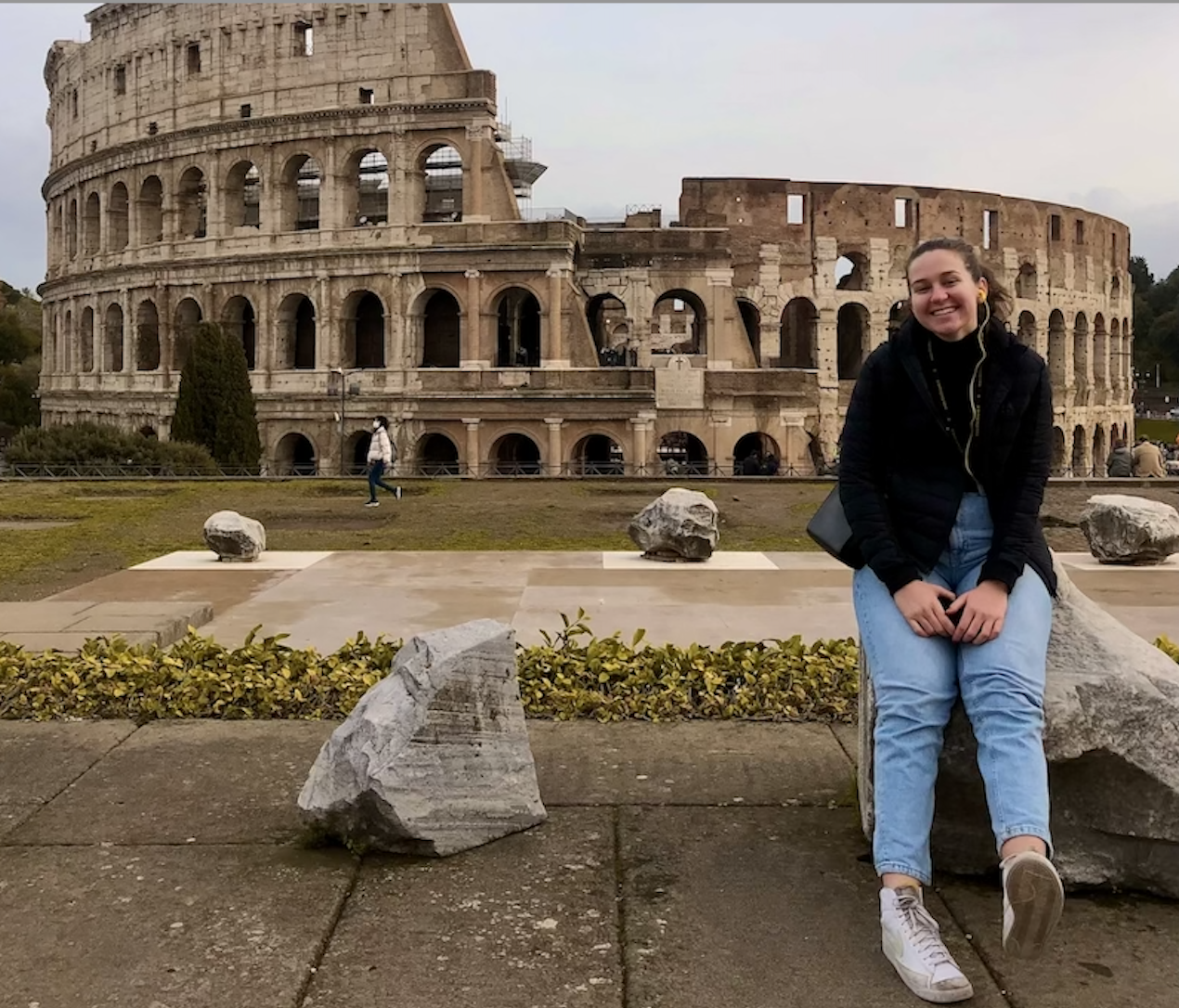 Emma Conrad grew up on Peaks Island and has been the recipient of multiple Island Institute grants and scholarships. Emma's reflection explores how she approached the college admissions processes, navigated the pandemic as a first-year college student, and utilized the resources available to her to build upon her interests and discover her passions.
I grew up on Peaks Island and was entrepreneurial from a young age. I had as many jobs as I could, working as a cashier at the grocery store, babysitting, cleaning rental houses, baking cakes, and whatever else I could find. I knew I liked math and writing, but I didn't know much else beyond that in terms of what I wanted to study or do with my life.
Island Institute made sure I was aware of my options early by introducing me and my fellow high school classmates to their MAP program. Not only does it provide financial support, but Institute staff also guided me throughout the stressful college application process. I remember the meetings where all MAP recipients met to discuss their interests and applications to safety, middle, and reach schools. They wanted to make sure that we applied to a good number of schools at each level, so that we had options when it came to choosing our university. Throughout this process, I decided I wanted to go to business school and major in finance or accounting. I knew the Wharton School at the University of Pennsylvania was frequently ranked as the top program in the country, so I applied early-decision to increase my odds of getting in. I didn't have high expectations; it was my "super reach" school. I wrote my essay about growing up on Peaks and how it taught me to be a hard worker, independent, and a good community member. My interviewer for Penn was fascinated by my story of growing up in a close-knit island community, and I loved getting to share my upbringing with a larger audience.
When I got my acceptance letter, I didn't believe it. Confetti exploded across my computer screen, but I read it at least three times before it registered. Never in my wildest dreams did I expect to get in, especially since I only recently decided to apply. It felt like I won the application lottery, and I proudly told all my teachers at Portland High School that I was going to Penn. I was so excited to live in a big city, explore Philadelphia, and learn more about my interests. Then COVID hit. I finished my senior year virtually, had a drive-through graduation (where they forgot to call my name, ouch!), and then learned my first semester at Penn would be held virtually. All I wanted to do was go to college, but I couldn't. On the other hand, my friends were able to go to their universities, so I felt alone in Maine and a little frustrated with life.
Fortunately, the island was my safe haven during quarantine. I spent so much time outside exploring the woods, jumping into Casco Bay when it definitely wasn't warm enough, and walking my dog as much as possible. Spending time in nature kept me sane, and I lived a quiet life on the island while adjusting to my first semester at Penn. When I finally learned that I could go to Philly for the spring semester, and I was determined to make the most of my time there. I threw myself into college life, trying to meet people even though our classes were still on Zoom. Academically, I felt behind compared to my peers, as I didn't have nearly as many educational or extracurricular opportunities in high school. Luckily, the Island Institute's support eased my transition to college. The leadership training and cohort experience helped me build my confidence and find my footing. Moreover, the individual planning with staff members was helpful in selecting classes and planning for my degree in Economics and Accounting, and my minor in Hispanic Studies.
I committed myself to giving back to the community at Penn. I tutored elementary and middle school students in West Philly and worked with organizations to donate sanitary products to local women's shelters. Island Institute's goals of sustainability and inclusion resonate deeply with me, and I feel lucky to have grown up in a community that prioritizes these values. By confronting the environmental and socioeconomic challenges faced by Maine's coast, the organization demonstrates the power of community engagement, a principle that has guided me throughout my education.
I always dreamed about going abroad to achieve full fluency in Spanish. I started taking classes in third grade at Peaks Island Elementary School, and it's been my favorite subject ever since. I strengthened my conversational abilities in high school, as many of my friends had recently migrated from Central America. I decided to start the Spanish club at Portland High as a way to connect our communities and learn from each other. I helped the native Spanish speakers with their English, and they helped me by teaching me their countries' music, dances, foods, games, and traditions. This motivated me to want to fully immerse myself in a Spanish-speaking country, as I knew the classroom could only get me so far.
The Gieger Scholarship was an essential layer of support that helped finance my semester abroad in Madrid last year. I directly enrolled in a business school in the city and lived with a friend from Penn in an apartment of eight international students. My excitement didn't mask how scared I was: I packed up my life and moved to a different continent. I was so nervous that I would have no support system there, but transitions are always hard at first. I made friends at my university and got extremely close with my roommates, who were from all across Europe and Latin America. I was also able to travel throughout Spain and to Rome, and I ate the most wonderful food at every stop.
By the end of the four months, I was giving consulting presentations in Spanish on international marketing, financial markets predictions and corporate governance analyses. After 13 years of learning, I can finally say that I'm fluent. Overall, I'm so happy I pushed myself outside of my comfort zone. The semester exposed me to diverse cultures, ideas, and perspectives, and it allowed me to grow personally and gain a greater global awareness. It also cured my stage fright: presentations at Penn are a breeze since I already speak English! Lastly, Island Institute supports my career immensely with the Compass Workforce Grant. After exploring my academic interests, I decided to go through the recruitment process to get into the finance industry. Analyzing firms and their financial statements for patterns is my favorite part of accounting, and I also love to keep up with current events. With that in mind, I decided to pursue a career in sales and trading, as an acute knowledge of the market and an analytical mind are necessary to succeed.
In fact, this past summer I worked as a Markets and Securities Services Summer Analyst at HSBC in New York City. The internship will give me the opportunity to get a foot in the door in the finance industry, learn more about sales and trading, and explore my professional interests. Nevertheless, rent, food and life in NYC is not cheap, and professional clothes are also pricey. The Comapss Workforce Grant has been extremely helpful with the transition to the workforce by providing financial and direct support. Institute staff continuously checking in with me and offer support in any way they can. I am now in my final semester at Penn and am looking forward to building my career in New York. I have no doubt that the skills and values instilled in me by Island Institute will help me to become a responsible, compassionate, and resilient leader in my field. Their scholarships have made a profound impact on my life, and I'm excited to see the Institute continue to make a positive impact on Maine's island communities.